Tribeca 2011: "A Quiet Life," Reviewed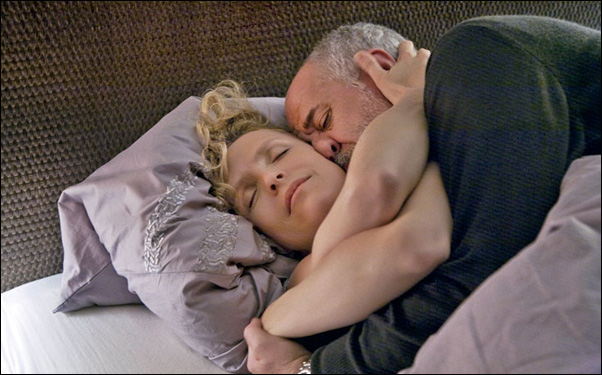 Posted by Stephen Saito on
As loathe as I am to think of most American remakes of perfectly good foreign films, I couldn't help but wonder while watching "A Quiet Life" whether Robert De Niro has had a chance to check out the film playing the festival he founded. Ironically, in this hypothetical remake De Niro would produce and star in, the actor would replace the one thing irreplaceable about this Italian thriller as currently constructed, which is a great performance from Toni Servillo, who continues with every role since his turn as Giulio Andreotti in "Il Divo" a few years to prove what a remarkable transformation he achieved.
In "A Quiet Life," transformation isn't only required of Servillo as an actor, but also as the character of Rosario Russo, an Italian chef living in a small German village where he's been settled down for the past 13 years with a wife and young son. He has a temper; his kitchen etiquette suggests he's gone through more than a few sous chefs over the near-decade-and-a-half, but otherwise, he's content and even suspiciously encouraged when he sees two thuggish-looking men kicking around a soccer ball in front of his restaurant. Slowly, director Claudio Cupellini teases out why Rosario's excited to see the more even-tempered of the two men and instantly offers to them both to "stay as long as you'd like" in his accompanying hotel.
Without spoiling what that reason is, it turns out to be a case where time opens more wounds than it heals and as the two younger men with crime connections begin to embarrass Rosario in public, it becomes obvious that the chef wouldn't enjoy additional scrutiny. This is the point where Mr. De Niro's ears should be burning because the crux of "A Quiet Life," which follows the well-worn path of most films involving a character attempting to run from their past, depends on Rosario's willingness to impose a cloistered existence that he chose specifically for himself onto those closest to him and how he deals with the problems that arise in a way that won't affect his tenuous grip on the domestic life he's come to enjoy.
If it sounds like a juicy part, it certainly is and while Servillo gets a chance to shine, the film isn't nearly as exciting to watch despite its director's attempts to spice things up aurally and visually with a soundtrack that sporadically spikes the film with a sharp cue or the scattered tracking shots that are impressive individually but feel out of sync in context. (A single take starting with a closeup of one of the younger men smoking that leads to a crane shot-overview of the entire neighborhood is well-done if completely unnecessary.) A case could be made that these occasional injections of cinematic bravado reflect Rosario's suppressed natural inclinations, but I suspect that wasn't the intention.
Ultimately, that uneven quality is what makes "A Quiet Life" feel slightly frustrating, even if it's that rare thriller that derives its jolts from the twitch of an eyebrow since Cupellini gives Servillo an opportunity to play a more nuanced role than he's typically allowed and obviously prizes character development above all else. When "A Quiet Life" stumbles towards its conclusion rather than glides in the way it deserves, like Rosario, the film seems as if it's ever so close to perfection and yet falls just short of the standard it sets for itself, resulting in a film that's good but could've been great.
"A Quiet Life" currently has no U.S. distribution, but will play at the Tribeca Film Festival on April 23rd and 24th.