Bask in the Beautiful Vagueness of "Tree of Life"'s Official Site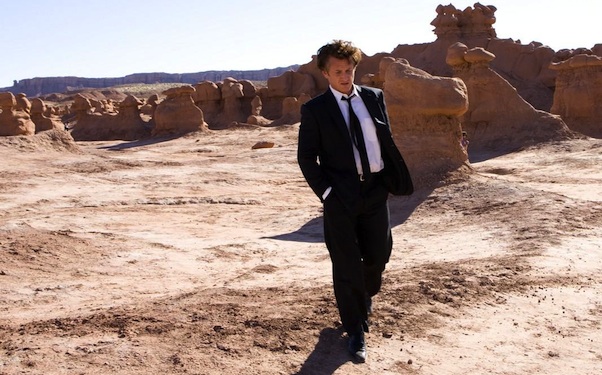 Posted by Matt Singer on
Fox Searchlight just launched the "full version" of their official site for Terrence Malick's upcoming film "The Tree of Life," TwoWaysThroughLife.com. It is as beautiful as it is incomprehensible.
A home page of stills from the film directs you to a screen with two options: "the father's way" or "the mother's way." There's also a baby's foot in the middle, symbollzing the powerful connection between parents and their children's feet. Either option takes you to an assortment of stills and super-brief video clips, each with corresponding descriptions like "All a chaos?" and "They do not endure by maintaining their rigidity." How's that for a movie tagline! I want to see "They do not endure by maintaining their rigidity," emblazoned on a poster above Brad Pitt's head ASAP.
The stills and clips are numbered one through twenty, but they make just as much sense played in a random order as they do in the proper one (which is to say, none at all). As best I can gather, the film involves an asteroid colliding with earth… where Brad Pitt and his family live… Sean Penn's looking for something in the dessert… something something, baby feet. The end.
People complain to me all the time about movie trailers. They reveal too much, they spoil the endings, they ruin the best jokes. These guys must be over the moon excited by "The Tree of Life" marketing, because movie advertising doesn't get much more ambiguous than this. If I sent you TwoWaysThroughLife.com with no other context, and you didn't already know "Tree of Life" was Terrence Malick's new project, would you even be able to tell it was a movie? There's a copyright notice for Fox, but no mention of Malick or a release date, or even the word "film." The presence of Brad Pitt and Sean Penn are definitely a clue, bt this could just as easily be a television show, or maybe a charity campaign to raise awareness about the danger of asteroid impacts. What the heck is this thing? Doesn't matter. Terrence Malick. Brad Pitt. Sean Penn. Baby feet. We will all go see it May 27 regardless.