"The Human Centipede: The Musical" Redefines Tongue In Cheek Humor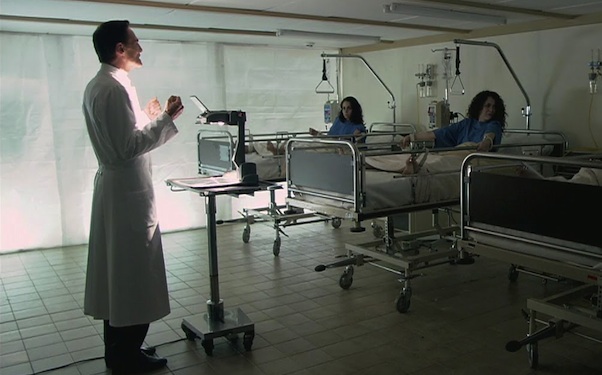 Posted by Matt Singer on
There have been plenty of weird Broadway musical adaptations of movies of the years — we made a whole list of them on IFC.com a few months ago in honor of the one that's still weirding out theater audiences right now. But of course those musicals are unintentionally weird, or at least weird with a straight-face. The comedians of Emerson College's Chocolate Cake City decided to have some fun with the idea of making musicals out of the unmusicalable (Making words up is fun, y'all!).
Last month, they created "The Human Centipede: The Musical," and earlier this week they put the whole thing on YouTube. And for a show featuring songs about ruffies and anal suturing, it's an impressively accurate adaptation. And long! I'm actually still watching it as I'm working on this post, but so far, it is hilarious (there's a huge laugh in Part 3 when Dr. Heiter finds a replacement for the third part of his centipede). Here is the opening scene, which includes a "Rocky Horror"-ish introductory song.
Obviously this is an unauthorized adaptation. But it's so faithfully and lovingly done, I think it'd make a great special feature on the "Human Centipede 2" DVD. I mean it really is the shit. Get it? The…shit…human…centi…oh whatever. Watch the whole thing yourself on the show's YouTube channel.
[H/T The A.V. Club]