"The Greatest Movie Ever Sold," Reviewed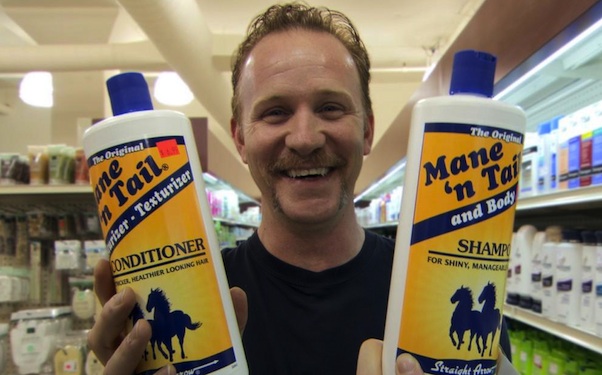 Posted by Matt Singer on
A version of this review originally appeared as part of our coverage of South by Southwest 2011.
How did we ever live before TiVo and DVR? I honestly don't remember. I seem to vaguely recall talking to people more. It was horrible.
TiVo and DVR have given us the freedom to control our tevision experience: to record and save our favorite shows or fast-forward through the stuff we don't want to watch. That freedom, though, is such a complicated thing. We certainly don't need more marketing in our cluttered lives, but that marketing pays for most of the content on television and the Internet. And as TiVo and DVR have made commercials easier to avoid on television, people have become more resistant to traditional advertising in all cultural contexts. Again, not a terrible thing… except for the people who make their money by creating content for websites that make their money selling advertising. If you won't look at the ads, the site can't sell the ads. If they can't sell the ads, then they can't pay the writer. If they can't pay the writer, the writer has to go work at one of the places that put their ad on the site in the first place.
These are the issues at the center of Morgan Spurlock's ingenious documentary "The Greatest Movie Ever Sold." In their attempts to circumvent audiences' post-DVR distaste for commercials, companies have had to find new ways to market to consumers. One of the biggest ways they do it is product placement, the near-subliminal use of brands and products within movies and television shows in exchange for cash. Spurlock wanted to make a film about the rise of product placement but he, like most of us, couldn't afford to do it without outside funding. So he recruited advertisers to fund his $1.5 million dollar movie about advertising. Hence, the full title of his film "POM Wonderful Presents the Greatest Movie Ever Sold."
As he did in "Super Size Me," Spurlock manages to turn a fairly dry issue into an entertaining and funny film by casting himself as its gregarious subject. His schtick is simple but effective: he enters into a high-concept premise with good intentions and limited knowledge, and learns through actions. What better way to understand marketing skullduggery than by becoming beholden to it yourself? As a filmmaker, Spurlock is kind of like Jeff Goldblum in "The Fly:" he's got these amazing ideas, but to execute them he has to use himself as the test subject, and even if the experiment's a success, there may be some unforeseen consequences. For instance, Spurlock doesn't just have to recruit advertisers; he has to make them happy too. That means driving their cars on camera or pimping their shoes during interviews or even, in one case, agreeing not to disparage the entire country of Germany. Achtung!
Even while (POM Wonderful Presents) "The Greatest Movie Ever Sold" dramatizes Spurlock's quest to fund his movie through sponsors, it repeatedly breaks from its own narrative to offer opposing viewpoints on advertising from cultural critics and intellectuals who caution about the dangers and impact of marketing on our brains, children, and quality of life. You really do get both sides: this movie has an official airline (JetBlue), and an interview with an anti-product placement advocate conducted in that airline's flagship terminal.
Making a movie about product placement by recruiting advertisers is an inherently gimmicky premise. But when you strip away the comedy, and even the modern relevancy, you realize that Spurlock is speaking to one of the fundamental and eternal questions of cinema: the war between art and commerce. How far should a director be willing to go to make and promote his movie? Some of the most interesting scenes in the movie are the ones in which Spurlock discovers that compromising your art for the sake of commerce comes with its own set of compromises. He pitches POM a whole bunch of ideas for a commercial he has agreed to integrate into the film. His ideas are clever and funny, in keeping with the tone of the movie he's making. POM execs reject them all and tell him what they want him to do instead. Selling out is one thing. Handing over the writing of your movie to a sponsor is another.
Despite the creative hurdles, Spurlock effectively straddles the line between selling out and poking fun at selling out. The secret, I think, is transparency. When someone on an evening soap opera calls out one of their friends for acting strange for drinking too much Dr. Pepper, there's never any acknowledgement that you're watching a commercial grafted atop a piece of entertainment. Spurlock is totally upfront about what products and companies support him and even tells us how much they've paid him in several instances. He doesn't deny the moments where advertising has its perks, like free cars and drinks, but he's not afraid to openly admit his reservations about what he's doing, either. He's self-aware in a field that's typically defined by its complete lack of self-awareness.
Eventually, POM and Spurlock are able to agree on an idea for the commercial and, sure enough, it runs within the body of "The Greatest Movie Ever Sold." There's two other commercials during the course of the film too, for Hyatt and JetBlue, and it occurs to me that intramovie commercials of the kind Spurlock accidentally pioneers here could represent a new frontier for advertisers. Think about it: when you watch a movie in a theater, your attention is completely focused on the screen. You're not distracted by the Internet or your phone (hopefully), and you can't fast-forward. You're the perfect, captive audience. But don't worry. Even if intramovie commercials take off, you can still just wait for them to show up on cable and watch them on your DVR.