Tribeca 2011: "The Good Doctor," Reviewed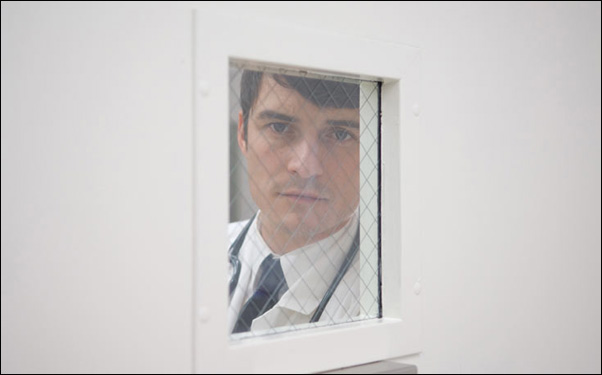 Posted by Stephen Saito on
As a general rule, it's usually considered unwise for a heartthrob type to play a bad guy early in their career, which is a shame since being easy on the eyes always makes the pain when they plunge the knife in just a little more painful. Orlando Bloom's Dr. Martin Blake doesn't want to have anything to do with knives – his desire to make it into the internal medicine program is so he'll never have to administer needles, let alone a scalpel. Yet with hair swept over his forehead, you know Bloom has finally gone over to the dark side as Blake, a first-year resident who drowns in moral quandaries after becoming unusually obsessed with one of his patients (Riley Keough).
One wouldn't be entirely wrong to think Blake is interested in the pyelonephritis sufferer Diane because of her blue eyes and blonde hair, but where John Enbom's script becomes really interesting is by suggesting he's enchanted equally by the idea of the girl's family, dysfunctional as they are, who invite him over for dinner after he successfully cures their daughter. Living alone himself in a beach house with nothing but white wine, reheatable dinners and a fancy sound system to play classical music, Blake has only the comfort of going to work each day to keep him company.
Even there, he's out of place surrounded by a nurse (Taraji P. Henson) who doesn't defer to him, an orderly (Michael Pena) whose lack of decorum constantly dismays him, and a chief (Rob Morrow) uninterested in mentoring him, despite his best efforts to be respected by all three. Soon after believing he's accidentally misdiagnosed a Mexican patient he can't understand, Blake suddenly sees an opportunity for companionship when he's invited over to the girl's home and takes the time to switch her prescription without her knowledge, landing her back in the hospital, thus beginning an incredibly slippery ethical slide.
The film is actually reminiscent of "Shattered Glass," which subverted the image of its leading man (Hayden Christensen) as the matinee idol who can be trusted simply because how could someone so clean cut not be? But it's also the lack of charisma that such types are usually criticized for that becomes an asset, the blankness that lets them recede into the background even if they're at the center of the frame, because first you'd never suspect them of anything, let alone imagine they think about anyone but themselves. Bloom doesn't necessarily project this, though his past résumé is a string of films that has failed to pull out of him what he delivers in "The Good Doctor," a person who is constantly thinking about others, not just of what they think of him, but as a way of deflecting attention from the unfortunate life of solitude he's carved out for himself.
It's a character study grafted onto a thriller and not only is Bloom game, but he brings with him an unusual group of collaborators that make it unsettling in all the right ways. Directing his first American film, Lance Daly, who previously helmed the excellent and completely unsentimental Irish love story "Kisses," shoots much of the film at a remove, observing Blake's descent without really commenting on it with any ornamentation until the final act, making the antiseptic aesthetic not just a practical choice to depict hospital life, but a creative one as it reflects the gray area of the doctor's behavior before it all very much turns to black.
A couple niggling plot details prevent a full embrace of the film – for some reason, Diane doesn't attend the dinner that she's said to have wanted set up for Blake, and later on, J.K. Simmons comes around as an investigator who's not a particularly strong interrogator. Yet "The Good Doctor" is too entertaining to dismiss for those reasons alone. It may be an unhealthy pleasure, but a pleasure nonetheless.
"The Good Doctor" currently does not have U.S. distribution, but will play the Tribeca Film Festival on April 26th and 30th and May 1st.