Tribeca 2011: Taylor Kitsch Joins "The Bang Bang Club"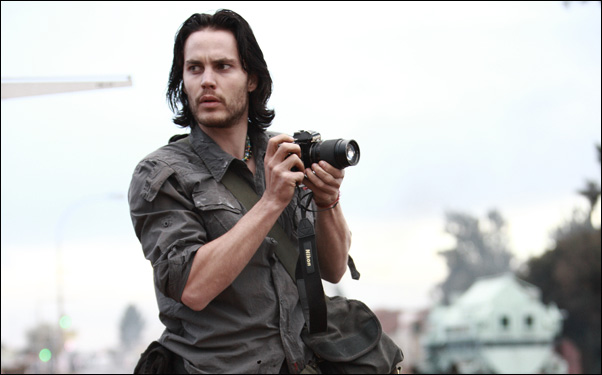 Posted by Stephen Saito on
There's a reason Taylor Kitsch is the first person you see in "The Bang Bang Club," despite the fact he's not the film's central character. As Kevin Carter, the real-life Pulitzer Prize-winning war photojournalist who fearlessly took photos of the demons plaguing South Africa during the end of Apartheid in 1990s while battling his own internally, he has the unenviable task of playing the lone member of the group with the titular nickname (referring to the pictures they snap) to wear the weight of the tragedy of his surroundings on his face as indelibly as the tattooed outline of Africa on his arm.
However, Kitsch's Carter could be called the film's beating heart not only for the decency he brings to the role, but also a charisma that as anyone who's watched him play the stoic Tim Riggins on "Friday Night Lights," currently finishing its final, extraordinary season on NBC, could tell you can seduce you even if he's breaking your heart. While these things come naturally to Kitsch — he exudes both in person — several other aspects on "The Bang Bang Club" didn't, requiring two months of heavy research, practicing a Johannesburg-inflected accent, subsisting on a diet of fruit, coffee and hot sauce to lose 30 pounds, and shadowing celebrity photographer Jeff Lipsky to operate a camera properly – all ironically serving the purpose on screen of making you not notice what a deeply nuanced performance it is.
With his rugged good looks, it's been easy to be distracted from Kitsch's acting prowess, but with this film and two upcoming blockbusters on the horizon (Pixar's first live-action film "John Carter of Mars," directed by "Finding Nemo"'s Andrew Stanton, and Peter Berg's "Battleship"), the secret's about to be out and recently, I sat down with the star to talk about the toll of his most demanding part to date, the importance of trusting his gut and how his days of living on subways prepared him for a career in the movie business.
You recently co-hosted a benefit [with Friday Night Lights" co-star Connie Britton] in Austin with an African children's choir – did that actually connect to "The Bang Bang Club" and has the experience lingered on more for you than some of the other work you've done, shooting in Johannesburg?
[The benefit] didn't, [but the experience] definitely did. It took me a while to come out of it and to go back to Austin, it was a big thing to just be conscious of it and allow yourself to take your time to let go of it. Being in Austin helped because you've got people who know you for who I was before I went away and I may see a couple of things different when I come back. They just understand and allow the process to just kind of seep out. So it took quite a while and even now, there's still quite a few emotional triggers with [Kevin Carter]. It just took a lot of me to play him and I just wanted to do it right.
Since you still have a slight Canadian lilt, you've never actually used your own voice on film. Does having an accent every time out help you get into character?
I think any actor has to love that. It feels funny when you've played something that's really close to you because that's when you feel like you're acting. When you're playing something that's so far from who I am, it just feels like you're more in tune with that guy. So [in "The Bang Bang Club"] when you put on the accent and you lose the 30 pounds to play him and you have a different walk and you grow the gross beard, you pierce your ear, you dye your hair, it's like all these little things add up and they help so much.
I've heard you shadowed photographer Jeff Lipsky, which is something that may be evident in how you hold the camera, but not necessarily something that shows up on screen otherwise. How did that help you?
It's so technical because obviously we don't have point-and-shoot cameras, so to make that an unconscious trigger where if I'm in a scene playing with my Leica, I don't want that Leica to take over the scene where I'm like oh fuck, hopefully, I look like I know what I'm doing. I need to know the shit so inside out that it's unconscious because that's what they did. So shadowing Jeff and having this Leica with me for months before I go to camera with it, now when I see it, it's like this is what it's supposed to mean to me in a scene and if I can prep and give myself the best opportunity to play it honestly, it's a no brainer to do it, to put that time in.
Even with two months of prep, this must've been one of the quickest shoots you've done in recent years. How does that compare to some of the marathon shoots like "John Carter of Mars" or "Battleship"?
I think every journey's so different and I love that about the projects we've done. Each character and the story has been so different, and I'm very thankful ["The Bang Bang Club"] was only a three- to four-week shoot because I was quite a wreck doing it. If it was two, three months, it wouldn't have ended well. I don't think it would've been good for me, just with the weight loss and where I was psychologically, so I was very grateful it was a very quick shoot. And for me personally, it allows me to just go all out. Knowing that "Fuck, Kitsch, you've got three weeks then you're done? Go. See what you can do." But if you've got this marathon shoot, like I did "John Carter" – 107 out of 107 shooting days, I'm in every scene, so you've got to pace yourself. You've got to shut down, relax, sleep when you can and do all this. With Kev, it felt more like all in. It's a different mindset for sure.
I had to ask an aside about "John Carter" since I'm so curious…
Great. I just saw the trailer hours ago, by the way. [grins]
It's one thing to act against those green tennis balls on a CG-heavy movie, but is it harder giving a performance when you don't necessarily know how you'll wind up appearing onscreen?
I'll tell you something about [Andrew] Stanton – I would get his coffee tomorrow. That's how smart this cat is and with his years of preparation, I could see where he's going -he storyboarded and had tests of what tharks [aliens on Barsoom] look like and he showed me, so that allowed me a trust because if I'm acting to tennis balls, I've got to trust in post, they're going to kill it. They're going to fucking make this guy do everything and anything Stanton's saying right now to me what this guy is doing. For me, it's just an enormous amount of trust for me to just go all in and believe him. With "Bang Bang," I have more of a gut instinct going on a scene with someone right in front of me, like "okay, I'd love to try this and that." With "John Carter," I was lucky to work with Willem [Dafoe] and Sam [Morton], but there's also takes where there's nothing there and I'm talking to literally air and in post, they're going to put a thark in, so there's a bit of a difference there.