"Sympathy For Delicious," Reviewed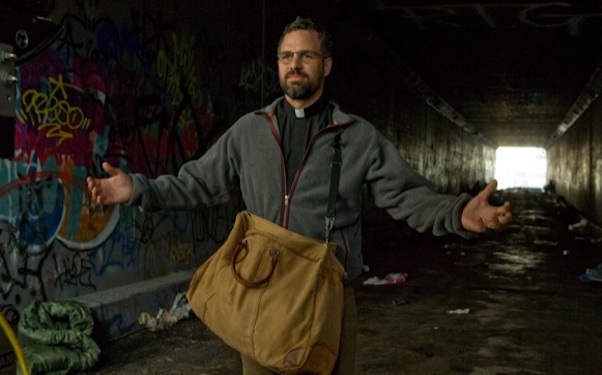 Posted by Matt Singer on
A version of this review first appeared as part of our coverage of the 2010 Sundance Film Festival.
The Lord may work in mysterious ways; "Sympathy For Delicious" does not. The only thing that's mysterious about this unsubtle film about the nature of healing and faith is the thought process behind the raft of bad decisions made by director/star Mark Ruffalo, a great actor making a disappointing directorial debut working from a script by his friend and co-star Christopher Thornton. Despite an intriguing premise taken to some unexpected places and some strong supporting performances, "Sympathy For Delicious" is a gangly mess of a movie.
Thornton plays Dean, a.k.a. Delicious D, a paraplegic DJ living on Skid Row. The night after an unsuccessful visit to a faith healer, Dean wakes up with a strange sensation in his hands and the ability to heal almost anyone with a single touch. Dean doesn't know what to make of his newfound powers — and is furious that he can't use them to repair his own injured spine — but Father Joe (Ruffalo), who runs a local soup kitchen, believes Dean's healing touch is a gift from God. As Father Joe tries to convince Dean to use his power to help the people of Skid Row, Dean tries to convince the members of an up-and-coming rock band to hire him to be their DJ.
From there, the worlds of rock 'n' roll and religion begin to mix in some interesting ways, particularly in one very effective scene that shows Dean healing people as part of a full-on rock concert. But just when "Delicious" starts to approach something really interesting, it backs off. Instead of truly exploring the implications of a rock band with a faith healing stage show, it becomes a ludicrous and extremely abbreviated episode of "Behind The Music," careening through Delicious D's rise, fall, and redemption arc in a matter of minutes. Just about every rock star cliché gets thrown in: from the jealous frontman (Orlando Bloom) to the crass, manipulative band manager (Laura Linney). Some of these scenes border on the unintentionally comic; after their first big gig as a band, Linney, the unambiguous devil figure in this religious parable, stokes the group's egos with lines like "You were like an angel! You had wings on your back. I could see your wings." (Angel! Faith healing! Religion! etc.) She suggests they take the show on the road and call it "Healapalooza." Though an sane band would instantly fire a manager for seriously pitching "Healapalooza," these guys go along with it.
That Thornton has been paralyzed since a rock climbing accident nearly 20 years ago, and was inspired to write this story by his own experiences in the world of faith healing, gives the film an immediate hook. But it doesn't excuse the flaws in his writing (Healapalooza? Really?) or the fact that amidst a cast of superior actors including Ruffalo, Bloom, and an effortlessly charming Juliette Lewis, he looks overmatched in the lead role. Ruffalo and Thornton, who are longtime friends, worked for 10 years to bring "Delicious" to the screen, which makes it the definition of a passion project. But maybe there was a bit too much passion in this case, too much thinking with the heart instead of the head. Maybe Ruffalo was so passionate about his friend's screenplay that he was blind to its flaws, from its clumsy pacing to its ham-fisted dialogue.
The end result has good intentions and poor execution. There are parts worth watching, particularly Lewis' undeniably charismatic performance as the one member of the band who encourages Dean to pursue his music, and a few of the scenes between Thornton and Ruffalo that hinge on the question of where charity ends and exploitation begins. But not enough to recommend the film. Still, a few moments are good enough to make you wonder what went wrong everywhere else. That's moviemaking for you. It's a mysterious process.