SXSW Hit "Attack the Block" Gets U.S. Distribution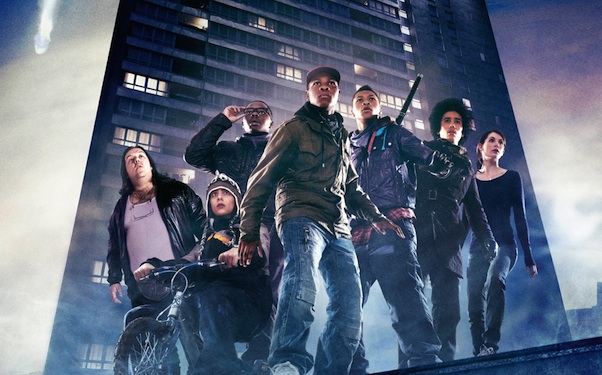 Posted by Matt Singer on
It came a few weeks after the festival, but one of South By Southwest 2011's biggest hits — it won the Audience Award for the 'Midnighters' sidebar — has been acquired for U.S. distribution. "Attack the Block" from director Joe Cornish has been acquired by Screen Gems, according to a press release:
"Sony Pictures Worldwide Acquisitions (SPWA) announced today that it has acquired U.S. rights to 'Attack the Block' written and directed by Joe Cornish. Screen Gems will distribute the highly regarded film which won the Midnight Feature Audience Award at this year's South By Southwest Film Festival. The announcement was made today by SPWA President Steve Bersch and Screen Gems' President Clint Culpepper."
No word as of yet on when we can expect a US release; though the announcement does mention that if you're in the UK, you'll be able to see it come May 11. The announcement coincides with what sounded like the glitziest screening the movie has or will ever had last night in Los Angeles. Afterwards, directors like Eli Roth and Richard Kelly, and actors like Joel McHale and Adam Scott all tweeted their love for the film. You can also read my enthusiastic review on IFC.com; here's a little sample:
"It feels a little strange to call a movie about bloodthirsty gorilla-wolf aliens authentic, but that's exactly what 'Attack the Block' is. From the characters to their conversations to their home to their reactions to those aliens, everything about the movie feels real to life. Though 'Block' has its share of crazy cool moments, these kids aren't super-heroes. They don't have artfully choreographed wire-fu moves or big shiny handguns to fire whilst leaping through the air and screaming. The kids of the Block (who, I suddenly realize, could really use their own gang name) might not realize it at first, but they are sorely out of their league, and their actions have intense unforeseen consequences. Because Cornish grounds the film so believably in this world and these characters, we personally feel every single one."
I'm looking forward to seeing the movie again whenever it hits U.S. theaters.