Susanne Bier Considers "A Better World"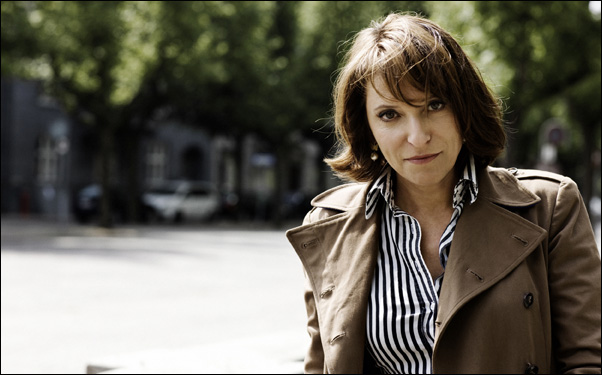 Posted by Stephen Saito on
In recent days, many people have thrown around the word "accessible" in writing about Susanne Bier's work, a description that has no doubt has led to Hollywood interest in remaking at least two of the Danish filmmaker's previous films including the already-produced Jim Sheridan take on "Brothers." For some, it's been a compliment and others, a curse – Bier deals in direct terms with her audience and while she tells stories that are easy to digest, it's because they're undeniably about the human condition.
Bier's win for this year's Best Foreign Language Film at this year's Oscar for "In a Better World" was yet another confirmation that she's working on a global stage, yet it's long been evident from her films that it's been a goal to cut across borders. In her latest film, she achieves the near-impossible with a parable about violence that spans from the small scale of schoolyard bullying in her native Denmark to the large scale genocide in Sudan, bridged by the story of a doctor (Mikael Persbrandt) who serves a refugee camp while his son (Markus Rygaard) must defend himself with the help of a new friend (William Jøhnk Nielsen) in the former, and in both cases, she's quick to identify evil in the form of a debilitated warlord named Big Man and a blond teen terror named Sofus. As I wrote back when I saw at the Toronto Film Festival, "Whatever lack of sophistication exists for the aggressors in the film is reserved for the conversation that Bier and co-writer Anders Thomas Jensen would like to inspire about violence begetting violence and where the line should be drawn."
Not surprisingly, Bier is equally engaging, if not more so when you speak to her in person, which I did a week before she collected her first Academy Award, discussing the difficulty of staging such continent-skipping films on small budgets, her pre-film school days at the Architectural Association in London, and why she likes to be a rule-abiding filmmaker.
What I was so impressed by is how you were able to capture a spectrum of violence with the two parallel stories – during the writing of the script, did one side emerge out of the other?
We came up with the themes at the same time. It's always really difficult to say how you develop an idea, but [Anders Thomas Jensen] had written some scenes where some boys were being interrogated by the police. I really liked those scenes and at the same time, we had been discussing about how fragile the Danish ideal really is, and also the whole notion we live in a very privileged society, very safe in Northern Europe. We always tend to think the enemy always comes from the outside. The threat is always something alien, something exotic, something foreign. What if the threat is really from within and what kind of story would that be? So we had those more theoretical discussions and he wrote those scenes and they are not actually in the movie, but they were very inspiring in terms of the development of the story.
You walk a fine line here of making a film about violence without glorifying it, but is it much of a consideration is it that at some points in the film it's a release for the audience?
The thing is you don't want to glorify it, but on the other hand, you also don't want to soften it. It's always that dangerous thing that you deal with — you deal with a certain fascination and yet you don't want to glorify something. I definitely don't think the movie glorifies violence. Quite the opposite. But I think it understands the urge of violence at certain cases. When the doctor finally gives in and feels in his heart he can't defend Big Man anymore, that's a very violent moment, but it doesn't glorify it. There's a sense of relief, but there's a sense of relief of getting rid of this guy who's just going to go out and do more atrocities. I think it's about understanding that even if you don't really believe in violence and even if you don't believe in revenge, you can also not accept anything. There are certain things you cannot accept. There are certain things that human beings cannot tolerate.
Your last three Danish films have all involved people relating their experiences overseas to the ones they have at home. Has there been something particularly appealing about that theme or is it coincidence?
I think there is an understanding that the bigger world is part of our world where we can't just exclude ourselves from the rest of the world anymore. But also I think there's this whole theme of how difficult it is, which my last movies have dealt with, in contemporary society to be a decent human being. That whole thing of wanting to do the right thing and actually wanting to help people and yet having issues at home and possibly being a flawed human being is to me very essential and interesting.
It was so interesting to learn then that you initially studied architecture, which is an art that seems as removed from dealing with human nature as one can get. However, did your education there inform your film work?
I think there are similarities, which have to do with both fields being in between art and craft in a way. There is a certain craftsmanship that you need to understand in order to make movies and also there is a certain technical thing you need to understand, which is the same for architecture. Also, I think as a director, your main thing is you have to understand the entire movie, even if while you shoot it or while you edit it, it's very fragmented. You have to stay with the image of the entire story or the entire development and that ability to see something from above, which you also do as an architect, is where those two things play into each other.
That kind of foresight must come in handy – I heard you only had five days in Africa, which seems insane to me since it takes up such a significant portion of the film.
It is insane. [laughs] Here's the thing, it doesn't seem insane to you, it was insane and I can only say that I'm grateful that we actually succeeded and I would not do it as insanely another time because it was kind of crazy.
Since you're working on a fairly limited budget, do you have a lot of time to scout the locations or is it purely instinctual?
No, usually my [director of photography] does a lot of scouting and the set designer. I don't do that much scouting. Being economical in terms of filmmaking isn't just about not spending a lot of money. It's also about being accurate. And accuracy is extremely important. It's a little bit like wanting to take a self-portrait and you can go and do 500 of them and probably not one of them is great, but you can go for the right one. I think being economical is going for that one right moment. So in Africa or India [where "After the Wedding" was partially filmed] or anywhere else, when you don't have a lot of money, you're forced to be economical and you're forced to be accurate and I think it's pretty healthy.
This film marks a return to Denmark after your first American production "Things We Lost in the Fire," which while being a modest film for a studio was still a larger budget than you're used to having. Were there things you took away from that experience?
I did learn a lot from "Things We Lost in the Fire," but I've learned different things from different films. The main thing as a director, you always want to have a bit of a worry about the material you're going to get yourself into. You want to be a bit scared of it so that you have that excitement of having to climb the mountain. With this particular movie, I was scared of having two boys playing very important parts – two completely inexperienced first-timers – and I was also worried about dealing with these big themes because you can really end up falling flat if you do that. But I think that worry is incredibly stimulating because it forces you to not be arrogant with your material.
You've said before you approached this as a thriller. Is it really helpful to you to have a particular genre in mind, even if that's not what the film turns out as?
It is. I quite like rules and I don't necessarily pronounce the rules, and I can't say what the rules are here, but I did think about it as a thriller throughout, even before shooting. I know it's not a thriller, but it has elements — people come out of the movie and saying they were sitting on the edge of a chair watching the film and that's exactly what you do watching a thriller. So I guess having that in the back of my mind somehow helped what could've been a much more slow, dramatic story to become something which is essentially exciting yet substantial.
"In a Better World" opens today in New York and Los Angeles.