Paul Feig on Finding the Humor in Steve Carell's Tearful Exit from "The Office"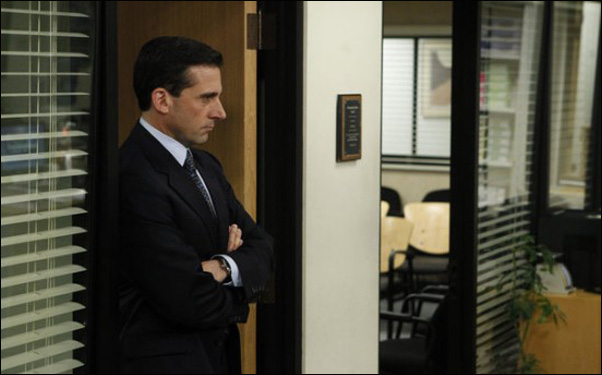 Posted by Stephen Saito on
It's true, Paul Feig is available for weddings and other special occasions, but only for "The Office." The show, which has invited its former co-executive producer back to direct many of its biggest events, such as Jim and Pam's nuptials ("Niagara"), once again turned to "Freaks and Geeks" creator to helm Steve Carell's final turn as the often clueless Michael Scott on the show, which airs Thursday night on NBC. "Goodbye, Michael" will see the Scranton branch manager of Dunder Mifflin leave for Colorado while his replacement (Will Ferrell) and the veteran staff duke it out for his clients.
Even without his prior connection to the show, few directors would be better suited to manage the emotions of the occasion as well as keeping the laughs on track as Feig, having helmed at least one episode of nearly every great television comedy in the past decade. In two weeks, we will have a much longer interview with him about his career as a director on the eve of the release of his latest feature "Bridesmaids." But in the mean time, we wanted to post this part of our conversation about what it was like to be on the set for Carell's swan song as one of television's most famous characters.
What was it like to balance the emotions of the day while doing a comedy?
It was just emotionally hard because I actually hadn't been back in like a season-and-a-half since the wedding episode, which I loved and then I just got busy with the movie and other stuff. But when this popped up, I was thrilled to do it. It was hard because even though I was away for a season-and-a-half, the enormity of the fact that Steve was leaving was always around us.
I think Michael Scott is one of those seminal characters in TV history, just like Archie Bunker was or Ted Danson's Sam Malone. And it was funny because Greg Daniels, ["The Office" creator] who is one of my heroes, he was very smart because every scene was so emotional — we were getting all choked up and.occasionally you'd [think] this episode's going to be great just because it's going to be so emotional and sad — and he kept going, "Yeah, but if it doesn't work that way, it might just be too much. We don't just want to roll around in this emotion all the time."
Mindy Kaling was actually saying the scariest thing is you become the thing where you're doing something where everyone's sad and crying and the audience at home is going like, "Why's everybody crying? It's not that sad." So if you make something more out of it than the audience is feeling, then you've just got disaster because that's where everybody's like "yech…" So it was interesting dealing with this emotion on the set where everybody was very emotional because like "this is my last scene with Steve" and all that, yet all of us still being able to go like, "Wait, okay, let's make it funny. It's still got to be funny." So it was a real challenge, but it was a fun challenge and everyone was so good in it.
What was it like to working with Steve on his final show?
Steve's just one of the best comedic actors…just best actors, period, but he has an ability to ground everything. Nothing he does is bullshit. And he has such a high meter of "No, that's fake. I wouldn't do that. The character wouldn't do that. This feels unreal." That's that's why he's so funny because it's all so human what he's doing. Even when he's doing stuff that's bigger, it's still coming from this very human place and so I've learned so much working with Steve. He's just one of my heroes. But it was interesting. We're actually going to shoot some more stuff for the episode because I think we're going to try to expand it to an hour. [NBC did, in fact, supersize the show to be an hour long.)
I hope you didn't have to bring Steve back.
No, Steve's gone! Wouldn't that be the best? Harmonies, tearful goodbyes. Oh, here he's back. It's like leaving your going away party and then you forget your keys, so [after] everybody's tearful goodbye, you come back [sheepishly], "Oh I forgot my keys, sorry, goodbye."
The "Goodbye, Michael" episode of "The Office" airs April 28th at 9 p.m./8 p.m. CST.