A "Sound" Way to Celebrate Record Store Day in New York, Chicago & St. Louis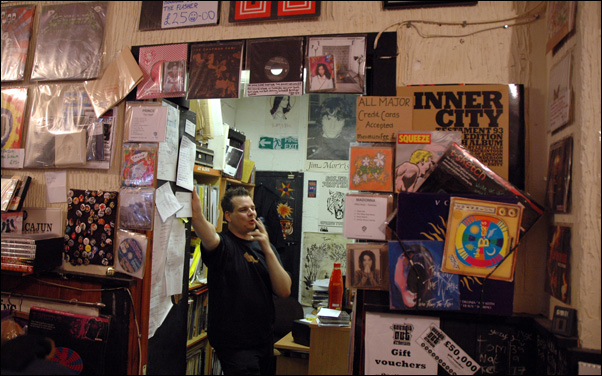 Posted by Stephen Saito on
With her flame-red locks and a weeklong international tour, you would be forgiven for thinking Jeanie Finlay was picking up where Santa Claus left off. However, the occasion isn't Christmas, but another annual tradition worthy of merrymaking and good cheer — Record Store Day, which Finlay is celebrating this week with a whirlwind tour of England and America, including stops at the CIMM Fest in Chicago on April 16th and the Webster Film Series in St. Louis (April 22-24), and the centerpiece of her Stateside appearances, a screening at the Walter Reade Theater in New York on Saturday evening, to show her latest film, "Sound It Out," a documentary about the last record store in the small North East England town of Teesside that our own Matt Singer wrote after its premiere at SXSW "isn't just good – it's important."
As with most things that carry such weight, "Sound It Out" was born out of humble origins, a personal film that Finlay shot herself in the cramped confines of a store with far more albums (over 70,000) than square feet of floor space where the customers range from dapper older fellows who consider record collecting to be a "pursuit for a gentleman" to black leather-clad metalheads. In a conversation before Finlay embarked on her cross-continental screening tour, she told me she would often target "the shiest person in the room because often they're the most interesting," which made it convenient for the director since arguably the film's most bashful participant is the store's owner Tom Butchart, a fountain of knowledge of everything pressed on vinyl and a hysterically funny dry wit. (His observation that "Eight of 10 men would turn gay for Morrissey" is a show stopper.)
While it took some convincing on Finlay's part to get him on camera, it wasn't for a lack of familiarity — the two went to school together and when his store became the last one standing, Finlay took it upon herself to start filming and eventually picked up the support of over a hundred donors on the crowdfunding site IndieGoGo to continue on a 19-month shoot. Although plenty happens within the store, most notably enjoyable in-store performances from the likes of chanteuse Saint Saviour, it was actually the film's executive producer Dunstan Bruce, the former lead singer of Chumbawamba, who suggested Finlay step outside the record store to capture the town where both culture and the countryside as a whole have been hit hard by the recession, though the Sound It Out shop still functions as a safe haven for all.
"Vinyl isn't dead," Finlay says now, despite the fact she confessed at SXSW that she had to part with her record collection two years ago to finance part of her wedding. As she told the crowd then, the film reaffirmed her belief that "Records are much more than blank discs — they're laden with memories. I don't think I'll feel the same way about Mp3s."
Still, even after "Sound It Out" got the documentarian readdicted to record buying, she won't have much time to spend with them in the months ahead. Finlay is currently at work on two more exciting music-related documentaries: one, "Orion," about Jimmy Ellis, a contemporary of Elvis who used his vocal and physical similarities to the King to ride his coattails and simultaneously wore a mask to separate himself and carve out his own niche, and "The Great Hip Hop Hoax," a film she says "is about lying basically" as it tells the story of two British rappers who remade themselves into a faux California hip-hop act when their music was met with indifference in England.
Surely, no such fate awaits "Sound It Out," which like the albums coveted by the customers of the Teesside shop captures a particular time and place in a lovely way that will be music to the ears of vinyl collectors and film fans alike, making it a can't miss proposition as Finlay accompanies it across the U.S. this weekend and rest assured, when she gets back, Tom has already set aside a new pressing of Belle & Sebastian waiting just for her.