Sidney Lumet: A YouTube Primer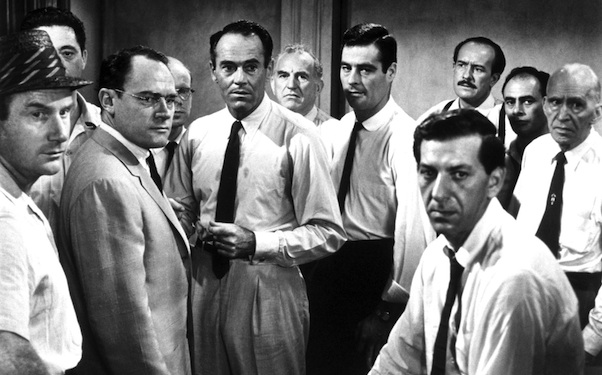 Posted by Matt Singer on
When I was in in grad school, getting a degree in cinema studies, Sidney Lumet was a tough director to love. If I brought his name up in conversations about great filmmakers, I was shouted down by my colleagues. They'd say his best movies were adapted from plays, or that that he often sublimated his own artistic impulses to great writers who became the true authors of their collaborations.
Maybe they were right. But there's no shame in turning a good play into a better movie, or allowing a marvelous screenplay to take center stage. Lumet's unfussy, economical approach was born from years cutting his teeth in the fast-paced world of early television production. His apprenticeship in television taught him that the flashiest way was not always the best way to tell a story. There doesn't appear to be a lot going on visually in a film like "12 Angry Men," a movie adapted from a play and set entirely inside a jury deliberation room. But you watch closely and you see how Lumet subtly raises the tension by shooting with shorter and shorter lenses, shrinking the room, increasing the sense of claustrophobia.
Lumet's work illustrates the difference between good direction and big direction. Any filmmaker would love to have a movie as good as "Network" or "Dog Day Afternoon" or "The Verdict" or "12 Angry Men" on their resume. Lumet had them all. A filmography as long and impressive as his doesn't just happen by accident. Neither do the performances that actors like Al Pacino, Henry Fonda, Paul Newman, John Cazale, and Faye Dunaway gave in his movies.
Thinking about Lumet over the weekend I found myself repeatedly heading to YouTube to watch my favorite scenes from his work. If you don't know these movies, this post is no replacement for actually watching them. But if these samples give you the desire to go out and see them in their entirety, it will have done its job.
Let's start with maybe the most famous scene from his most famous movie, "Network." As I wrote just a few weeks ago, during the height of the Charlie Sheen madness, the film, about the media consolidation and degradation, is as timely now as it was back in 1976. Just listen to Howard Beale (Peter Finch) here. Beale has been fired from his broadcast news show for low ratings. It's driven him completely insane. But in insane times, an insane man sees things more clearly. And the speech he gives, written by Paddy Chayefsky, about how bad things are getting in society ("It's a depression! Everybody's out of work or scared of losing their job…banks are going bust…") could have been penned last month.
By the way, incredible as that rant is, my favorite scene from "Network," isn't Beale's "mad as hell" speech; it's Ned Beatty explaining to Beale how he has "meddled with the primal forces of nature" in corporate controlled America. That scene is viewable on YouTube, but not embeddable.
"I'm mad as hell and I'm not gonna take it anymore!" wasn't the only time a moment from one of Lumet's films became larger than the movie itself. It's a pretty safe bet that anyone who knows the word "Attica!" today knows it as something Al Pacino yells in Lumet's "Dog Day Afternoon" and not as a notorious prison riot, which is why Pacino yells it in the first place. Here is that riveting scene:
Two years before "Dog Day Afternoon," Lumet directed Pacino in another classic, the undercover cop drama "Serpico." People often note that Pacino's acting has gotten bigger and bigger (and worse and worse) over the years, and put all the blame on Pacino himself. But maybe the fact that Pacino worked less and less with great directors like Lumet played a big part. Here's a scene from "Serpico" where Pacino goes big, but not over the top. With Lumet, he knew exactly the right note to hit.
Lumet made all sorts of films, but many of his most well-known movies are set in the American legal system. Here Lumet himself shares his thoughts on what makes a good courtroom drama:
And here are some of those theories in action, in Paul Newman's closing argument from "The Verdict." Note the similar camera movement from Howard Beale's big speech in "Network," the high, wide angle slowly moving tighter and tighter, a Lumet signature. Though there aren't any specifics of "The Verdict"'s plot in Newman's speech, it is the big emotional climax of the movie. So consider this your SPOILER WARNING.
Last and definitely not least, more legal thrills from my favorite Lumet film — and of my all-time favorite movies, period — "12 Angry Men." In this scene, Fonda's character, the one voice of reason(able doubt) in a deliberation room ready to send a boy to his death, begins to chip away at the certainty of his fellow jurors. Because Lumet's direction is so controlled, even small moments of action have a huge impact, like someone slamming a knife down into a table.
Again, if you don't know the movies of Sidney Lumet, you are missing out on some of the greatest films ever made in and about this country. Seek his work out.