Schwarzen-Watch: Arnold Shops Fifth "Terminator"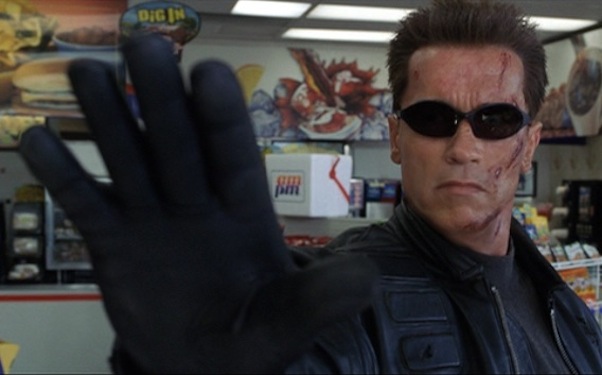 Posted by Matt Singer on
IFC.com's film writer, Matt Singer, is the biggest Arnold Schwarzenegger fan on the planet. He blogs any time any news about Schwarzenegger's return to acting, no matter how flimsy or improbable, hits the Internet.
Deadline better not be playing. They say that Arnold Schwarzenegger "is attached to star in a rights package that CAA is shopping today that will revive 'The Terminator.'" I would write my reaction but it's hard to type while your crying. While I wipe away the tears of joy, let me give you a little more of Deadline's report:
"Universal, Sony and Lionsgate, and CBS Films are looking hard at the package… Rumor is the project price tag is at least $25 million upfront, against a purchase price near $36 million, not including paydays for Schwarzenegger or [director Justin] Lin… there is no set price, but this will likely be a whopping sale by the time the dust has settled and the bidding is complete."
Now I know what you're thinking: Schwarzenegger is coming up on 64 years old. He was stretching things (not to mention the skin on his face) playing the Terminator in "Terminator 3: Rise of the Machines" and that was eight years ago (it's actually one of the things that makes that film so fascinating, but we'll leave that discussion for another time). I know that his CPU is a neural net processor, a learning computer, but c'mon: Schwarzenegger's put a lot of miles on that chassis.
So how could he do it now? Realistically, he couldn't. What he could do, though, is play himself using motion capture technology the same way Jeff Bridges became young Kevin Flynn in "Tron: Legacy." Now I know what you're thinking again (I'm totally telepathic and stuff): young Jeff Bridges didn't look like a real perso in "Tron: Legacy." That's fine, says I. Remember: Terminators aren't real people. If there was something just a little off about their appearance, it might be kind of interesting, particularly if Schwarzenegger played an evil Terminator again (or, given the potential for motion capture many evil Terminators). An Arnold down at the wrong end of the Uncanny Valley would generate the sort of creepy vibe you want from a life-impersonating death machine. The illusion might actually be more effective if it's less convincing.
$25 to $36 million is a lot to pay for just the rights, considering the hundreds of millions you'd still need to sink into the production. The last two "Terminator"s, while successful, were not exactly runaway blockbusters; the fourth film, "Salvation," wound up grossing just $125 million domestically and the last Arnold "Terminator," "Rise of the Machines," made $150 million. The novelty of Schwarzenegger back in the leather jacket and sunglasses would certainly be good for publicity, but who knows how good it would be for box office: 90s nostalgia hasn't done much for "Scream 4."
Attached to direct "Terminator: Rise of the Assisted Breathing Machines" (couldn't resist) is "Fast Five"'s Justin Lin. After three "Fast & Furious" pictures, Lin's action chops are well-established. But the guy from "Fast Five" I'd rather see Schwarzenegger hook up with is Dwayne "The Rock" Johnson. Right before he moved into politics, Schwarzenegger made a symbollic passing-the-torch cameo in Johnson's "The Rundown." Not good enough for me. I want to see these two titans fighting over that torch with fiery swords on top of a mountain of elephant bones. It would be so beautiful. Hold on, I'm crying again. Talk amongst yourselves.