Schwarzen-Watch: Arnold Plans Autobiographical Cartoon Series — UPDATED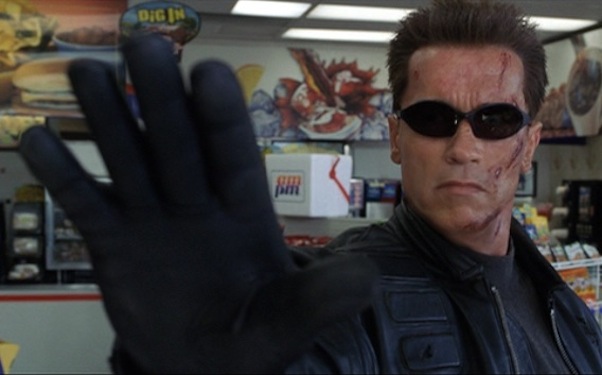 Posted by Matt Singer on
IFC.com's film writer, Matt Singer, is the biggest Arnold Schwarzenegger fan on the planet. He blogs any time any news about Schwarzenegger's return to acting, no matter how flimsy or improbable, hits the Internet.
UPDATE 04/04/2011: Here is the just-released teaser for "The Governator" series, which, apparently, will be preceded by "The Governator" comic books and followed by "The Governator" video game and "The Governator" movie. After that, I imagine, comes "The Governator:" The Flamethrower. The kids love that one.
As for the teaser itself, we a get a brief taste of Ahnold being Ahnold (talking to an animated Larry King — which is maybe the most oxymoronic phrase I've ever written on this site) but it mostly consists of dialogue-free generic action. I understand it's a children's cartoon, but really, if The Governator isn't going to kill people in clever ways and then make terrible puns about it, what's the point?
Entertainment Weekly reports that Arnold Schwarzenegger's new project — the one, methinks, that we vaguely discussed in the last Schwarzen-Watch — will be a cartoon series developed with Marvel Comics legend (and Spider-Man and Fantastic Four co-creator) Stan Lee entitled "The Governator." According to Lee:
"We're using all the personal elements of Arnold's life. We're using his wife [Maria Shriver]. We're using his kids. We're using the fact that he used to be governor. Only after he leaves the governor's office, Arnold decides to become a crime fighter and builds a secret high-tech crime-fighting center under his house in Brentwood."
To a kid who grew up on Schwarzenegger movies and comic books, this is a surreal moment. As I tweeted last night, and as Schwarzenegger himself retweeted — yes, it IS a big deal to me — It's like every drunken bar conversation I've ever had had sex with every crazy childhood dream I ever had and then they had a baby and called "The Governator." Honestly, it's so mind-blowing, I'm not still entirely convinced this isn't some mammoth April Fools' joke designed to crush my spirit. And if I'm promised "The Governator" and then it doesn't happen, my spirit will be crushed.
EW's article fills out the cast a little bit — his archenemies will be "Gangsters Imposters Racketeers Liars & Irredeemable Ex-cons (or G.I.R.L.I.E. Men, for short)" — but obviously there are a lot of details to fill in. Bodybuilding's a must, as well as a scene where The Governator compares the thrill of catching bad guys to the pleasure of an orgasm. I'd like to see a character named Sully, who Schwarzenegger can kill, "South Park" style, in every single episode (preferably while saying "Remember when I said I'd kill you last Sully? I lied."). Obviously John Milius should play The Governator's Q-ish armorer. And the lead villain should look like Robert Patrick (or maybe Shane Black). Oh, and James Cameron can play Schwarzenegger's sidekick (The Avateer!) and they can go scout locations for movies in Brazil together and then bump into the Predator and fight him. Sigh… it's just so beautiful.