Salem's "Sick": Perfectly, perpetually aggressive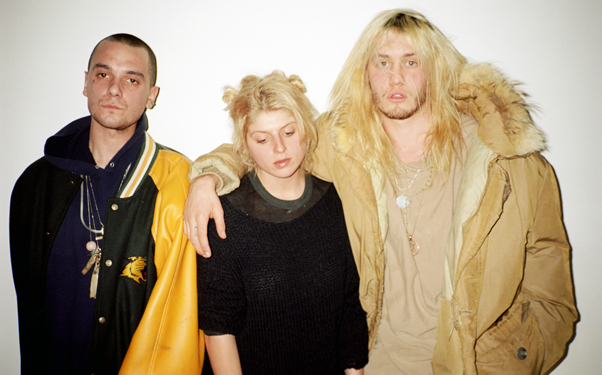 Posted by Grayson Currin on
Salem – "Sick" from Paul Tao on Vimeo.
Salem is a trio of dirty-looking, skin-blemished Michigan kids who appear about as lazy in photographs as they do in pull quotes. Talking to British website The Quietus last year, Salem anchor Jack Donoghue explained his role in the group like so: "I make the beats and rap. Sometimes I get the samples and work on stuff with John [Holland]." Thanks for the insight, bro.
But King Night, the group's colossal proper debut last year, was probably the 2010 record that drove folks into the most polarized tizzies: Some, including myself, praised its massive walls of sound and its obliterative meld of shoegaze rock and Dirty South hip-hop. Others blasted its sonic laziness ("Hey, I can do that," ad infinitum) or decried the racially dubious appropriation of these black sounds by three Midwesterners that sounded like simpletons. If you were on the fence about Salem, the bass would probably knock you off soon enough.
And the darkness keeps coming: "Sick," the just-released second music video from King Night, is a perfect continuation of the same Salem aesthetic that drives the laptop literati berserk in the best and worst ways. As with the band's previous video for "Asia," found footage of fistfights, gang signs and gun totes gets blown out, bent and pieced together. Its ass-beatings and booty shakes put the music's hot buttons–the ugliest three white people this side of Yo La Tengo, bastardizing customarily black music into bassy slurs with traces of violence and misogyny–into visual form. But Salem smartly blurs the lines here, using ballerinas, fashion models, motorcycle daredevils and unfocused footage from their (sometimes, eh, unfocused) live shows to make a broader point: It's easy to criticize the things people do for their own existence and entertainment–whether that's a pirouette, a pistol whip or pulverizing hip-hop into oblivion–from an armchair. But that's necessarily a limited perspective, isn't it?