The Lost Michael Winterbottom/Colin Firth Film and More New DVDs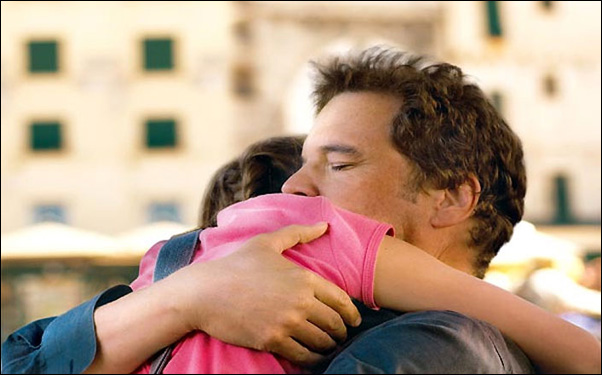 Posted by Stephen Saito on
A look at what's new on DVD this week:
"A Summer in Genoa"
Directed by Michael Winterbottom
Released by Entertainment One
Of the many films Michael Winterbottom ("A Mighty Heart," "9 Songs") has directed in recent years, you wouldn't guess the one starring recent Oscar winner Colin Firth as a father who must take care of his two daughters in the wake of a car accident involving their mother (Hope Davis) would be the one to have trouble making it to the U.S. But here we are three years after "Genova," as it's known in much of the rest of the world, was shot and it's finally arrived on DVD, a mix of supernatural thriller and human drama that's actually getting reasonably good reviews upon its delayed release. Catherine Keener co-stars.
"Belladonna"
Directed by Annika Glac
Released by Osiris
Glac's debut as a writer/director centers on a man whose upcoming nuptials have led to more than just cold feet, but inspired terrible visions involving witches in a forest he can't seem to escape in this romantic fantasy.
"Black Heaven"
Directed by Gilles Marchand
Released by MPI Home Video
French director Marchand follows up the thriller "Who Killed Bambi?" with another potboiler about a couple that picks up someone's lost cell phone while on vacation and learn that returning it might lead them into a dangerous world…or worlds since the only person who can help them is involved with a video game that makes the real world and virtual world almost interchangeable.
"Country Strong"
Directed by Shana Feste
Released by Sony Pictures Home Entertainment
"The Greatest" director Feste is once again at the helm of a tearjerker, though this time set in the realm of country music where a recently rehabbed star (Gwyneth Paltrow) goes back on the road to reclaim her career while an upstart (Leighton Meester) threatens to take her spotlight. Garrett Hedlund and Tim McGraw co-star as the somewhat creaky support system.
"Farewell"
Directed by Christian Carion
Released by Terra Entertainment
Oscar-nominated "Joyeux Noël" director Carion's latest film is set during the Cold War, based on the real-life relationship between disillusioned KGB agent Sergei Gregoriev (Emir Kusturica) and Moscow-based French engineer Pierre Froment (Guillaume Canet), who became a conduit for all of Gregoriev's confidential knowledge about Soviet spy networks, ultimately leading to the fall of the Soviet Union. (Though there is some controversy about this.) Americans Fred Ward, doing his best Ronald Reagan impression, and Willem Dafoe, as a CIA director, are among the parties interested in Gregoriev's intel.
"Heartless"
Directed by Philip Ridley
Released by MPI Home Video
Hard to imagine "21" and "Across the Universe" doe-eyed heartthrob Jim Sturgess as an unsightly outcast, but with a heart-shaped birthmark across the right side of his face, he has few friends and spends his time dabbling in photography until he makes a pact with the Devil (nicknamed "Papa B" here) to change his looks, resulting in new relationships with a model (Clemence Poesy) and "The Weapons Man" (Eddie Marsan) who comes to collects the Devil's end of the bargain. The film marks cult director Ridley's first in 15 years since the Viggo Mortensen/Ashley Judd thriller "The Passion of Darkly Noon."
"Highwater"
Directed by Dana Brown
Released by Image Entertainment
"Step Into Liquid" director Brown continues to chronicle those that ride the high tides with this documentary about surfing's Triple Crown in Oahu featuring boarders like Kelly Slater, amongst others as they compete to catch the perfect wave.
"The Inheritance"
Directed by Robert O'Hara
Released by Image Entertainment
Keith David, Golden Brooks and Adriane Lenox star in this horror film about a family assembled by a mysterious uncle (David) to learn of what fortune will be coming their way from a recent death, only to learn that they must undergo a series of terrifying rituals in order to make their claim.
"Last Breath"
Directed by Ty Jones
Released by Shriek Show
Couples therapy has never been as brutal as it is in this horror flick from Ty Jones where a married couple questions their relationship after a killer ensnares and toys with them.
"Mask Maker"
Directed by Griff Furst
Released by Screen Media Films
Originally titled "Maskerade," this horror film features former "Laguna Beach" star Stephen Colletti and a score of other fresh-faced twentysomethings in the story of a couple that learns that the 19th century farmhouse they just purchased is haunted by evil spirits, which isn't good news since all their friends are coming in for the weekend housewarming party.
"The Paranoids"
Directed by Gabril Medina
Released by Oscilloscope Laboratories
Tensions rise for a struggling writer in Argentina when a friend fashions the lead of his successful Spanish television show on his childhood pal and returns to visit with a smoking hot new girlfriend and news that he'll produce a local version of the show in this comedy from director Medina.
"Ricky"
Directed by François Ozon
Released by MPI Home Video
Many have suggested it's best to walk into this film from "Potiche" and "Swimming Pool" director Ozon knowing nothing, but for the purposes of this preview, we'll say that the film is based on Rose Tremain's short story "Moth" about a young couple (Alexandra Lamy and Sergi Lopez) who are about to give birth to their first child together, while the mother's seven-year-old from a previous relationship becomes suspicious of her new baby brother.
"The Secret of Dorian Gray"
Directed by Massimo Dallamano
Released by RaroVideo
The classic Oscar Wilde tale of an ageless man (Helmut Berger) gets the Italian horror treatment in this 1970 version.
"The Speed of Thought"
Directed by Evan Oppenheimer
Released by Maya Entertainment
Nick Stahl and Taryn Manning star as people with telepathic abilities that have been sheltered from the outside world by the government after being told they risk a disease that neither can fully believe in this thriller.
"Summer Lover"
Directed by Robert Crombie
Released by Phase 4 Films
There's an obvious pun for this Ukranian-produced romantic drama about an American couple who travel to the Greek island of Lesbos where the new Missus (Avalon Barrie) becomes enchanted by another woman, leading to complications galore. But I won't make it.
"Tracy and Hepburn: The Definitive Collection"
Released by Warner Bros.
One of the silver screen's most famous couples receives a 10-disc boxed set featuring all of their collaborations together including "Woman of the Year," "Without Love," "State of the Union," "Adam's Rib," "Pat and Mike," "Desk Set," "Guess Who's Coming to Dinner" and two previously unavailable titles that are have also been released separately: George Cukor's 1942 drama "Keeper of the Flame" and
Elia Kazan's 1947 farmhouse-set battle of the wits' "The Sea of Grass"
"White Material"
Directed by Claire Denis
Released by Criterion Collection
During its premiere at the 2009 New York Film Festival, Denis told IFC.com that "this film was demanded by Isabelle Huppert and it took me a long time to answer her demand," and so it is that the "Chocolat" director is back in Africa with this story of Maria (Huppert), a white French woman who won't cede her coffee plantation to the locals after French forces pull out amidst civil unrest in the area. While war rages on around her and her husband (Lambert) looks for a buyer, Maria insists on continuing to harvest the land as a wounded stranger (Isaach De Bankolé) and her lazy son (Nicholas Duvauchelle) take refuge on the property.
New to Blu-ray: Pixar's superhero adventure "The Incredibles" and Jean Pierre-Melville's legendary crime thriller "Le Cercle Rouge"