Tribeca 2011: Massy Tadjedin Can Finally Look Past "Last Night"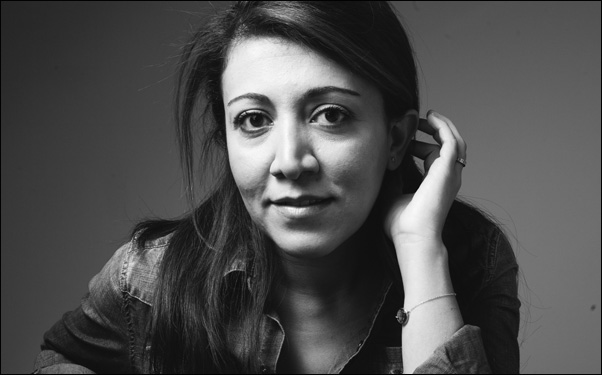 Posted by Stephen Saito on
The irony doesn't seem lost on Massy Tadjedin that it's taken over two years to release her directorial debut that takes place over the course of an evening, though if she has her way, the conversation about "Last Night" will outlast both. A prisoner of Miramax's slate of films that were orphaned when ownership of the company changed hands, the drama stars Sam Worthington and Keira Knightley as Michael and Joanna, a married couple that begin to have their doubts about each other when they're separated by a business trip where Michael finds himself tempted by a co-worker (Eva Mendes) and Joanna bumps into a former flame (Guillaume Canet).
No stranger to mysteries having previously penned the 2005 Knightley-Adrien Brody thriller "The Jacket" and currently supervising the writing on an adaptation of "Tell No One" author Harlan Coben's "Long Lost," Tadjedin finds one with no pat conclusions in "Last Night," which made it all the more intriguing for the writer/director who creates a story where each part of the love quadrangle reveal themselves not to be what they appear as at first and not every romantic entanglement seems to be resolved before the end credits.
However, there is at least one loose end being tied up with this evening's premiere of the film at the Tribeca Film Festival, since in addition to presenting the film in New York, the festival's nascent distribution arm will also bring "Last Night" to theaters around the country on May 6th as well as making it available on VOD now, presumably to torment couples with the same issues as Michael and Joanna right where they live — and ultimately come out as satisfied as Tadjedin is with the final result. With the uncertainty of seeing it released now long behind her, Tadjedin spoke about what led her to become a filmmaker, making the jump from writing to directing, and the limits she placed on herself and more importantly, the ones she didn't.
Has it been a tough time waiting for this to be released?
When something like this happens, you wonder what the lesson in it is. It's been a long time because we finished shooting it at the end of '08. I finished making it in August '09 by the time we were done with post and then Miramax kind of came apart. Then it was for sale and the selling process was so long, but we finally found a home, which is nice, and if there's a lesson in it, I suppose you really do just make the film to make the film and then you just trust that it finds its audience. You can't get hung up on how and when it comes up. You just have to trust that it will.
How did you get into filmmaking?
I've wanted to make films since I was 12, probably because I had immigrant parents and their idea of everything being okay would be if we were just home, so I was allowed to watch anything I wanted as long as I wasn't going out too much. They didn't actually censor what I watched, which was great because I would go to the video store and rent pretty much all kinds of things I shouldn't have been seeing at the age I was watching them at.
But I remember very early on seeing the names at the beginning or the end of the film and thinking, who are those people and how do they get to do that? That seems so fun to me. So I studied English literature and then I began writing – I always wanted to direct, but it took several years of writing to get the credibility to be able to have people trust you enough to direct. Then with "Last Night," it was a great first film for me because it was really contained and it was manageable for the money that we had. It's not like I'm blowing up anything.
I remember your producer Nick Wechsler once said it was obvious you were going to be a director. What do you think it was that made it so evident?
It's never that I wanted to direct out of a sense of frustration as a writer. I always wanted to direct from the beginning and I think that's so nice what Nick said — I remember the meeting when he told me [that] because I also think very visually in terms of how to execute the story. Also, I think that some of the things that I write are also really specific. Like "Last Night," if you look at it from afar, it doesn't even look like a script that would even interest another director. It's very specific. It has a certain tone, it has a certain feel, has a certain execution. If I could, I would probably do so much more on the film. If I could write music, I would probably want to do that. If I could shoot, I'd probably want to be the cinematographer. I love all of it.
What is it like getting those new tools when making the jump from writer to director and discovering how to use visuals to do what things words can't?
When you're writing, the burden of all the expression for the script stage is on you and on what you can communicate and what you can convey on the page. And obviously, the learning curve on your first film is so steep, but what's so interesting is that every stage of the making of the film, you see how much of it can be shorthanded by what your collaborators bring to it, especially the actors because it's like I'll write two lines of description to try to communicate and convey how a certain look is. Then I'll follow it up with two lines of dialogue in case the look wasn't expressed adequately in the script — when you're shooting it, you just catch it in a millisecond and you have it.
Oftentimes, it's very different from exactly what you had scripted, but it is what feels truthful to the scene and that's the kind of stuff you can't anticipate when you're writing, but the stuff that makes directing so invigorating because it's alive. It's living. When you're writing, there's a certain joy, and it is a joy because everything is doable when you're writing. When you're directing your options are much more limited, but they're much more interesting because you just can't expect or predict all of them.