Premiere: Manchester Orchestra "Simple Math"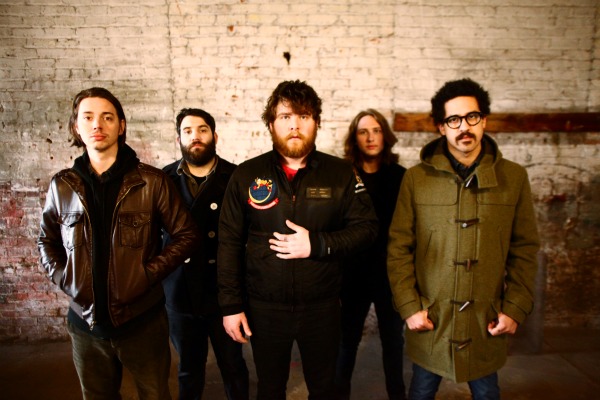 Posted by Melissa Locker on
Every once in a while a band really surprises you. Manchester Orchestra's new album — and especially the title track "Simple Math" — does just that. The band's sophomore album "Mean Everything to Nothing" was hailed as a masterpiece, which meant there were a lot of expectations for the young band's next effort. But instead of living up to those expectations, Manchester Orchestra far surpassed them. Their new album, "Simple Math", due to hit stores on May 10th, is an album of intricate beauty and well-crafted songs, that reveal a depth of emotion far belying their youth.
The title track is a dense five minutes that builds from a quietly haunting starting place to a beautifully soaring and string-backed crescendo. The band is at their best in the song, layering rhythms on top of each other to create complexities of sound that you don't come across very often. The lyrics speak to a new-found and perhaps hard-won maturity for the group, but whatever turmoil lead to this rich sound, it's the fans who have really won. The video that accompanies "Simple Math" reveals the dark thoughts and intensity of emotion interwoven into the song. Made by legendary directing duo Daniels, the video is heartwrenching and beautiful and raises questions that may not have an answer. With no further ado, here is the video for "Simple Math":
As the band prepares for the release of their third LP, frontman Andy Hull took some time out of his busy schedule to chat about the album, the state of Southern rock, and how Built to Spill may be the best band ever.
You haven't updated the blog on your band site since November. What have you been busy doing?
Ha! That makes me feel bad. But, we've been writing an album. So we've been busy doing that. We haven't taken any time off since …when was that blog updated?
November.
Yeah, then. We just started jamming and writing and creating this new album. It came out of nowhere. It just had to be written, I guess.
What can you tell us about your new album?
It's really really honest to the point that it's kind of embarrassing for me. It is just so personal. It tells the entire story of the time me and my wife almost split up. It is a conversation between me and my wife and God and each piece is like a puzzle piece, not a song. Musically it's really cool. I think it's really good and it will surprise people. I don't think people don't expect us to be as good as we are on this album.
What do you mean?
I think people expect us to make a certain type of music or sound. So this album may be really surprising. It's like if Brian Wilson was trying to write [Built to Spill's] "Perfect From Now On". Built to Spill is my favorite band, their songs and albums are filled with amazing phrasings. Every lyric is simple and amazing and really reminds you of a time and place. So on this album, I'm really lyrically trying to not be lazy. I'm trying to evolve and create something that is beautiful and maybe painful. Like Doug Martsch's lyrics. He just paints a picture of a place so clearly. I remember when I first saw an Albertson's [a grocery store referenced in the Built to Spill song "Big Dipper"] and I instantly remembered the feeling of the song. It happens to me all the time with the Mountain Goats too. Like, oh those are street names. I am just really obsessed with lyrics that paint a picture and repaint it. I like writing a phrase and then contradicting it.
Who other musicians are you drawn to?
Neil Young. And my parents let me go see Wilco for my 18th birthday. I saw them and the Flaming Lips at Madison Square Garden. The Weakerthans,; their songs are unbelievable, just filled with life shattering emotion. I'm also a big fan of Grandaddy. Tastes change, though. I used to be Death Cab fan, now I relate to and admire Modest Mouse more. Pedro the Lion was always really important to me.
Because of your Christian roots and upbringing?
Yeah, I come from a family of preachers. My father and my grandfather were both preachers, but very different preachers. Each of them had really different relationships with God. My dad is far closer to parts of me. When I started this, he switched careers because he didn't want it to limit me. My dad still runs a radio show that airs in Tennessee at 4 a.m. He married the most brilliantly artsy lady, my mom, and I get a weird split of both of them. So I could make music, but I wasn't allowed to listen to anything that wasn't deemed Christian. So Pedro the Lion was okay.
This album is being billed as a concept album. The best concept albums range from the Beach Boys "Pet Sounds" and Pink Floyd's "Dark Side of the Moon" to Bowie's "Ziggy Stardust", what is so appealing to you about making a concept album? Was it just a story that needed to be told?
Most concept albums probably didn't start out as a "concept", but an album that grew inside. We were jamming and playing and a story came out. It was clear that we were telling a story, but I know people are going to put their own stories on top of it to tell their own. I want people to know that this is legitimate and that I intended them to interpret it. This album is not about self-loathing. It isn't meant to be dramatic for self-fulfilling reasons. It's personal. It's about a really low and difficult time in my life. I wanted to write about it, but I wasn't going to put my life, my wife and my life out there without her approval. But my wife approved of it. It was our story. It's a three-way conversation between her and I and God. It needed to be made, but I want people to be able to apply it to their lives.
Well, in that case, making a concept album is pretty brave.
It was supposed to be! I mean, it was what had to be written. It wasn't supposed to be about fans. I couldn't write a single if I had to. I mean, I could, but it wouldn't be natural. I have to write what comes out.
Do you think being from the South plays into your music?
Definitely. It's what inspires me. You have to be influenced by where your from. I moved to Toronto for seven years while my dad was pastoring. So I lived in Georgia for seven years and Toronto for seven and when I got back to Georgia, I realized what parts of the South I had kept and what had left. A lot of the bad parts — like the racism — left and that was a good thing, but the stuff that remained is really important. It really influences me.
Between you and Iron and Wine and the Avett Brothers, do you think Southern Rock is being reinvented? Not that there's anything wrong with Lynyrd Skynrd or the Allman Brothers.
There's definitely nothing wrong with Skynrd or the Allman Brothers! But we are more riff-y. I think My Morning Jacket sounds more Southern. But the problem with calling something Southern is that there's the blues and there's country and there's Southern. There's even a difference between country and new country. I am proud of what we have made and where we are and where we are from. I think Georgia has a lot to do with it.
Did you see The Avett Brothers on the Grammys?
No I didn't, but those boys deserve it. They work really really hard.
I saw that you are playing in Manchester next week. Are you worried that old people will be confused? Or that Morrissey and Peter Hook will come pummel you for swiping their town name?
Ha! No we've been touring around the world for years. Our first time in Manchester, people may have been a little confused. But our fans there are the best. They have a lot of hometown pride.
Your admiration of Weezer is well documented. Do you have tickets for the Pinkerton tour?
I wish I did. I wish I had tickets to anything, but we are gone all the time. So as much as I wish I could see that tour, no tickets. I am really excited for him to release his b-sides — or rather unfinished album–The Songs From the Black Hole. I'm really excited for that.
Last question is if you could only listen to one band for eternity, would you choose Built to Spill, Weezer or Neutral Milk Hotel?
Built to Spill. Definitely.
Manchester Orchestra's new album "Simple Math" is available for pre-order on iTunes now and will be released on May 10th.