Lovett: The Busiest Band You Haven't Heard Of (Yet)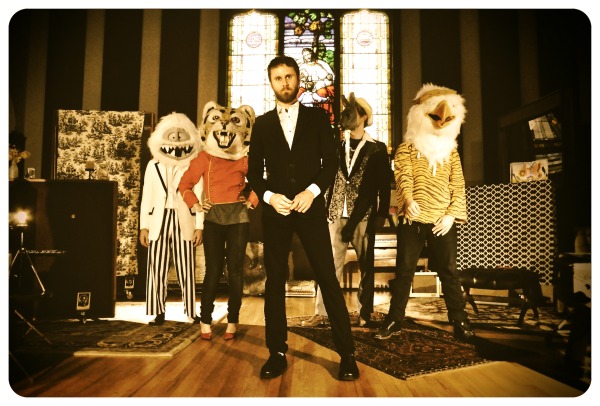 Posted by Melissa Locker on
Ben Lovett doesn't make things easy for himself. The frontman, namesake, and driving force behind Lovett has never found himself in need of the services of a record label. So when he finished his first self-published album, Highway Collection, last month, he had a few listening parties. Having worked as a film score composer (for Sundance darling "The Signal" among other movies) he knew a lot of people in the movie industry. As happens at Hollywood parties, soon after he was approached by five different directors about making videos for five separate songs. So he said yes to all of them. And then he thought, there are only nine songs on the album, why not do videos for all of them? After all, just because something is hard is no reason not to do it.
Thus began a collaborative project between Lovett and directors who were willing to work on his budget (none) and could convince him that their treatment worked with his song. Three videos have been made so far, including "The Fear," that premiered yesterday, and "Eye of the Storm" that has garnered over 125,000 views on YouTube. (Both videos are posted below). Lovett produces all the videos. Not alone, but collaboratively as the way most things in the Lovett world are made. He has the final word on everything, but as he also stars in all the videos, he acknowledges that he can't be in the mini-film and behind the camera at the same time.
The videos thus far are very much separate entities, each made with a different director, with different crew members, and shot in different cities. Lovett, the person, not the band, was the only constant. His band evolves as much as everything else. Swelling to 30 members during some shows and down to a svelte dozen during SXSW. During our talk yesterday, he compared the video project to a Dali painting, where you can study the individual elements in the work, but only when you step back — say to 30,000 feet — can you see how the pieces work together. Based on the videos created so far, it is an exciting prospect as the videos are wildly different stylistically. "The Fear" is a heart swelling joyous affair, while "Eye of the Storm" is a lush steampunk slow jam.
The video project is a labor of love for everyone involved. Lovett has paid for everything out of pocket, but not a dime has changed hands to the directors or crew, not even for "Eye of the Storm," a stunning video with eye-popping effects. Lovett explains the extraordinary contributions of the directors and crew as simply that "people underestimate how much people want to make stuff." The videos are created during the crew's free time, which obviously can slow production. As the project gains momentum other people join in because they saw that things were actually getting finished. Now, after three completed videos and with several more underway, the only way to share what they have been working on is to finish it. Lovett just has to come up with the money. He's used to this though. While crafting his album, he had to stop playing to go make money to continue. During the recording, he scored three movies and produced two other albums just to pay the bills. Speaking of which, perhaps you should head to iTunes and purchase Highway Collection now?
Yesterday Lovett premiered their latest work, "The Fear", which is billed as a collaboration between Lovett and the City of Atlanta due to the contributions of the citizens of the city. Director David Bruckner's vision for the video involved a lot of people. Like, 400 people. Since they had no money to pay extras, they reached out to every arts community in Atlanta (via social media and old school fliers) with a request that people show up in costumes that represented all aspects of society. What resulted was the biggest Come As You Are Party in Atlanta with volunteers ranging from members of the Atlanta ballet, a stunt team, a barber, an improv group, to a hair salon that brought all the shop girls to the film shoot. The process was total mayhem, according to Lovett, but mayhem doesn't mean it wasn't fun. Especially with family, friends, and a healthy dose of chaos in the mix and the ability to massage the whole thing post-production. In a few short takes, the video was made. With no further ado, here's "The Fear":
THE FEAR from Lovett on Vimeo.
Here's the densely atmospheric "Eye of the Storm," directed by Christopher Alender, which you can't help but notice is wildly different from "The Fear":
Finally, here's "Heartattack":
You can download Lovett's track "The Fear" for free here, but wouldn't you rather buy the album, and let the hardest working man in music, take a breather?: