Kelly Reichardt on Surviving "Meek's Cutoff"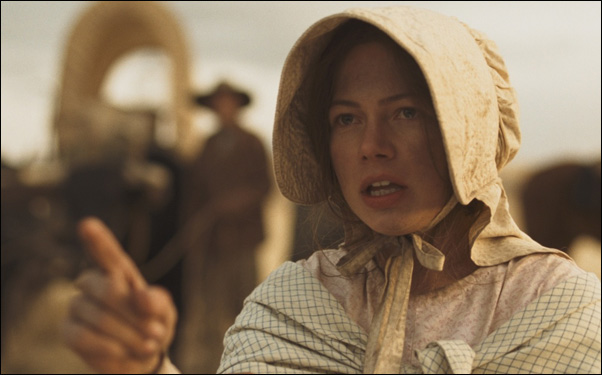 Posted by Stephen Saito on
"I don't know what making a film is like," Kelly Reichardt says near the end of our conversation. She's referring to the way other filmmakers work, but it could just as easily apply to her own work since in the past few years, she's been making experiences. In a celebrated run with screenwriter Jonathan Raymond that began in 2006 with the drama "Old Joy" and has continued on with two collaborations with Michelle Williams in "Wendy and Lucy" and "Meek's Cutoff," the director has become one of the most striking voices in cinema today by letting life take its course and gently adhere to Murphy's Law when it comes to her characters who battle against the unforgiving nature of the elements in Oregon and the hegemony that's been in place long before the protagonists ever enter the frame.
In fact, one of the most memorable shots in "Meek's Cutoff" seems to stem from that very idea near the beginning of the film, as one wagon train exits to the left side of the screen as you get your first glimpse of Stephen Meek's wagons in the distance. Meek, a blustery real-life explorer who led a group of settlers to a dead end of starvation and thirst, is a relic of the past, buried under a thicket of gray hair (making his portrayer Bruce Greenwood virtually unrecognizable).
As the trust unravels between the guide and the three families he's been hired by to take through the Cascade Mountains, the film becomes a survival tale with several contemporary parallels, whether it's the notion of a seemingly rudderless group of Americans or the discovery of inner strength from the women's de facto leader Emily Tetherow (Williams), whose suspicions about Meek lead to an unlikely relationship with a Native American (Rod Rondeaux) she first greets by firing at him.
As Reichardt explains below, the film itself was nearly as unlikely, both as her largest-scale project to date and, it should be noted, her most accessible yet, and during our chat, she spoke about how the film changed her concept of time, showing a different side of Oregon and how historical accuracy lent itself to a low budget.
What drew you to this?
Probably some of the same things that drew Jon [Raymond] to it – just this idea of persuasive blowhard persuading a bunch of people out into the middle of the desert without really knowing the lay of the land or possibly being without any kind of real plan and just overestimating himself and the situation and then winding up at the mercy of people that he is culturally completely different than and is mistrustful of. It was interesting in that it had all these contemporary components to it — this idea of labor and just how we experience time and space, I think, in such a completely different way in 2010 than we did in 1845, which isn't all that long ago. Also Jon and I had just driven through that desert when we working on "Wendy and Lucy" and knew we wanted to do something out there, so I really wanted to shoot in that particular desert.
People have made a big deal out of this film being a larger scale film than you've attempted before, but upon watching it, it becomes obvious this lent itself to a more stripped-down approach as the settlers rely on the limited resources. Still, was that something you had to overcome psychologically before making it?
That was the case with "Wendy and Lucy" too, where the fragility of the production kind of mirrors the situation of the people you're making the film about and if just one thing goes wrong, it all could fall apart. And that was the case with "Meek." Certainly, the landscape itself, we were shooting where the immigrants actually got lost and just the travel [to the set] every day and the dust and having the animals in these places is to be humbled by the landscape and the weather and all the elements out there. And the town we stayed in — Burns, Oregon — was a very welcoming town without a ton of resources for a film crew. So it stripped us all down to these bare necessities of what you need and really without any frills.
We didn't roll under our wagons and sleep on the ground every night, but I think there were times, especially for the actors in those clothes, the women in those bonnets that give you no peripheral vision and dealing with the animals, it was haunting. You felt like okay, someone's been here before us and Rod Rondeaux [who plays The Indian] realized at one point that we were at an Indian burial ground from things we were finding on the ground. It just changes your idea of time in the small ways because everything takes so much labor and everything is such a process. You just have to slow down yourself. There's no Internet out there, so my producers can't just be on their Blackberries. You have to climb a mountain to find a signal. You just couldn't help but think about time when you were out there.
It was [also] just a great research project. My production designer Dave Doernberg and Vicki Farrell, the costume designer, they hand sewed all those clothes. The wagons were from that time. All those things, you had to figure out how to make things work in a different way and when we started researching, we would approach things where we'd be asking the experts how would you do this or how would you do that? And they just would always turn the question back to you: how would you do it? You had to just keep realizing it's individuals with their particular resources. Just like we got a flat tire in the desert, we'd be like "What do we do?" We don't have cell phone service, how do we work this? It would be the same thing in their case, like the wagon wheel's broken and there's no trees around and we need a new axle, how do we do it? I feel like the gap of years got closed. We just started to have some empathy for the situation.
When you're making a film like this, do you feel an allegiance to history?
Not much of an allegiance. [laughs] It's an art project. And it's funny because on the one hand, Dave Doernberg, my production designer had a pretty big allegiance to period, but Jon Raymond doesn't. I feel like we were very true to the period, but we weren't true to one story of the period, so I would say that.
Are you feeling more comfortable now with experimenting with form? Much has been made of the aspect ratio [which is 1:33, the frame size of traditional televisions], but the harshness of the editing — transitions from light to dark and smash cuts — was one of my favorite things about the film.
We've been able to make three features in five years and your filmmaking gets better when you're making films. That's just a fact because you can practice the art of what you're doing. I think what's hardest about filmmaking is when you have these huge gaps of time in between when you're not able to do that. People ask me why I cut my own films, and it's because it's the place to learn filmmaking. I think editing helps my directing a lot and it helps you figure out what you should've done or what the possibilities were and it's a place where you can keep rediscovering just the power of a shot. So I guess I feel like I'm becoming more articulate as a filmmaker. It also helps to some degree, getting in the mode of being able to have some working relationships that carry through over different films where you're not starting a conversation each time when you begin. It's mostly part of getting old though. [laughs]
When you carry over those relationships from one film to another and you're bringing in new people on this film, is there a culture clash?
I always had a fear of working with a bigger crew and on some days, when we had the stunt people there and all, it was a crew of 50, but when everybody's really good at their jobs, it doesn't really matter what the size of the crew is. I just remember about over the halfway point of feeling really in a groove with the crew in such a way that's a real high. Then a week later, as my assistant camerawoman Eliza, a super hardcore woman who worked on "Wendy and Lucy" and this film said, "I'm never not in pain." [laughs] And I know what she means. She's not complaining, but it was just really physically hard and also hard to let go of at the end because you feel yourself as a group. And I don't know what else you could compare that to when just like 50 people…or on some days mostly 30, just start getting in a groove together. That's so great.