Tribeca 2011: "Jesus Henry Christ," Reviewed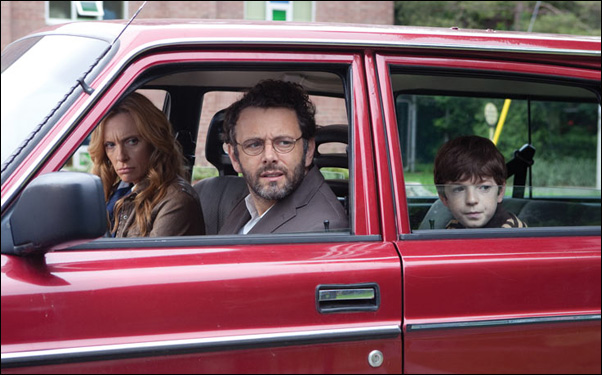 Posted by Stephen Saito on
When Dennis Lee made his first film a few years back called "Fireflies in the Garden," he made one brilliant hiring decision. It wasn't Ryan Reynolds or Willem Dafoe, who both starred in the film, but rather the cinematographer Danny Moder, who had but a few credits as a DP to his name and also a wife named Julia Roberts, who took a supporting role in the drama. As it stands, the film has never been released in America, the first of Roberts' never to do so – and to be fair, the company with the film's rights went belly up, which had the unintended consequence of making "Jesus Henry Christ" Lee's debut in his home country, though it may very well be seen by just as few people.
While Roberts doesn't actually appear onscreen in "Jesus Henry Christ," it's her production company (Red OM Films) that made it and should be mentioned, not because it's intended to be mean to Ms. Roberts or anyone involved, but it goes a long way towards explaining how a disaster like this comes into being. Granted, it was based on a Student Academy Award-winning film by Lee as a Columbia grad student, but without Roberts' involvement, this film wouldn't be able to cast Toni Collette and Michael Sheen only to waste them, it would lose its provocative but ultimately empty title, and most likely sit somewhere in the middle of the pile of scripts that holds up the weak end of a producer's desk. (If it's of any comfort, Roberts does see a return on her investment in Moder since the film's visuals are its one redeeming quality.)
But I'm getting ahead of myself, and that's perhaps because I'm at a loss for how to describe "Jesus Henry Christ." Maybe a good place to start is the Post-it notes. Multicolored and arranged perfectly around the office of Dr. Slavin O'Hara (Sheen), they may be the best encapsulation of what the film is. You see O'Hara may or may not be the paternal father of Henry (Jason Spevack), a genius child with a photographic memory that has come to seek him out since the only question he doesn't have an answer for is how he was actually conceived. His mother Patricia (Collette) was a bra-burner in her day, not to mention a daughter who saw her mother burned to a crisp when her father doused her with alcohol in a birthday cake-related incident when she was 10, so she conceived via test tube to avoid males completely.
Now, Henry's ten himself and she lacks the fire to keep him from searching for his biological father. He doesn't have to look far as he discovers O'Hara's book "Born Gay or Made That Way?" and O'Hara in a local bookstore. Conveniently, as a professor at a nearby university, O'Hara doesn't look far for his subjects, either. His first book was based on studying his daughter Audrey (Samantha Weinstein), who's mercilessly teased at school as being a "lesbo" after its publication. Once again O'Hara pulls out the Post-it notes for Henry because he lacks the memory to document the wunderkind otherwise.
But Lee has an ulterior motive for the Post-it notes, which are used ultimately to stage a climactic scene where during a storm where O'Hara flings open his office's windows so that the Post-it notes can swirl around the professor like a rainbow. It isn't the only 360° shot in the film – the first time the full quartet goes out for lunch, the camera goes round and round the table to document their clear unease with each other, though the main reason your head will spin is from all the BS psychobabble thrown in the direction of the audience.
However, all this motion doesn't actually move the film forward, nor do digressions like visits with a jive-talking, dashiki-wearing white secretary at the sperm bank, a 10-minute conversation between Henry and his American grandfather in Spanish, or references to Jonathan Frazen being a hack. To Lee, they share the colors of the Post-it notes, bright pastels that burst in every direction, but exist only as messy individual thoughts that never coalesce into a whole.
Mistaking style for substance, "Jesus Henry Christ" would seem to want to tell the story of a makeshift family brought together by unusual circumstance, but the film only winds up pulling them apart, allowing each character to exist only in their private world where they can be a collection of quirks and insecurities rather than identifiable human beings who could possibly relate to each other or anyone else. When the film's ending finally rolls around with a completely out-of-context admonishment to "Be the change we want to see in the world," it becomes a sad self-reflexive commentary on how a film that tries so hard to be different ends up being so very average and one that isn't memorable even with a stack of Post-its.
"Jesus Henry Christ" currently does not have U.S. distribution. It will play the Tribeca Film Festival on April 27th and 30th.