Janus Metz Burrows Into "Armadillo"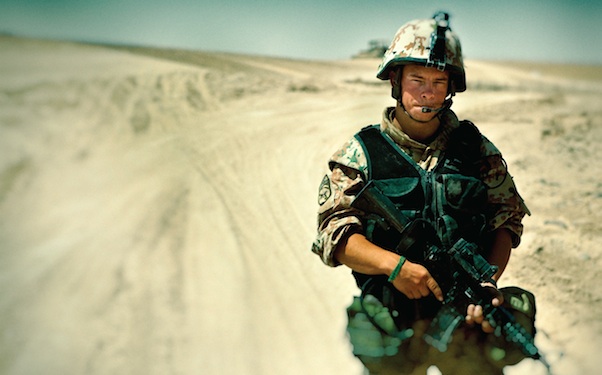 Posted by Matt Singer on
All great artists look at the act of creation as a life or death struggle. But they're usually thinking in more metaphorical terms; director Janus Metz literally put his life on the line to make "Armadillo," his viscerally exciting and emotionally troubling documentary about a platoon of Danish soldiers stationed at an outpost in Afghanistan. Over the course of several months embedded with the soldiers of FOB Armadillo, the Danish-born Metz recorded the mind-numbing tedium of their day-to-day lives and the hair-raising terror of their violent work. Metz was even present for an incident that sparked national debate in Denmark when the film was released. After an intense firefight with Taliban fighters near a large ditch, several of the soldiers, in their words, "liquidated [their enemies] as humanely as possible." The cameras recorded the whole thing in the film.
After playing festivals around the world, even earning the Grand Prize at last year's Semaine de la Critique at Cannes (where it was the first documentary to screen in twenty years), "Armadillo" finally opens in the United States this week. During our conversation, I also asked Metz how reaction here has compared to the controversy he saw in Europe. "I think that the response to the film is quite similar," he told me. "But obviously the national debate is informed by other sources. In Denmark, we'd never had an Abu Ghraib. 9/11 wasn't in Denmark. So the types of emotions that spill into the debate are informed by other incidents."
Unlike the verite-style of most embedded war documentaries, "Armadillo" moves with quick cuts, multiple angles, and the sort of shaky camerawork that defines modern action films. Stylistically, "Armadillo" has no peer in the world of war documentaries. In talking with Metz I was interested in understanding not only why he made the film, but how he made what feels like such a big film, with such a small crew.
I know the film initially started life as a miniseries for television, and you were brought in to direct one of the episodes. At that point, why were you interested in working on the project?
What attracted me first of all was the chance to ask the type of questions that a good war movie asks. For me it was all about finding out what it means to be a young person in a war zone. What does it do to your mind? Secondly, in almost all of my work I've been very preoccupied with Denmark's part in global society. What does it mean to be a small nation on the big scene? And the fact that were at war in Afghanistan was certainly part of that and very problematic.
So after the television series became a film, I'm sure you began to envision what you wanted the finished product to look like. How did that vision compare with the actual film?
I've read through my early writings about "Armadillo" and they're very informed by a perspective that wants the soldier to be a good person. I thought we were all going to get traumatized by the experience of war together. But by being with the soldiers I realized that the army is a culture of masculinity where the darker aspects of war — the desire to kill or, in military terms "do your job" — plays a very important part in informing how that culture is established and reproduced.
In many scenes, particularly the ones involving combat, the camera seems like it's everywhere at once. How big was your crew?
The crew's only two people: me and the cinematographer. During all of the battle situations I'm using a camera as well, plus we're using helmet cameras on some of the soldiers. So in some instances we're using up to six cameras at the same time which obviously allows a large amount of cross-cutting.
Before shooting the film we'd done a lot of research on how soldiers operate and where to position ourselves within the platoon so we could capture the lines of communication that allows us to understand what's going on. That's the main secret behind the experience of the camera being sort of omnipresent.
When the soldiers have cameras on their helmets, do they have the ability to control when it's on and off?
They have the switch to turn it on and off in their pocket. They could turn it on and off as they like.
If they were doing something they didn't want you to see, they could turn it off?
Yes.
So in scenes like the incident in the ditch, they didn't turn it off? Maybe they didn't think of it — they were a little distracted at the time.


They were probably a little busy, yeah. But that's also after three months of shooting in Afghanistan. They were deployed in February and that incident [at the ditch] happened in June. Our presence in the camp had become quite normalized. By that time, they were filming as much as they could with the helmet cameras and sharing that material with each other. I think they loved the fact that we equipped four of them with helmet cameras because it allowed them to get some great "tourist shots" of themselves in the war zone.
When you're filming during a firefight, is there any protocol for where you can and can't go? Is there a soldier assigned to protect you or anything like that?
Not at all. If that had been the case, I don't think we could have done the film. All of our preparation was to find out if it was possible to do this type of filming without getting in the way and without the soldiers feeling that we were like chains around their ankles. And once that was clear, and once the soldiers saw that we were able to take care of ourselves and do the right thing on the battlefield, it was pretty easy to film combat situations.
I've read about the reaction the film garnered nationally in Denmark. What was the reaction of the actual subjects?
I always show my films to the people in the film before their release. And with "Armadillo," I did the same thing. [laughs] I wish it had been one of those films where you didn't have to because it was a very, very tough and emotional and difficult situation. The film severely challenges their self-perception and it obviously puts an incident out in the open that calls into question whether they committed war crimes. So their immediate reaction was: "You're a traitor! We thought you were one of us. How do you expect us to live with this film? We might be sent to jail. People are going to be spitting on us in the street." That was very difficult to handle.
I happen to think that the film is quite nuanced. I don't think that the film really passes judgment on the soldiers. It represents the ambiguity of those real events. With time the soldiers realized they weren't getting persecuted because of this incident. There's no official document that says what they did in the film is an incident of war crimes even though it might have been. So a lot of them have calmed down. I'm in contact with most of them today and they've changed their perception about the film. I'm sad to say it hasn't changed their perception of going to war though. They're still keen to go back to Afghanistan; some of them are in Afghanistan now.
Is the army in Denmark entirely volunteer?
There's a draft, then after four months people can sign up for a mission that's voluntary. If you do sign up, you do another eight months of training, followed by a six months deployment. And then you can enroll for a contract with the army. So everyone that's in Afghanistan has volunteered to be there.
After the incident in the ditch, we see the soldiers rationalizing what they did. They say something to the effect of "Outsiders won't understand. You have to be here to understand." And at that moment I realized that was the whole point of your film: to give outsiders a taste of what it is like to be there so that we can determine whether their actions were justified or not the same way a soldier would. Was that in your mind as you were cutting the film?
Definitely. And I don't think it's a one-sided, either/or answer. Being on the "inside" entails a gradual brutalization of the mind so that by the end, all you can see is the inside. And then it becomes an us and them thing. "We" — the soldiers — "know what it mean to be in war. We're the only ones who can legitimately talk about this, talk about right and wrong in these kinds of situations." But they've sailed up the river; they've lost themselves to the savagery of the place.
Obviously you're not shooting a gun, you're not fighting, but as you're filming, you're getting shot at just as much as if you did have a gun. Did you ever have an urge to defend yourself?
I didn't feel compelled at any point to grab a gun. I was always thinking, "Fuck, when is this going to stop? I want to go home!"
[laughs]
Actually that's not true. There was certainly an element of adrenaline and excitement. I know my cinematographer [Lars Skree] once said that during a very intense firefight, he wished he'd had a gun.
There's an element of this that's frightening. But there is something very seductive in it, too. The intensity of the situation is extremely seductive. Being 15 years older than most of the soldiers, I might have better tools to handle those types of emotions. But I think if I had been 20 in Afghanistan — and when I was 20 I was doing all kinds of a crazy stuff — I don't think I would have thought twice about what they did. [Pause] Or maybe I would have. Maybe I would have had a better capacity to resist the urge to stop asking questions and shut myself down emotionally, which is a big part soldiers do when they go to war. "Stop asking questions. Shut your mouth. Do your job."
"Armadillo" opens Friday in New York City.