James Cameron Thinks Video Games Will Drive the Future of 3D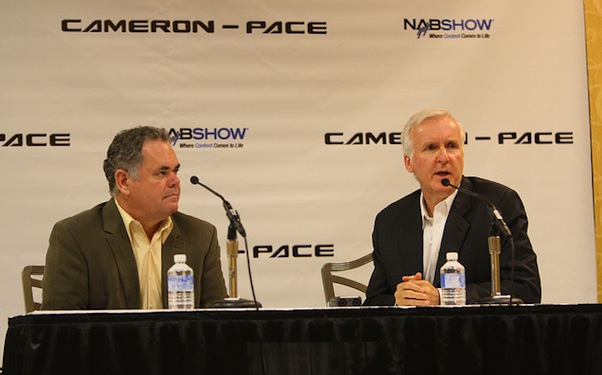 Posted by Evan Narcisse on
No single man's more responsible for Hollywood's stuff-floating-in-front-of-you craziness than James Cameron. "Avatar" made more money than, well, just about any other movie ever made, ushering in a new era of wannabes who think that an extra viewing dimension will enhance otherwise flat offerings. Still, despite the dreck that studios are pushing on audiences in the name of charging a premium for Cameron, the Oscar winner's been stumping non-stop to promote stereoscopic viewing as the future of entertainment.
As bullish as Cameron is about 3D, though, he does see a shift coming. At the NAB 2011 conference, Cameron spoke about how video games will be a key factor in driving the adoption of 3D entertainment in the home. However, the "Titanic" director thinks it's going to be the glasses-free variety of stereoscopy that will win out in the home.
"Videogames are going to help propel the autostereoscopic (glasses free) play because that's going to be the entry level for most people," said Cameron. "These single-viewing devices that are engaging the person to play these video games will drive a lot of investment in autostereoscopic displays for that very reason. That technology will trickle up to the larger 3D displays that will be used for home viewing and gaming."
Cameron seems to be talking about the Nintendo 3DS as one such single-viewing device that might convert 3D skeptics to believers. The new handheld from the makers of Mario doesn't require glasses and, along with the games already in the pipeline, it will offer online locations for owners to view 3D movie trailers and user-generated content.
"Videogames are going to be the drivers, but they haven't done so today because the cycle creation has lagged behind," Cameron said. "The consumer electronics companies introduced these screens last year, so we're a year into this and it takes 18 months to two years to author a high quality video game. So you're going to see a stampede of video games and then that, in turn, is just going to catalyze more broad scale adoption in the home of these big 3D screens."
"Avatar" itself had a middling tie-in game developed by Ubisoft that was playable in 3D on compatible HDTVs. Those TVs required glasses, which is something that Cameron thinks is hindering enthusiasm for 3D in the home. Sequels for that game will likely line up with "Avatar 2" and "Avatar 3" follow-ups that Cameron's working on now. And some time in the future, Cameron hopes to launch an MMO centered around the fiction of Pandora, too. In 3D, of course.
Even if you allow for some time for those glasses-freed 3DTVs to get into people's homes, it's going to be a long while until the stereoscopic love-in that Cameron envisions actually happens. Lots of gamers don't necessarily-myself included-don't necessarily see 3D as additive to a gameplay experience. Yes, it sparkles and dazzles but it doesn't inherently re-invent game mechanics or user input. It's going to take a watershed piece of content for gamers to get as crazy as Cameron is for 3D. For his sake, it better be an "Avatar" game.