Is it Really "Part 2" Of "The Hangover?"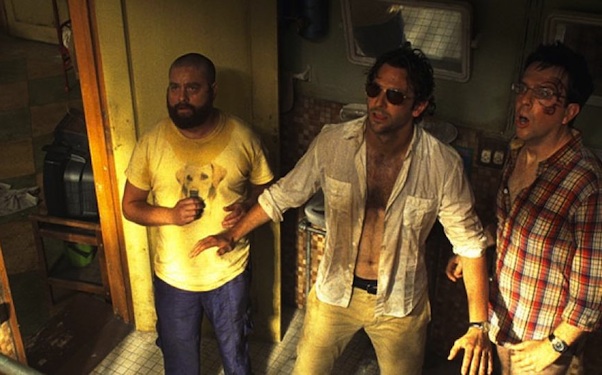 Posted by Matt Singer on
There are few bolder moves in filmmaking than sticking a "Part 2" at the end of the title of a sequel, because "Part 2" says that a sequel isn't a sequel at all. Instead, the filmmaker claims the second film is actually a piece of a larger story that's been planned from the beginning. Since this is, in most cases, utter nonsense, it takes a certain amount of hubris to try it. Do we really believe that Sylvester Stallone knew from the very beginning that he was going to spin off John Rambo into "Rambo: First Blood Part II?" No; in fact, we can be fairly certain he didn't, since in the original ending of "First Blood" Rambo kills himself. They changed the ending, the movie was a hit, and so we got "Part II," with a nearly unrecognizable version of character from the first "First Blood," no longer combat shocked and now packed with rippling muscles he acquired from years of anabolic steroid use hard living on a chain gang.
Occasionally the "Part 2" tag works, mostly in cases where the director makes a movie that builds upon the world and narrative of the first film. "The Godfather Part II" — which, according to its director is the first "Part II" title in history — continues the saga of the Corleone family in two different time periods, both before and after the events of the first film. And "Back to the Future Part II," which I've written about before on IFC.com, pulls off a similar game of temporal hopscotch, filling out the complex chronology of Marty and Doc rather than simply rehashing it. When it does rehash the previous film, it does so in a brilliantly self-referential play on the repetitive nature of most sequels. These are great movies, but they're still both cases of "Part 2″s earned rather than planned.
I found myself thinking about "Part 2" sequels today while I watched the new trailer for "The Hangover Part II." Take a look:
Most of the creative team's back for "The Hangover Part II" including director (now also co-writer) Todd Phillips and stars Bradley Cooper, Ed Helms, Zack Galifianakis, Justin Bartha, and Ken Jeong. But the trailer makes it look less like a continuation than a rehash. The location is different but the characters, narrative gimmick, and Ed Helms facial disfiguration gags are all the same. That could still make an interesting sequel if the finished film plays up the nightmarish, almost "Twilight Zone"-esque quality of these men's lives. Will it acknowledge the fact that they seem almost karmically doomed to repeat the same awful misadventures over and over again? I kind of hope so.
On the other hand, when you have Helms say in the trailer "I can't believe this is happening again!" you're basically negating the "Part 2" title there. Curiously, in early interviews about the film, Galifianakis suggested the sequel would be much closer to a true expansion of the original, rather than a repetition. "The problem with 'Hangover 2' is that we have to up what we did which is very difficult," he told Latino Review. "So we get, I think, kind of kidnapped. It has nothing to do with the bachelor party. We're definitely not doing that again."
Maybe the boys do get kidnapped. Maybe "Hangover Part II" won't feel like the same movie again. Maybe when it comes out we won't make jokes about what "Hangover Part III" will look like ("This time Bradley Cooper's newborn baby is missing! And Ed Helms gets a tongue ring…in Antarctica!"). Convincing me that "The Hangover Part II" is a worthwhile sequel will be easy if it's funny. Convincing me that it's second part of enormous tapestry of half-remembered shenanigans and Mike Tyson jokes will be much more difficult.