Interview: "Doctor Kong" Documents Arcade Champ's Surgical Precision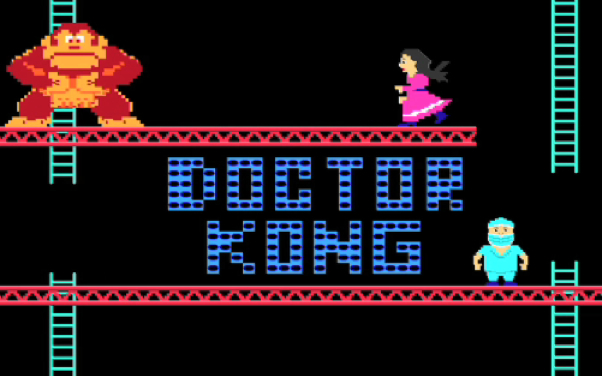 Posted by Evan Narcisse on
There's a reason certain arcade games never really leave the public consciousness. The twitchy panic of "Asteroids," the interminable march of the pixellated aliens of "Space Invaders" and the surge of revenge from eating a ghost in "Pac-Man" still make all those titles incredibly powerful experiences, long after the heyday of the arcade era.
"Donkey Kong" rates up there as well and the game enjoyed resurgent awareness after Seth Gordon's acclaimed 2007 documentary "The King of Kong: A Fistful of Quarters" chronicled the high-score rivalry of Steve Wiebe and Billy Mitchell. That film inspired Dr. Hank Chien to try his scalpel-wielding hands at the Nintendo masterpiece. Chien went on to jump right over both Wiebe and Mitchell like so many rolling barrels and is now the current "DK" champion. Filmmaker and actress Alexis Neophytides met Chien just as he was gearing up for his DK journey and recorded him for a year, resulting in the short doc "Dr. Kong."
Alexis, it's not like the "Donkey Kong" game has changed any, so why make another movie about a "Donkey Kong" champion?
Neophytides: Well, I have to say that I would totally agree with you at first glance… but the movie did not start off to be another movie about a Donkey Kong champ and I hope that when you see it you won't think it is!! I met Hank at Barcade, a bar in Brooklyn that has tons of 80s arcade games. He would come in after work in his scrubs to work on his Donkey Kong skills. I had started working on a feature length documentary called "The Regulars," which was going to be about 5 or 6 of the regulars at Barcade. Hank was the first "Regular" that I started following around, and it was before he broke the world record. When I asked him to be a part of the project, I had no idea if he would actually break the record, and it didn't really matter to me. I just really liked him and thought his story was cool and appreciated the fact that this guy who was already successful in his own right as a plastic surgeon was on a quest to be the best a something else. Anyway, I started following him around and then he broke the record! I decided at some point to just concentrate on him and make a short documentary about his story. Docs sometimes evolve like that and take off in another direction from the one you originally have planned… you know, like real life!

Hank, did you have any reservations about being filmed for a full year?
Chien: When I was first approached about making a documentary, I was a bit reserved given the amount of controversy that surrounds this game. I didn't want my name associated with anything negative, so I had to make sure the documentary would portray me in a good light and be overall positive. Other than that, I thought it would be a fun experience and it certainly was!
Alexis, what did you try to do differently in telling Hank's story when compared to "King of Kong"?
Neophytides: I had seen "The King of Kong," maybe about 3 years ago before I had any idea I would ever be involved in this world, and I thought it was really great. I definitely did not want to remake that movie, which was one of the reasons that I kept this film short (it's 18 minutes) and strictly to Hank's story. This movie isn't about all of the ins and outs and intrigue of the gaming world…it's about one guy's glimpse into the spotlight through a quirky hobby.
Alexis, did you have any preconceptions about Hank or people who compete for all-time high scores? What were they and how were they true or false?
Neophytides: Not really. I have known a bunch of gamers for years through this bar that I mentioned before, Barcade, and I know that gamers come in all shapes, colors, sizes and types!
Doctor Kong (trailer) from alexis on Vimeo.
Hank, when did your DK obsession start? Did you ever consider competing for a world record in another game? Do you have other games that you're as passionate about?
Chien: I started playing seriously in November 2008. It was shortly after I watched "The King of Kong" which got me interested in the game. I'm not sure I would call it an obsession though; it was more like a hobby. When I started playing, it was purely out of curiosity and fun. I had no intention of breaking the world record and in fact, I almost retired several times along the way. I've never played video games for world records. It's always been about recreation for me. Although I do play other video games, I don't have any plans to set any other world records. I was mainly a console game player before Donkey Kong. Given my story with "Donkey Kong," I don't know if any other games will ever be as meaningful.
Billy and Steve live quieter lives than you as an NYC plastic surgeon and maybe the championship might've meant more to them psychologically, in terms of achievement, spotlight and adoration. What does it mean to you, Hank?
Chien: I think Billy may be used to the spotlight from all his video game achievements of the past. I believe Steve, like myself, leads a relatively normal life outside of "Donkey Kong." To me, it was a fun chapter in my life. I don't plan on holding the world record forever. No matter how high I score, I know someone will always want to beat it and at some point I just have to call it quits. I've met so many great people along the way so I'm grateful for what this video game has done for me. I have no regrets!
Have you met Steve and Billy? Do you feel like the portrayal of them in King of Kong are accurate, or were liberties taken?
Chien: I have now met both Steve and Billy in person. I feel their personalities were both portrayed accurately in "The King of Kong." However, given Billy's personality, it was easy to edit him to look like the villain. He has a sense of humor that doesn't come across well on camera– add some Hollywood editing on top of it and you have a Hollywood villain.
There've been studies that say that doctors who play games are likely t be more adept at laparoscopic procedures? Have you found that the hand-eye co-ordination you use to play games carries over to doing surgical procedures?
Chien: Yes there are now at least a couple of studies that correlate video game skills with surgical skills. In every study I'm aware of, there is a good correlation between the two. However, there is a difference between a correlation and a cause-effect. In my opinion the two are correlated, but I don't think there is a cause-effect relationship. As an example, basketball players are tall. However does playing basketball make you tall? It's much the same. Good video game players have good surgical skills, but does playing video games make you a better surgeon? I think the common bond here is good hand-eye coordination.
How do you feel about modern video games? What are your favorites and what have you enjoyed most recently Is there anything that appeals to you in the same way that "Donkey Kong" does?
Chien: Before Donkey Kong, I've always been a modern console gamer. The modern games have a different feel to them compared to the classics. Modern games are more about progressing through the game. You can pause and you can save. You can play recklessly, die and just continue from your last save. They are well suited for their purpose–to provide home entertainment. The classics are more about how high can you score on a single credit. There's no reload if you make a mistake. They are well suited for their purpose–to eat your quarters. I haven't played many modern games since I started playing Donkey Kong–I only have time for one video game at a time in my life. "Super Mario Galaxy" was the last game I played before "Donkey Kong" and "Super Mario Galaxy 2" is still sealed sitting on top of my Wii begging to be opened.
Aspiring competitive gaming players want to know: has playing Donkey Kong and/or winning the championship gotten you laid more than being a plastic surgeon?
Chien: I plead the Fifth. LOL.