I Love "I Love Phillip Morris"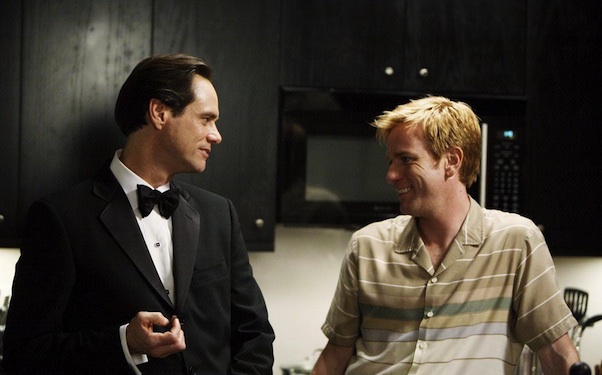 Posted by Matt Singer on
When a movie takes a long time to come to theaters after its festival premiere, there's a tendency to assume the worst. We forget sometimes that festivals are more about heat than quality, and that it's the hottest movies, not always the best ones, that are most quickly acquired and released. A lengthy interim between festival and release doesn't necessarily mean a movie is shelved because it's bad. It might just be a tough sell. I got a big-time reminder of that this week when I watched "I Love You Phillip Morris" by writer/directors Glenn Ficarra and John Requa.
Released late in 2010 almost two full years after its premiere at the 2009 Sundance Film Festival, "I Love You Phillip Morris" hybridizes and satirizes several different genres, most prominently the con man movie and the romantic comedy. Jim Carrey stars as Steven Russell, a police officer and family man who has an epiphany one day and decides he can't live a lie anymore. So he comes out of the closet and moves to Miami. He even gets a couple of adorable little dogs. Things are going well for Steven until his expensive tastes begin to outpace his income. His get rich quick schemes eventually land him in jail, where he meets his soulmate, another gay prisoner named Phillip Morris (Ewan McGregor). "I Love You Phillip Morris" makes fun of a lot of stuff about life and movies, but it doesn't make fun of Steven and Phillip, or of the idea of two men falling in love. And Carrey and McGregor have absolutely terrific chemistry together. Here is their first meeting.
I'm really kicking myself over waiting so long to see this film because I know and love the directors' best known work as screenwriters. "Bad Santa" was a movie so brilliantly deranged that at the time it was released some speculated that Ficarra and Requa were actually Roderick Jaynes-esque pseudonyms for the Coen Brothers, who executived produced the movie. What Ficarra and Requa do better than just about anyone except the Coens is blend really dark humor with unforced sentimentality. This next scene is a perfect example. It's romantic and hysterically funny all at once. It's also NSFW with lots of profanity, so put your headphones on for this one.
I grew up a Jim Carrey fan, first from watching on "In Living Color" and then all through his early livewire physical comedies like "The Mask" and "Dumb and Dumber." There was a time when I knew every single line from "Ace Ventura: Pet Detective" and could act it out as a one man show (and did, on a few pathetic occasions). "I Love You Phillip Morris" is the first time I've seen the Carrey I loved as a kid in a film in at least a decade, and he's fused that manic persona with the brilliant dramatic side he showed in films like "The Truman Show" and "Eternal Sunshine of the Spotless Mind."
The quintessential Carrey hero is the modern man at total extremes: the man who can't tell a lie, the man who can't say no, the man granted godly powers. Steven Russell is the man who can't tell the truth; sort of "Liar Liar"'s Fletcher Reede in reverse. But "I Love You Phillip Morris" adds a dimension of genuine emotional drama: Russell's condition isn't the result of a kid's magic wish, or a bored God putzing around our mortal coil, it's borne of genuine human pathology. Russell knows he has a problem and is powerless to stop it. He's a little bit of an inversion of Truman from "The Truman Show" as well; instead of the naive innocent at the mercy of a world that is always performing in front of him, Carrey is now the one manipulating everyone around him with deception and lies.
Of course, there are plenty of opportunities for comedy here as well. This scene showcases some great Carrey physicality, and shows off some directorial chops from Ficarra and Requa as well:
The stuff I'd read and heard about "I Love You Phillip Morris" made the film sound a bit one note — following a guy repeatedly trying to break out of jail to reunite with a lost lover — but it's much more nuanced than that. True, there are some brilliant escape plans, but long stretches feature both Steven and Phillip out of prison, and subversively poke fun at suburban complacency and idiotic corporate culture. They key to any good con man movie is that the film itself has to be as smart as its protagonist. This one is. All of Steven's lies and deceptions reflect back on his love for Phillip. In some ways, the couple is freer in prison than they are in "polite society," where they have to keep their relationship secret from the squares Steven works for.
Those scenes also work metatextually as commentary on the film's struggles at the box office. "I Love You Phillip Morris" earned back all of its budget and more overseas, but made just $2 million dollars domestically. Jim Carrey has almost three million followers on Twitter, which means less than ten percent of them turned out in the U.S. for his best performance in years. I can only assume the film's stateside flop was because close-minded American audiences still aren't willing to watch a romantic comedy about two gay men. Those people should reconsider. In a world where romantic comedies have become tiresome and formulaic, "I Love You Phillip Morris" is exactly the kind of rom-com we need. It's funny, sweet, and, thanks to Russell's constant con games, wonderfully unpredictable.
"I Love You Phillip Morris" is now available on DVD. You can buy it on Amazon or rent it on Netflix.