How I Voted For "The Art of Video Games," Part 3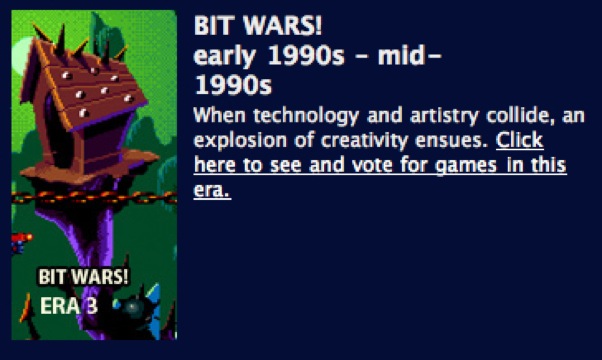 Posted by Evan Narcisse on
The Skinny: The Smithsonian gathered votes for its upcoming Art of Video Games and this week, I detail what I threw my weight behind. Part one is here. Part two is here. Today, I talk about my picks from the Sega Genesis System/Super Nintendo Entertainment System era.
Era 3: Bit Wars!
The thing about console video games is that you have to choose a machine. That choice defines you in some way and some effed-up part of human nature demands that you vilify who make a different decision. Current-day fan rage over the Xbox pwning the PS3 owes its roots to this kind of tension, which reached a flashpoint when the Genesis and SNES were duking it out for parental dollars. A lot of the marketing jargon tropes were the same: the games you want only come out for this system, our technology is way betterthan their little baby technology, etc. If memory serves, the console fanboy flame wars weren't quite as disproportionately ugly in the 1990s as they are now but, then again, this was before the Internet changed everything. As the mostly proud owner of a Sega Genesis, I'd always wonder if I was truly happy without all those Nintendo games exclusive to the SNES. My peers tossed and turned at night over the same angst. So it goes today, eh?
Sega Genesis
Target Genre
"Gunstar Heroes"
What makes this side-scrolling co-operative shooter worthy of enshrinement? In a word, choice. You could choose which weapons to start off with and, as you progressed, you could combine them with other guns to create unique attacks. You'd need them against the game's hardcore difficulty and cleverly designed bosses. Other trailblazing innovations was health management that did away with one-hit deaths, the ability to choose a shooting style and he option to start the game and You coul just tell by paying "Gunstar Heroes" that its great looks and insane action were the result of unfettered imaginations work in tandem. The end result gave players unprecedented freedom in a game felt like an adrenaline-fueled action cartoon.
Adventure Genre
"Flashback: The Quest for Identity"
I remember this sci-fi adventure as being one of the first times I really noticed the way a game animated. Even though developer Delphine Software used rotoscoping like earlier classics "Prince of Persia" and Another World," I came to this game first and discovered its stylistic predecessors later. The animation style made the characters more expressive, which in turn made me more invested in the interplanetary conspiracy plot. When hero Conrad ran or jumped, I saw the effort in his body language. He needed me to get him to safety. I adored this game, even if I didn't know enough to figure out that it was drawing heavily on cyberpunk genre tropes. The lush animation also reinforced clever design ideas and a cinematic approach, too. "Flashback" felt like a big evolutionary step, like a medium starting to mature in the way it used its tools. I felt more mature, too, just for playing it.
Action Genre
"Earthworm Jim"
Humor in video games is generally accidental, and even intentional laugh-seeking tends to stumble out awkwardly like someone shoved it onstage from the wings. "Earthworm Jim" proved the exception. From its very premise, which has an earthworm donning mislaid power armor to become a barrel-chested hero to its cartoony look, "Earthworm Jim" was a farcical and self-aware creation. The humor was shot through its gameplay, too, what with all the cow launching and head-as-a-grappling-hook moves. The game still stands an example of really good comedy in video games, achieved by being serious about its silliness.
Super Nintendo Entertainment System
Action Genre
"Donkey Kong Country"

These days, it's Mario this, Mario that. But, the jump-happy plumber was only part of the formula that made Nintendo the success that it became. The other half–giant, girl-stealing ape Donkey Kong–moldered in obscurity. "Donkey Kong Country" gives props to the ape who REALLY started it all for Nintendo, as we find out about his family. The gameplay let players switch back and forth between the bigger, stronger Donkey Kong and the smaller, faster Diddy Kong as they hunted down the big monkey's stolen banana hoard. While the option to play as two different characters appealed to gamers, it was really the eye-popping graphics that won them over. Seeing it at a friend's house, I couldn't believe that these images were coming from a system that had been billed as inferior to its competitors. "DKC" made me-and many others-a believer in the power of Nintendo all over again at a time when they desperately needed that.