How I Voted For "The Art of Video Games," Part 2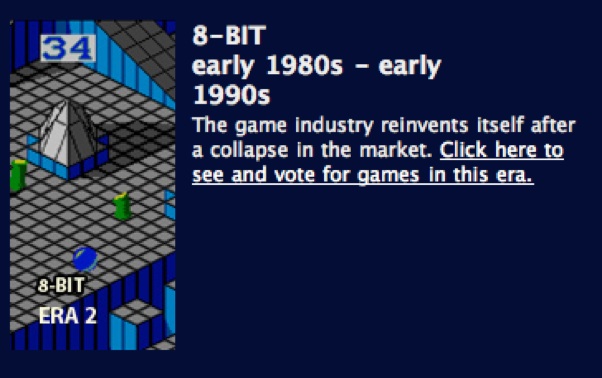 Posted by Evan Narcisse on
The Skinny: The Smithsonian gathered votes for its upcoming Art of Video Games and this week, I detail what I threw my weight behind. Part one is here. Today, I talk about my picks from the Sega Master System/ Nintendo Entertainment System era.
Era 2: 8-Bit
The reason this era's so important is because it's where you start to see technological advances affecting the video game medium. The advent of home computing created another space for games to be created in and driven towards. It's also where you start to see just how much specific hardware can impact the execution of graphics and gameplay. That thread continues throughout Individual creators start to get name recognition and credit for their creations, and some even send games through the mail to customers. Of the systems listed in this era, I owned the Commodore 64 and the Sega Master System and had access to a Nintendo Entertainment System via my next-door neighbors. (What up, Abrams family!) Ok, then, here's how I voted.
Commodore 64
Action Genre
"Impossible Mission"
So, yes, while I owned a C64 in the mid-80s, the games nominated here weren't the ones I was crazy for. (Where's "Beachead"? Or "Epyx Summer Games"?) Of the games for the beloved beige computer that show up on the ballot, I played "Raid on Bungeling Bay," "Boulder Dash" and "Impossible Mission." That last one–a secret agent action game with puzzle elements–was a highlight of my C64 days, even though I realize now that I wasn't smart enough then to beat it. Sentimentality–and remembering the groundbreaking use of digitized voice–gets me voting for "Impossible Mission." As the game's villain said, "Stay a while… Stay foorevvvvver!" Word.
Sega Master System
Target Genre
"After Burner"
This aerial combat game tried to cash in on the success of "Top Gun." The enemy squadrons I spent hours fighting on the home version of this game escalated in difficulty, but mostly I remember how hypnotic the combo of music and gameplay was. Also, they made gameplay out of having to refuel the fighter jet, a bit of realism that made it stand out.
Adventure Genre
"Phantasy Star"
As a comic nerd growing up, the only people I felt superior to were the D&D players. I never went in for the twenty-sided dice drama, even though I understand that as an adult the storytelling power of role-playing games. It was "Phantasy Star" that introduced me to that power.
I played it for weeks, exploring a planet in peril and amassing a merry band of adventurers. But, I'll never forget how dark that final boss battle was, and you could only win it through a secret alchemy of items and skills that you blindly stumble upon. (Darkfalz scared the s**t out me, too. The elation I felt after beating "Phantasy Star" showed me that I did and could invest RPGs as an idea. But, I probably couldn't do it in another student's basement, poring over graph paper. Sorry, Dungeon Master.
Nintendo Entertainment System
Target Genre
Adventure Genre
"The Legend of Zelda"

I didn't take a count as I voted, but I think that Nintendo was in the upper percentiles of representation when it comes publisher/developer entities. And, digging even deeper, "The Legend of Zelda" probably shows up in more eras than any other franchise. The first game is one of those canonical games that show everything that can be right about a game. Wit, a sense of epic journey and adventure and music that stayed lodged in players' heads for years are just some of the reason "Zelda" captured the hearts of gamers. Those elements–and new ones–have shown up in subsequent installments of the iconic series but the first "The Legend of Zelda" marks the start of a great franchise on rock-solid principles
Action Genre
"Super Mario Bros. 3"
"Mega Man 2"
"Metroid"
This slate offered no angst to me. It's "Metroid" all the way. Nintendo's game captivated a whole generation of gamers with its massive, varied and interconnected levels. From a design perspective, it introduced that same generation to non-linear and recursive game architecture, too. ("Mega Man 2" was non-linear as well, to be fair.) "Metroid" made you go back to locations to open up previously unreachable areas once you acquired new weapons or upgrades. And the experience of playing "Metroid" was moody and lonely, much more evocative than other games of the era. And the reveal that protagonist Samus Aran was a woman remains a surprise ending for the ages.
Sega Master System
Action Genre
"Shinobi"
Who doesn't want to be a ninja? This vote's all about nostalgia, as I remember how bad-ass the "Shinobi" arcade game was. It's the 1980s and it was the height of America's (first? Second? infinite?) ninja obsession. Still, this was the first game that I can remember that made me feel lethal and stylish in the same breath. Teenage Evan couldn't do either back in the day, so thank you "Shinobi" for filling the shuriken-shaped void in my heart.
Tomorrow: the Great Nintendo/Sega Wars!