How I Voted For "The Art of Video Games," Part 1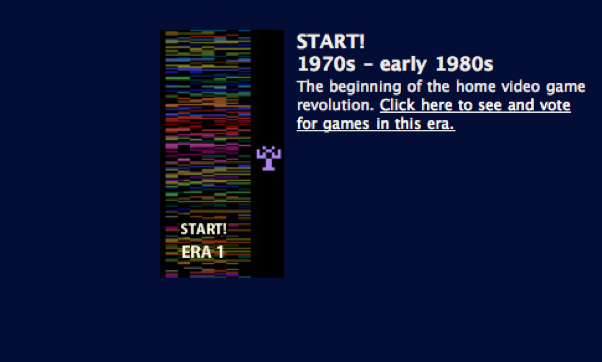 Posted by Evan Narcisse on
For a national institution dedicated to preserving America's cultural legacy, the Smithsonian's been pretty good to pop culture. You can an egg from Ridley Scott's "Alien," the road sign from M*A*S*H and a Kermit the Frog puppet created by the late, great Jim Henson.
Still the museum hasn't done a lot with video games, though. That'll change next year, with the opening of the Smithsonian American Art Museum, which Chris Plante detailed in this post. The fact that gamers themselves will be the ones to decide what went into the exhibit makes it interesting and relevant, placing it somewhere between a referendum and a top-down survey. I jumped at the chance to dive into the list of nominated games and see what awaited me. Voting ended yesterday and I'll be talking about how I used my clicks over the next few days.
What made the Art of Video Games voting process tricky was the fact that you only get 80 votes. That may sound like a lot but a total of 240 games got nominated, meaning that you can only choose one out of every grouping of three. And trust me, there were times where you'd want to choose two or even all of each category.
To assure that I didn't explode my brain, I voted in a series of passes. First, I cruised through all the categories and consoles of each of the five eras, clicking on the games that I thought for sure needed to be in the exhibit. Then, I went back and made tougher calls, weighing personal favorites against historically important titles. It wasn't easy but it was rewarding. Even at this cocoon stage, The Art of Video Games offers a micro-history of the video games medium. Lifelong gamers who voted surely felt a mix of awe and nostalgia walking through the progress from Atari to Xbox 360, which bodes well for the exhibit coming next year.
Some caveats as you read on: I haven't played every game on the ballot. (Maybe some person out there has. I hope he/she survived to tell the tale.) And I'm not going to detail every vote I made, because that just would be boring. Each era broke things down by console and had four sub-categories–Target Genre, Adventure Genre, Action Genre, Combat/Strategy Genre–for each game machine.
Era 1: Start!
Atari Video Computer System
Target Genre
"Yars' Revenge"
When I sat down and though about it, this wasn't as hard as I thought. As the games that helped heat up the arcade craze of the 1980s, the importance of "Space Invaders" can't be overstated. But even as a grade-schooler, I remember thinking how terrible the Atari port of the xenophobic shooting game looked and felt compared to its stand-up arcade counterpart. "Yar's Revenge," on the other hand, originated on the Atari 2600 home system and felt that way, with none of the scaled-down graphics and slower movement that the 2600 version of "Invaders" had. It also mixed offense and defense in a way that was innovative for games of the era.
Adventure Genre
"Adventure"
"Adventure," "Pitfall!" and "E.T. The Extra-Terrestrial" were nominated here. I still have my "E.T." cartridge somewhere, but not because of any fond memories. After I grew up, I heard stories of legendary desert landfills where thousands of unsold "E.T." games wound up and how the infamous movie tie-in game nearly bankrupted Atari. That sounded about right to me as an adult, because as a kid, "E.T." stymied me with its impenetrable causality and bizarre logic. Not to mention the game looked horrible. So, "E.T." stands a caution against romanticizing the games of the Atari era. There's no way this game was getting my vote.
But, it was a tough call between "Pitfall!" and "Adventure." I played both games religiously as a kid and both represent two poles that created their own evolutionary offshoots as the video game medium matured. As visually crude as "Adventure" was, you immediately felt like you were in a story. Not just any story, either. Warren Robinett's classic dropped you into a sprawling epic with giant, marauding dragons "Pitfall" stands as a precursor to the platforming genre, which encouraged quick yet careful running and jumping throughout virtual worlds. I remember it being the first game that required me to temper my twitch reflexes. Jump over those scorpions at just the right time, not too soon or too late. One pixel too far on an alligator's head and into his mouth you went.
So what we have here is one classic that combines strategy, exploration and puzzle-solving and another that centers on action, precision and reflexes. But, for me, "Adventure" wins out. It was the first game to take the tropes and mechanics of text adventure game and make them playable through a graphical interface on a console. More than that, though, it was the way it presented its world as a puzzle and a narrative at the same time that made me love it so as neophyte gamer and why I voted for it to be included in The Art of Video Games exhibit.
The Action genre in this era features "Pac-Man" as a nominee. Yet, iconic as he is, "Pac-Man" doesn't get a vote from me here. The nominated version is a sadly inferior Atari port which, like "Space Invaders" had none of the speed or responsiveness of the arcade version.
The other systems in the Start! section are the ColecoVision and Mattel's Intellivision console. I didn't initially vote for any games for these systems as I didn't own them growing up. However, I do remember jonesing pretty hard for the Colecovision versions of "Donkey Kong" and "Jungle Hunt," as they resembled the coin-op arcade versions more than the Atari ones. And, in a case of brilliant marketing, "Masters of the Universe: The Power of He-Man" made me want an Intellivision system pretty bad.
Tomorrow: Sega vs. Nintendo vs. Commodore 64! Bring your Capri Suns!