Seven Rare Films To Watch Now Before Google Video Dies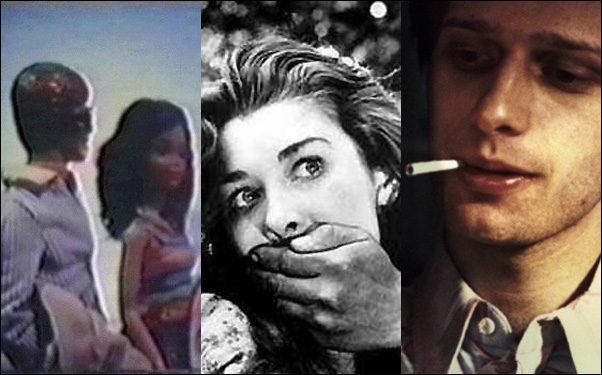 Posted by Stephen Saito on
This post will self-destruct in two weeks…well, not exactly, but the videos below will be since Google unceremoniously announced the end of Google Video over the weekend that they are putting a kibosh on the video service as of April 29th that unlike the one they eventually bought, YouTube, allowed users to upload video longer than 10 minutes. This development won't be mourned by many, as the video quality was never that great and since 2009, users lost the ability to upload videos, so it became something of a barren wasteland in terms of content.
However, unrestricted by time and largely ungoverned, the site also became the place on the Internet where cinema's orphans could be widely seen, either because they now belong to the public domain or because issues legal or otherwise have prevented their release through traditional means. Naturally, this meant there was plenty of piracy on the site of more recent films, much of which was eventually cleaned up, but for cinephiles, it also offered easy access to films that were mostly exclusive to the bootleg market, including a lot of early films that add context to some famous filmmakers' later oeuvres or obscurities that must be seen to be believed. Here is a sampling:
"Fear and Desire"
Last year, there was word that a DVD edition of Stanley Kubrick's first feature film may finally become available in the near future after Eastman House uncovered a print in a Puerto Rican film lab they inherited, but the late director long tried his best to keep the film out of circulation, which is why this online version is the closest most cinephiles have ever gotten to see the film, featuring future writer/director Paul Mazursky as one of four soldiers who must fend for themselves in an unidentified country after their plane crashes in enemy territory. After Kubrick raised the film's $10,000 budget on his own, he sold the rights to foreign film distributor Joseph Burstyn, who subsequently went out of business, leaving "Fear and Desire"'s rights in limbo and public screenings have been rare ever since.
"American Boy"
The last time this 1978 documentary from Martin Scorsese was widely available, it was still mostly for collectors as part of a laserdisc set The Voyager Company (of which the Criterion Collection descended) released of the director's early nonfiction shorts in 1990. As Dave Kehr wrote for that disc's liner notes, the film's subject Steven Prince bears a resemblance to "The King of Comedy"'s Rupert Pupkin as a storyteller in search of an audience, though Prince is genuinely captivating as he simply tells tales from his growing up, and the film is insightful not only in terms of Scorsese's style (full of closeups) taking shape, but into the influences that shaped him as it's clear Prince is a close friend. (It's also obvious the film had an impact on Quentin Tarantino since one of the anecdotes is the basis for one of "Pulp Fiction"'s most famous scenes.) If you find the time, after you see "American Boy," you should do yourself a favor and watch Tommy Pallotta's wonderful follow-up doc "American Prince" – also available for free online — which catches up with Prince in the present day when he's as compelling as ever.
"HWY: An American Pastoral"
This experimental film starring Jim Morrison got a resurrection last year when Tom DiCillo dug it up to serve as the backbone for his documentary on The Doors, "When You're Strange," which had the surreal effect of bringing the late singer back to life since so few people had seen the original film and the image of a bearded Morrison coasting through the desert and ultimately ending up in Los Angeles is eerie to say the least, though it ultimately owed far more to the influences of Michelangelo Antonioni than it does the singer's personal journey. As DiCillo told me during an interview last year, "There's no way in hell we could've recreated that" and indeed, the clips in "When You're Strange" get the best presentation the film has ever received, yet the film is currently only available in full online.
"Begotten"
No less than Susan Sontag labeled future "Shadow of the Vampire" director E. Elias Merhige's highly experimental 1991 horror film "one of the 10 most important films ever made," which surprised the writer/director since as he told Filmmaker magazine years later, "I had people telling me I'd be lucky if I could ever show the film for free." Ultimately, that's how it worked out since short of paying upwards of $60 on eBay for an out-of-print self-distributed DVD of the film, the version online is the only way to see this dialogue-free, black-and-white variation on the story of Genesis that's extraordinary for what Merhige was able to do with the processing of the film for a surreal visual effect.
"Society of the Spectacle"
SnagFilms has cornered the market on delivering free documentaries to the public online, but Guy Debord's 1973 adaptation of his own philosophical book about how society has been shaped by media and constant modernization, as told through a collage of film clips and other archival materials, is appropriately available on one of the widest platforms available.
"Superstar: The Karen Carpenter Story"
Short of a secret screening at SXSW in 2009 where the title had to be kept under wraps, Todd Haynes' 1988 biography of the famed singer told only with Barbie dolls is rarely shown in public as a result of rights issues from the music, which Richard Carpenter used to keep the film from ever being widely distributed. Yet the film remains beloved by cinephiles as it demonstrates the empathetic and articulate filmmaker that would go on to make "Far From Heaven" and "I'm Not There."
"The Conqueror"
Frankly, words can't do much justice to this 1956 disaster that starred John Wayne as Genghis Khan and Susan Hayward as the Asian princess Khan attempts to romance. Sadly, it wasn't just a bomb by movie standards, but was believed to have been responsible for cancer in many of the film's cast and crew since the film was shot near an atomic testing range in Nevada. All these things led producer Howard Hughes to buy back the film's rights to keep it out of the public eye, though Universal eventually released the film on VHS in 1992. Still, "The Conqueror" hasn't been re-released since, leaving this version the only way to see Wayne don a mustache that droops below his lips. As commenter Derek Hill mentions below, "The Conqueror" did make its way to DVD in 2006 as part of the "John Wayne: An American Icon Collection" series.