Winter is Coming: Game of Thrones Premieres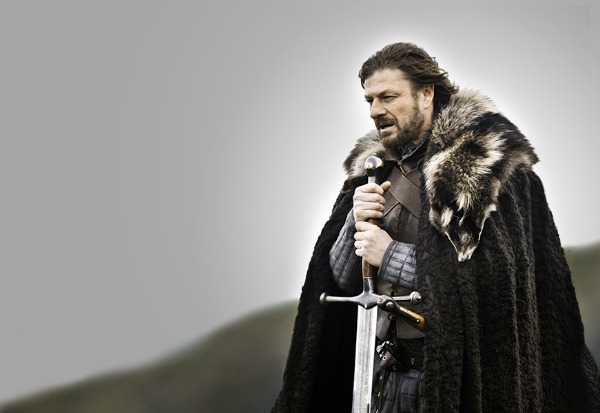 Posted by Melissa Locker on
Last night the eagerly awaited and much buzzed about "Game of Thrones" premiered on HBO. The show is based on George R. R. Martin's wildly popular series "A Song of Ice and Fire", but it's not just for fans of fantasy or even medieval period dramas. Co-creator David Benioff once described the show as "The Sopranos in Middle Earth," and while the pilot episode didn't quite live up to that aspirational description, the show revealed a lot of potential. That is, it has a lot of potential for those who can stomach brutal violence, explicit sexuality, and the lack of any respect towards women.
After a preliminary and shocking battle, by necessity, the premiere episode of "Game of Thrones" spent a lot of time explaining the history and the characters who make up the dark world of Westeros. This is a land of unending winters, where the supernatural is real, if seldom seen. There are three main dynastic families — the Starks, Lannisters, and Targaryen — who are battling for supremacy. The Targaryen have been banished and, thus, operate on the outside of the kingdom, but the Starks and Lannisters stay close to the King. The families are complete opposites, culturally, politically, and morally. The last Hand of the King was murdered, perhaps by the Lannisters, who may be angling for the Iron Throne, despite the fact that King Robert still sits on it. As the story unfolds, several mysteries begin to reveal themselves. So perhaps as the series goes forward, "Game of Thrones" will attempt to meld the fantasy world with a good old fashioned mystery.
Creating the world of "Game of Thrones" was clearly an epic undertaking. The attention to detail is impeccable, the CGI is by stunning, and the cinematography lush. The cast is extremely capable, most notably Peter Dinklage as Tyrion Lannister and Sean Bean as Eddard Stark. The well-crafted opening titles with an embedded map showing where the action was taking place were an especially helpful touch as the creators try to cram a long and complex tale into hour-long television segments. Will this be enough for the fans? Hard to say. Martin's books sold more than 15 million copies. That means there is a rabid fanbase eager to watch the mysteries of Westeros unravel before them …and then to pick them apart to decide if they live up to the books.
What did you think?
Here's the trailer for the series: