Five Things We Would Rather Watch Than The Royal Wedding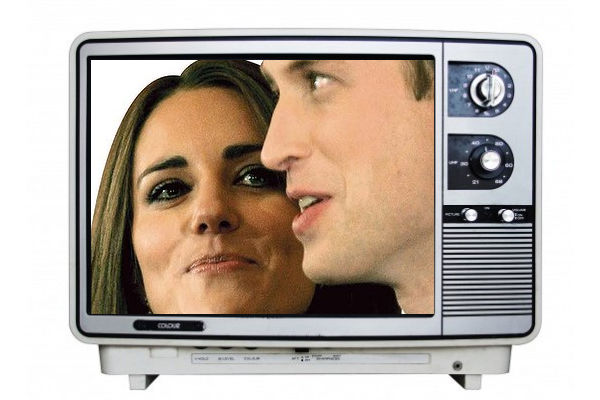 Posted by Melissa Locker on
As you may have heard, the future King of England is getting hitched tomorrow. The elaborate marriage ceremony of Prince William to commoner (it could have been you!) Kate Middleton is scheduled to start at 11 a.m. London time, which is 6 a.m. ET and 3 a.m. PT. A certain set of the global population is very very excited for this event. Seriously, check out The Daily Beast's gallery of royal watchers who have been driven to their dark place by the impending nuptials. But for many of us, a wedding between strangers, is just that, two people you don't know tying the knot in a far off country that has a quaint little monarchy. Just because you don't want to watch the wedding, doesn't mean you can't collect the commemorative …er, barf bags.
But, since the royal wedding is taking over much of the early morning television dial, what are you to do if you are an insomniac or an early riser and a royal wedding just isn't your cup of tea? Well, you could look at Life's collection of photos of Animals Getting Married. Or you could DVR Steve Carell's last episode of "The Office" which airs tonight at 9 p.m. ET and watch it again and again as you cry. Or you can take a look at our list of five things we would rather be watching at 6 a.m. than the royal wedding. Although, realistically, we will be sleeping or watching our coffee maker as it drips.
5. "Angel" on TNT. The spin-off of "Buffy the Vampire Slayer" follows Angel (David Boreanaz) as he leaves Sunnydale for a life of supernatural crime fighting in Los Angeles. Assisted by a motley crew of former watchers, paranormal pals, and Cordelia, the show is a fun way to spend an hour in the Whedon-verse.
4. "I Love Lucy" on Hallmark. Start your day with the wacky hijinx of Lucille Ball, Desi Arnaz, Vivian Vance, and William Frawley. You never know where an episode of "I Love Lucy" will end up, but you know you will be laughing. Also, pretty sure Lucy would agree that chocolate is actually the breakfast of champions.
3. "Snoop Dogg Takeover" on FUSE. In what is probably the opposite of the royal wedding, Snoop Dogg is taking over the airways of the Fuse Network beginning at 6 a.m. Perhaps he will be offering his own color commentary on the regal proceedings? The only way to find out is to tune in.
2. "Benny & Joon" on IFC. The 1993 film "Benny and Joon" is an almost love story between Joon, a mentally ill painter played by Mary Stuart Masterson, and Sam, an extremely quirky young man who spends his life as Buster Keaton. The blossoming friendship between Joon and Sam is almost destroyed when Joon's caretaker, her overprotective older brother Benny (Aidan Quinn), finds out about their relationship.
1. "Rear Window" on HBO SG. Alfred Hitchcock's classic thriller stars Jimmy Stewart as a photographer with a broken leg and a view to a kill. Or so he thinks. Even his girlfriend played by Grace Kelly isn't convinced he saw a murder. Is it his imagination running away with him? Or a dastardly deed done and he is the only witness? If you haven't seen "Rear Window," get on with it already! It's a great movie and you deserve nice things.