Five Things About "Fast & Furious" That Make No Sense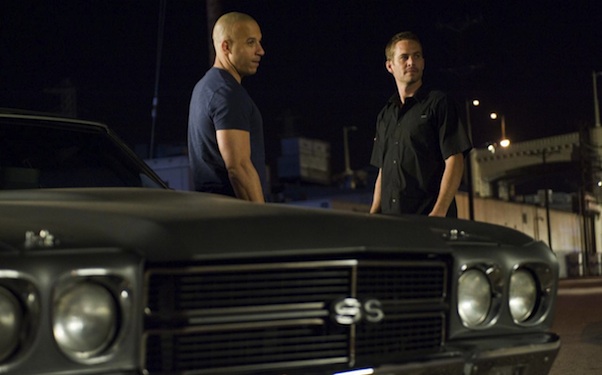 Posted by Matt Singer on
Good news fans of quickness and anger: the fifth film in the "Fast & Furious" franchise opens this Friday. "Fast Five" continues the full cast reunion begun with 2009's "Fast & Furious" and takes it a step further by bringing in characters from "2 Fast 2 Furious" and "Tokyo Drift." Paul Walker! Vin Diesel! Tyrese Gibson! Ludacris! Sung Kang! Plus new addition Dwayne "The Rock" Johnson! This thing is like the "House of Frankenstein" of muscle-bound muscle car movies.
As I recall, "House of Frankenstein" wasn't exactly the most tightly plotted film, either. But the insanity is part of the "Fast & Furious" series' charm. These movies represent a decade-long celebration of the nonsensical, a triumph of swagger over substance, and an unprecedented achievement in the annals of unintentional comedy. With that in mind, let's take a look at the elements from the most recent film in the series, "Fast & Furious," that made absolutely no sense.
On second thought, let's just take a look at some of the elements. If we listed them all, we'd be here for a while.
1. The Bad Guy's Plan Makes No Sense
The villain in "Fast & Furious" is a shadowy drug kingpin named Arturo Braga. He hires drivers from Los Angeles' underground street racing scene to mule drugs across the U.S.-Mexico border in their hot rods. Now I'm not a drug smuggler, but it just seems like common sense that when you're smuggling drugs you want to do it as inconspicuously as possible. Hiring a dude in a neon yellow muscle car with LCD televisions for headlights might not be the best way to avoid arousing the border patrol's suspicions.

Plus, Braga doesn't just drive the drugs across the border. He sneaks them in through an underground tunnel he built in a mountain. The whole reason he needs street racers and their souped up cars is because they have to be fast enough to sneak into the entrance to this tunnel before they're detected by security cameras. Fine. But if there are security cameras watching the border, how did Braga build several miles of tunnel through a mountain in the first place?


But wait! It gets dumber! Braga maintains a veil of secrecy around his activities by murdering his drivers after they deliver his goods. As we've seen in four different "Fast & Furious" films, the underground street racing scene is a close-knit community. Everybody knows everybody. Wouldn't someone notice that all the drivers who go to work for this guy comes back deader than disco? Evidently not. Because all the underground street racers in "Fast & Furious" are stupid.
2. The Representation of the American Justice System Makes No Sense
To expose Braga's operation, FBI Agent Brian O'Conner (Paul Walker) convinces an old street racing buddy named Letty (Michelle Rodriguez) to go undercover as one of Braga's drug mules. She agrees to do it, only on the condition that the government drop their charges against her boyfriend Dominic Toretto (Vin Diesel), who's currently a fugitive from justice in South America.
Now I'm not a legal expert, but this sounded mildly insane. So I asked a friend who is a legal expert, a practicing attorney, if this scenario — someone becoming an informant in order to obtain leniency for a loved one who is still on the run from the law — was remotely possible. His response:
"It's possible, but it really doesn't make sense. [AUTHOR'S NOTE: I swear, I didn't put him up to saying that.] Usually people become informants to either get a better deal for themselves or for money. I've never heard of anyone doing it to get a better deal for another person. I don't see why any law enforcement agency would give a lighter sentence to a fugitive who's gone to another country to escape the law without doing anything themselves to earn better treatment."


Of course, when Brian tells a furious Dom (he's totally fast too!) why Letty was helping him, his explanation is vague enough that it's possible he didn't necessarily guarantee herpreferential treatment for Dom. So someone's an idiot here, either Brian or Letty. Or maybe the idiot's me, for actually trying to figure this stuff out.
3. The Government's Plan Makes No Sense
Brian and Dom follow in Letty's footsteps and become drivers for Braga in the hopes of destroying his operation from within. Braga tries to kill them, but they're able to escape with some of Braga's drugs. Brian's superiors at the FBI want to hold a press conference and announce the contraband seizure, but he convinces them not to. "Braga's just gonna send another shipment next week and the week after that," he tells them. His plan? "Let's use the shipment to lure Braga out and lop the head off a multibillion dollar cartel." He wants to catch Braga red-handed during a hand-to-hand exchange. One of the other FBI agents says, "He'll never show," to which Brian replies "He can't afford not to."
But wait, Brian, you just specifically said Braga could afford not to. You said he could lose one shipment and carry on with his business! What changed in the four seconds since you said that? Other FBI Agent is correct: Braga would never show. But then guess what? He does show after all! Because he's an idiot too.
4. The Police's Search Techniques Make No Sense
Before the big finale in Mexico, Brian comes to see Dom at his house, where he's working on a car. "Everyone's looking for you," says Brian. The police were looking for a fugitive and Paul Walker was the only guy who thought to check his house? What kind of police search is that? That's not a police search, that's a Google search. Nothing came up and they all went back to playing Zuma Blitz. So add the local police to the list of morons in this movie.
5. The Fact That Paul Walker Is Still Alive At the End of the Movie Makes No Sense
Through the mass stupidity of everyone involved, Brian and Dom capture Braga in Mexico and bring him back to the United States. Braga's stooge Fenix, played by Laz Alonso, crashes Brian's car, and pulls him out of the wreckage. He's about to shoot him when Dom rides to the rescue. Dom guns it at Fenix, and before he can get out of the way, a wounded Brian, lying on the ground at Fenix's feet, grabs his leg to hold him in place. Dom runs over Fenix, killing him. But somehow Brian, who was laying right next to him, is perfectly fine. He couldn't have jumped out of the way because a)he was badly wounded and b)he was holding Fenix to keep him from jumping out of the way himself. Which means that Brian should have been crushed by the front right tire of Dom's car, killing him instantly. But the dumbness must continue in "Fast Five," and so Brian magically survives.