Five "Fourquels" That Weren't Terrible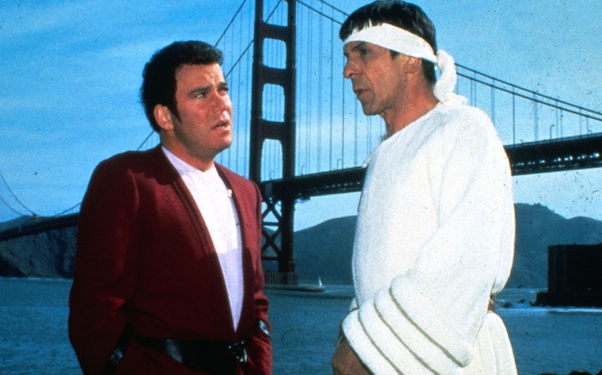 Posted by Matt Singer on
We love trilogies. They're nice and neat. They conform to the three-act structure of storytelling. We love them so much that we want more movies even after the trilogy is over, which inevitably leads to the fourth film in a franchise — the fourquel, if you will (and if you're an English teacher, you won't). Most fourquels are classic examples of outstaying your welcome: "Batman and Robin," "Superman IV: The Quest For Peace," "Alien Resurrection," "Indiana Jones and the Kingdom of the Crystal Skull," "Jaws: The Revenge," "The Next Karate Kid," and on and on and on (and on). Still, hope springs eternal for the great fourquel, like this week when we have the release of "Scre4m" directed by Wes Craven. With fingers crossed for this new "Scream," we look back at five fourquels that were actually kind of good.
---
"Star Trek IV: The Voyage Home" (1986)
Directed by Leonard Nimoy
By the time any movie franchise reaches a fourth installment, all its rules and tropes have been rigidly codified into formula. "Star Trek IV: The Voyage Home" works so well because it gleefully subverts that formula. "Star Trek" always takes place in the future; this one is set in the past. The crew always flies the Starship Enterprise; this time they've got a stolen Klingon Bird-of-Prey. There's always lots of outer space battles with fiendish villains; this installment goes for fish-out-of-water comedy. In other words, instead of robotically rehashing what audiences had come to expect from "Star Trek," director Leonard Nimoy boldly went for something new (you see what I did there with the boldly went? Yeah, you did!). Because fourquels typically come loaded with continuity baggage, they rarely connect with a wider audience beyond the hardcore fans looking to live inside their happy memories of the previous films for two more hours. By tossing all that out, Nimoy made the most financially and creatively successful "Star Trek" until J.J. Abrams' recent reboot.
---
"Sudden Impact" (1983)
Directed by Clint Eastwood
The fourth "Dirty Harry" is best known for the line "Go ahead: make my day," (see below). But "Sudden Impact" is directed by Clint Eastwood and it marks an important step on his path toward becoming the creator of films like "Unforgiven" and "Letters From Iwo Jima." "Sudden Impact" is still very much a Dirty Harry film — don't expect to see America's favorite grizzled cop treating suspects with things like dignity or respect — but it also places him into a story loaded with moral ambiguity (truth be told, most "Dirty Harry"s are a lot more complicated than they're often given credit for). This time San Francisco Police Inspector Harry Callahan finds himself chasing a female vigilante (Sondra Locke) out to kill the men who raped her. While "Sudden Impact" remains part of the collective cultural lexicon because of the scene below where Eastwood breaks up a hold-up with his two pals Smith and Wesson, it's much more interesting for the stuff that follows, that calls into question the old framework of good guys and bad guys, cops and robbers.
---
"Conquest of the Planet of the Apes" (1972)
Directed by J. Lee Thompson
I tend to think of prequels as the last, desperate act of creatively bankrupt movie serials; after all, one of the worst fourquels of all time is a prequel. When you couple the lack of suspense in a prequel, where the ending is a foregone conclusion, with the lack of suspense in a regular sequel, where we know everything about the tone and style and characters, what you typically get is a very boring movie (again, not to beat a dead horse here, but it's true). If "Conquest of the Planet of the Apes" isn't the best prequel of all time, it's definitely the craziest. You know where things are eventually going in this story — loincloths, Dr. Zaius, "YOU MANIACS!" — but you could never predict the events that would lead there. Unless you always suspected the Planet of Apes was caused by a disease that kills the world's cats and dogs, forcing apes to become household pets and eventually slaves, prompting a mass uprising at the ape training facility that's actually the campus of the University of California at Irvine (in which case, congratulations! You're Paul Dehn, and you're the screenwriter of "Conquest of the Planet of the Apes"). The studio eventually softened the downer ending (SPOILER ALERT: THE APES GET THE PLANET!), but they couldn't completely erase its chilling echoes of the racial divisions still simmering throughout the country in 1972. I guess in the strictest sense of the word, "Conquest" isn't technically a prequel because two of the apes from the first and second film travel back through time in the third film, paradoxically kickstarting the chain of events that causes the fourth film and fifth films, later, the first and second. But either way, "Conquest" is a damn fine, damn demented fourquel.
---
"Live Free or Die Hard" (2007)
Directed by Len Wiseman
I've heard many complaints about the fourth "Die Hard" film: Bruce Willis isn't playing John McClane so much as Bruce Willis, and the PG-13 rated violence is a big step backwards from the previous, R-rated installments. I'll grant you both objections. Willis is kind of phoning it in and the overall level of murderousness — hey, if fourquel's a word now, anything goes — isn't quite as high as it could or should be. But even if it doesn't quite capture the spirit of the original trilogy movies, "Live Free or Die Hard" does harken back the the larger category of 80s action films, where joie de vivre was much more important that irrelevant matters like logic or physics. Driving a car into a helicopter? Sure! Defeating a Harrier jet with a semi? Don't mind if we do! "Live Free or Die Hard" bounces from one ludicrous set piece to the next; it's easily the most physically active movie about computer hacking ever made. Yes, there are things in this movie that don't make any sense. If they weren't there, it wouldn't be worth watching.
---
"Thunderball" (1965)
Directed Terrence Young
"Thunderball" is the last classic James Bond film, and even though it's still a damn good time at the movies, you can already start to see the franchise begin to teeter on the edge of self-parody. This is the one where Bond flies with a jet pack (see below) and Blofeld bumps off henchman Dr. Evil-style with his deadly conference room chairs. But "Thunderball"'s also the last time Connery was really invested in the character, and even if the plot gets cartoonish, Bond himself still has some edge; in the cold open, Bond attends a funeral, then punches the dead man's widow square in the face (it turns out to be the "dead man" in disguise, but still). Terrence Young, who directed "Dr. No" and "From Russia With Love" returned for "Thunderball," and he always brought a sense of real danger and intensity to the series' action sequences (his secret, I think, is messy choreography which looks like two dudes really scrapping instead of a ballet). Plus the underwater finale is rightfully famous, Ken Adam's production designs are gorgeous, and the final high note in Tom Jones' theme song will rattle your cojones to their very core. "Thunderbaaaaaaaaaaaall!"
---
For Further Viewing: "Rocky IV," for the training montage set to "Hearts on Fire," "Land of the Dead," where allegorical zombies invade Bush-era America, "Fast & Furious," which recaptures the lunkheaded poetry that the series lost in its first two sequels, "Scary Movie 4," funnier than you think (and don't you give me that look), and "Lethal Weapon 4," because this list is called "Five 'Fourquels' That Weren't Terrible" not "Five 'Fourquels' That Were Good."