Five Funny Documentaries About Stand-Up Comedians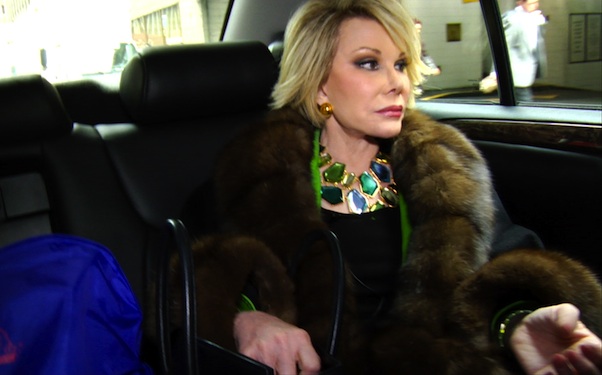 Posted by Matt Singer on
With a new documentary about the life of Bill Hicks opening in New York City this weekend, it seemed like a good time to dig deeper into the world of documentaries about stand-up comedians. And, pending an thorough examination, this is what we found: there aren't a lot of good ones. Obviously there are plenty of concert films of stand-ups, just not a ton of docs about stand-ups, and most of the ones that do exist aren't very good. "American," which is smartly edited and constructed, is a fine exception. Here are five more:
---
"The Comedians of Comedy" (2005)
Directed by Michael Blieden
As "The Comedians of Comedy" opens, Patton Oswalt talks about one of the worst gigs of his life: Yuk-A-Buck Night, six comedians, six bucks, one comedy club. Places like that Yuk-A-Buck joint, with their lowest common denominator expectations and two drink minimums, are the reason Oswalt gathered together Brian Posehn, Maria Bamford, and Zach Galifianakis for a tour of indie rock clubs in the Pacific Northwest. The crowd at these clubs is younger, smarter, and a whole lot more receptive to weirdness and experimentation. Appropriately enough, weirdness and experimentation also happen to be the key ingredients of Michael Blieden's "Comedians of Comedy" documentary. Sprinkled between the performances and slice of life on the road scenes are all sorts of quirky digressions, like the sequence where Galifianakis and Posehn entertain themselves in a hotel by creating a softcore porn parody. It's exactly the sort of film you'd want to see about these off-kilter comics: loose, personal, and unconventional. In one of the funniest bits (that I can put on an all-ages website without fear of getting a concerned email from my boss), Galifianakis expounds on his theory of comedy.
---
"Joan Rivers: A Piece of Work" (2010)
Directed by Ricki Stern and Anne Sundberg
You look at Joan Rivers' crazy face, which at this point resembles an over-stuffed beanbag chair, and you wonder "What makes a person do that to themselves?" "Joan Rivers: A Piece of Work" provides the answer. The film shows just how tough the entertainment business can be for an aging star, even a famous and successful one. For Rivers, the scariest sight in the world is an empty calendar, and at the start of this documentary, her calendar is looking mighty empty. With her career at a low ebb, Rivers hustles for gigs, and you really come to appreciate how much work ethic matters in the stand-up comedy game. Someone without Rivers' drive to succeed would have quit long ago. But she's still working, still playing two or three shows a night, still pulling that face ever tighter so she can keep competing in this screwy, youth-obsessed world.
"I Am Comic" (2010)

Directed by Jordan Brady
It's generous to call "I Am Comic" a "documentary" — it's basically a plotless collection of interviews with stand-up comedians. But man, what a plotless collection of interviews with stand-up comedians. The topics are fascinating, the anecdotes are candid, and the cast, from Louis C.K. to Larry Miller to Tim Allen is impressive (and not as middle-aged and white, as that sample makes it seem). Amongst the details of a stand-up's life revealed herein: that many comedy clubs buy condos to put up visiting comics rather than paying for their hotel rooms (and that some comedians have a reputation for contaminating these condos with their filth). No overarching message or theme here, just an awesome assortment of stories. Did you know that Sarah Silverman's most famous joke ("I was licking jelly off of my boyfriend's penis and all of a sudden I'm thinking, 'Oh My God, I'm turning into my mother!'") was written by another woman who thought it'd be better suited to Silverman's act? Well now you do.
---
"Comedian" (2002)
Directed by Christian Charles
There's only 2 things that could drive a man as successful as Jerry Seinfeld back into a comedy club: a love of comedy or a total addiction to it. "Comedian" explores how both passion and obsession fuel Seinfeld's return to stand-up after he retired the 20-year-old act that had helped inspire his classic sitcom. Seinfeld's attempt to regain his chops as a working comic is like watching a great athlete try to come back from retirement — the instincts are still there but the muscles are out of shape. "Comedian"'s counterpoint to Seinfeld is a young stand-up named Orny Adams, who's got all the tools but a different sort of hunger. Adams is a smart guy with good material and a terrible attitude. He's got no love, except for himself, and not much of an addiction either — if Adams got his own sitcom tomorrow, he probably wouldn't set foot in a comedy club again. Part of what I love about "Comedian" is the way it illustrates the fundamental meritocracy of comedy through the contrast between Seinfeld and Adams. Jerry's doing it for the thrill and the pleasure; Orny's doing it for the chance at celebrity and money. And when they get onstage, that's all totally irrelevant. The only thing matters is their material. For Adams, stand-up comedy is a means to an end. For Seinfeld, it's a way of life and will be for as long as he can do it, either because he loves it or because he doesn't know how to stop.
---
"Vince Vaughn's Wild West Comedy Show" (2006)
Direced by Ari Sandel
The stand-up comedy in "Vince Vaughn's Wild West Comedy Show" isn't always that great, which, counterintuitively, is exactly why this stand-up documentary is worth watching. All the other films on this list celebrate the titans of the industry. "Vince Vaughn's…" is one of the few to pay homage to the working comedian, the regular stiff who spends 200 nights a year on the road struggling with cranky crowds and lukewarm material. In 2005, Vaughn decided to pack four comedians into a bus and tour the country for thirty shows in thirty days. The comics he chose aren't fantastic — the best of the bunch is John Caparulo, who now appears regularly on "Chelsea Lately" — but it's fascinating to watch them struggle and self-doubt (the interviews are surprisingly candid). They make for a great comparison with Vaughn, the established movie star who coasts along on his charm and stage presence. Some nights the guys kill, and other nights they don't. Either way, they keep plugging along. In a comedy club, a comic who doesn't get laughs is a failure, end of story. In a documentary, a comic who doesn't get laughs is an opportunity to consider why some people feel a need to essentially martyr themselves for our pleasure.
---
For Further Viewing: "The Aristocrats," about jokes and joketelling, "Super High Me," about the role of drugs in stand-up, "Why We Laugh," about the history of African-American comedy, "Goodnight, We Love You," about the life of comedienne Phyllis Diller, and "Mr. Warmth: The Don Rickles Project" about the famous insult comic.