Could a 'Mass Effect' MMO Be on the Way?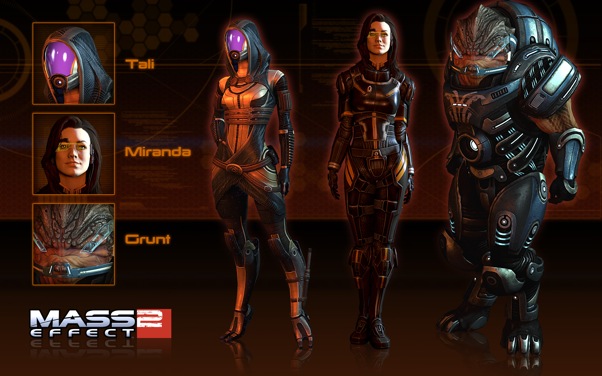 Posted by Evan Narcisse on
Here's what I love about how BioWare views their games: the folks at the Edmonton development collective view their games (and attendant DLC and transmedia projects) as huge, perpetually unspooling skeins of fiction that can be braided and folded in a variety of interesting ways.
You can look at how BioWare used the DLC for "Mass Effect 2" to suss out that philosophy. Players got backstory on established characters, all-new characters to ad to their intergalactic crew and tonal variation that ran the gamut from super-spy genre tropes to futuristic horror. It never felt like you were being wheedled out of $10; it felt like you were paying to access more of a richly imagined universe.
Now, via the new issue of Game Informer, comes word that BioWare's not averse to creating a massively multiplayer online game based on their successful sci-fi franchise. "Mass Effect 3" should be out by the end of the year and one of the persistent rumors was that it would finally bring a multiplayer component to what's always been a single-player experience. But, series executive producer Casey Hudson soft-pedals that idea:
"We've been trying to think of a way that makes sense for people to experience Mass Effect with their friends… We haven't yet come up with a way to do that, so we don't have anything to announce at this time. But, obviously, multiplayer is something we want to do more of in the future as a company."
So, while multiplayer on "Mass Effect 3" seems to not be happening, Hudson says an MMO "makes sense":
"A lot of people say that they want to see an MMO, I think that kind of makes sense for this universe. Part of what you're trying to do is save the universe so you can live in it. That's part of the promise, I think, for any great IP. It has to be a world worth saving… I think Mass Effect has that quality to it. If you get rid of the Reapers and win that, wouldn't it be amazing to just live on the Citadel or just take a ship to Omega? That makes sense."
With most companies, you'd receive the news that they're thinking of entering the MMO market with heaping gobs of skepticism. After the seemingly unstoppable success of "World of Warcraft," many game companies view the idea of an MMO as a way of creating their own perpetual-motion money machine. And, while bean-counters at parent company EA may have mercenary considerations as a motivating factor, it seems as if the creatives at BioWare may seize on an MMO as a way to just keep extending out this fictional construct they've built. I especially love the idea of treating the MMO as a reward, as a sort of Elysian Fields or Valhalla for "Mass Effect" players. You still need conflict and drama to make the thing go, of course, but the idea of getting to live in a universe that you've saved and fundamentally reordered is a particularly great one.