Clip Analysis: Just How Dirty Is the L.A.P.D. in "L. A. Noire"?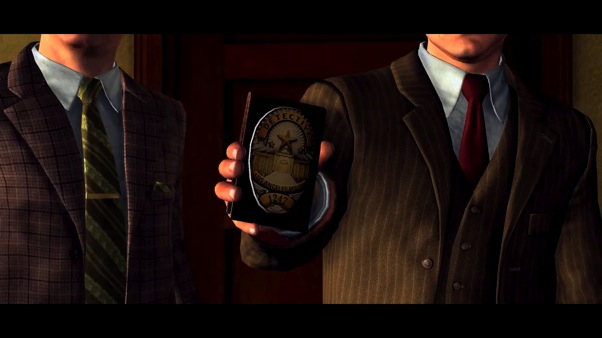 Posted by Evan Narcisse on
Video game teasers tend to stick to a certain formula: dazzle the viewer with awesome graphics, show off some of the games' abilities and maybe dribble a little story out to tantalize would-be players. But every so often, one piece of video-centric marketing will float above the rest or sink to join the sludge.
In Clip Analysis, I'll be looking at trailers, teasers and just about any game-related video in an effort to call out what works and what doesn't in terms of communicating a particular game's coolness.
This time, I'll be taking a look at the third trailer for "L.A. Noire," the upcoming detective game from Rockstar Games.
If there's one thing that's true of a good detective story, it's that nothing is as it seems. So, in this latest "L.A. Noire" trailer, it looks like the upstanding cops who'd be supposedly working to clean up the City of Angels with lead character Cole Phelps may not be so upstanding after all.
The new clip shows off just how tough a job it's going to be for Phelps–played by Aaron Staton ("Mad Men")–to try and clean up crime in post-war L.A. It's entirely probable that the dead junkies, fixed fights and on-the-take cops seen in the trailer are all connected and it'll be up to gamers interrogating suspects to find out how. One intriguing line (at 0:27) seems to hint that if Phelps wants to move up the food chain, he's going to have to play along with the shady goings-on. Then, at the opposite end of the spectrum, you've got a commanding officer telling Phelps (at 1:05) to raise holy hell out on the streets, in the name of honest policework. It'll be interesting if these moments hint at a choice Cole will have to make in the game. Generally, classic noir protagonists either stand strong in the face of temptation or find themselves needing make moral compromises of their own. No matter how it plays out, it looks like coming up against shady dealings involving heavy-duty drug deals and signs that not every cop in the LAPD may be on the up and up. And, as cinematic as it all looks, it's important to remember that these scenes are what the actual gameplay's going to look like. "Fringe"'s John Noble shows up at 0:19 as gotta-be-a-bad-guy Leland Monroe, who's sure to be a major player in the dirtying-up of cops in the game. L.A.'s got a long, unfortunate history of corrupt and overzealous policing so it's great to see Rockstar's creative nodding at such charged real-world occurrences. There'll probably be more gorgeousness on dispay when "L.A. Noire" shows at Tribeca Film Festival later this month.