The Second Strike of "Fubar," "Cannibal Holocaust" in HD, and More New on DVD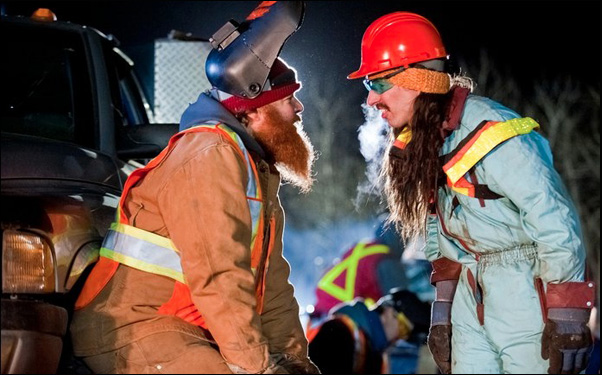 Posted by Stephen Saito on
A look at what's new on DVD this week:
"Fubar: Balls to the Wall"
Directed by Michael Dowse
Released by Screen Media Films
Following up the 2002 cult comedy about lifelong metalhead pals Terry and Dean, this sequel, which recently premiered to much acclaim at SXSW, finds the duo down on their luck when they decide to head up north to work in the oil industry, but when their best laid plans go awry, Dean attempts to get on worker's comp, leading to the kind of exploits best enjoyed with a cold beer.
"Born to Raise Hell" (2011)
Directed by Darren Shahlavi
Released by Paramount
Steven Seagal not only stars as an Interpol agent named Samuel Axel in this DTV thriller, but also wrote the script, so you know it has to be good. In it, Axel must bring down a gun trafficking ring in the Balkans where the stakes become personal after one of his team members is killed.
"Gashole" (2011)
Directed by Scott D. Roberts and Jeremy Wagener
Released by Cinema Libre
With sky high gas prices, the timing couldn't be better for the release of this Peter Gallagher-narrated documentary that studies the history of gas prices and offers an array of alternative fuel solutions.
"Gaumont Treasures: 1908-1916 Vol. 2"
Released by Kino
This three-disc set of silent French classics has a DVD apiece dedicated to the work of Emile Cohl, Jean Durand and Jacques Feyder, who were pioneers of the color process and synchronized sound, commemorated here not only with their films, but a bonus documentary about Durand and a handful of shorts that show their early experiments.
"Gulliver's Travels" (2010)
Directed by Rob Letterman
Released by Fox Home Entertainment
After being derided as a dud in the States, this Jack Black-starring update of the Jonathan Swift story about a man shipwrecked in a town where he is a giant became an unexpected success overseas, so perhaps they know something we don't? Probably not, but you can decide now that it's on home video. Emily Blunt and Jason Segel co-star.
"Hyenas" (2010)
Directed by Eric Weston
Released by Lionsgate
Costas Mandylor and Christa Campbell star in this horror flick about a man whose family is killed by a pack of the titular hyenas and naturally wants to return the favor.
"If God Is Willing and Da Creek Don't Rise" (2010)
Directed by Spike Lee
Released by HBO Video
After Spike lee's landmark doc about Hurricane Katrina, "When the Levees Broke," the director returned to Louisiana to take a look at the recovery efforts and the further destruction caused by the BP oil spill with this four-hour doc. (Aaron Hillis' interview with the director is here.)
"Ingrid Bergman: Swedish Film Collection"
Released by Kino
Before she became known the world over as Elsa in "Casablanca," Ingrid Bergman starred in these three films in her native country — "Intermezzo," "June Night" and the never-before-available-on-DVD drama "A Woman's Face" — that have been conveniently placed in one boxed set.
"IP Man 2: Legend of the Grandmaster" (2010)
Directed by Wilson Yip
Released by Well Go USA
There was obviously unfinished business left from Donnie Yen's loosely biographical martial arts tale of Wing Chun grandmaster Yip Kai-Man, the educator of such pupils as Bruce Lee. On the heels of the first film, which chronicled Ip Man's rise during the 1930s and his leadership against the Japanese invasion of 1937, "Ip Man 2" follows the martial artist to Hong Kong during the 1950s where he sets up a school and runs afoul of the instructors at rival academies (led by Sammo Hung) who challenge him to duel.
"John Leguizamo's Freak" (1998)
Directed by Spike Lee
Released by Vivendi Entertainment
The other Spike Lee-directed release this week deserves equal top billing since it's been out of circulation for quite some time, despite winning an Emmy on television and a Drama Desk Award for star John Leguizamo back when it was on Broadway as Leguizamo recounts his youth in Queens by performing as all of the colorful characters who populated his early life.
"Kes" (1969)
Directed by Ken Loach
Released by the Criterion Collection
Though the British Film Institute named it as one of the 10 best British films of the last century, Ken Loach's coming-of-age film about a boy and his bird has never been available on DVD in the States until now with this Criterion edition that not only includes an exquisite transfer of the film, but includes a new making-of doc, one of Loach's first features for television "Cathy Come Home," and more.
"The King's Speech" (2010)
Directed by Tom Hooper
Released by Anchor Bay Entertainment
With the F-word restored, all is right as rain with this year's winner for Best Picture at the Oscars which recounts the true story of King George VI's (Colin Firth) struggle to overcome a debilitating stutter with the help of Lionel Logue (Geoffrey Rush), the speech therapist who guided the king to find his true voice when the ongoing Second World War necessitated him to take the lectern when his brother (Guy Pearce) abdicates the throne. No stranger to highlighting crevices in history, "The Damned United" and "John Adams" director Hooper helmed this uplifting drama.
"The Last New Yorker" (2010)
Directed by Harvey Wang
Released by Brink
"The Sopranos" star Dominic Chianese and Dick Latessa co-star as a pair of 70-year-old Manhattanites whose lifelong friendship is tested when Chianese's Lenny decides to embark on a romance that may lead him out of living in the big city, much to the chagrin of his pal who can't stand its ever-changing nature.
"Rabbit Hole" (2010)
Directed by John Cameron Mitchell
Released by Lionsgate
As I wrote back when it premiered at Toronto last year, this adaptation of David Lindsay-Abaire's Pulitzer-winning play about a couple dealing with the grief of losing their only child may "feel like an adaptation of a really great play that hasn't been botched as opposed to it feeling like a really great movie." But do expect powerhouse performances from Kidman and Eckhart as the mourning parents in an unexpectedly straightforward film from "Hedwig" and "Shortbus" director Mitchell that finds the couple's grief pouring out in the most unexpected of ways.
"Sextette" (1978)
Directed by Ken Hughes
Released by Scorpion Entertainment
A notorious bomb when it debuted, Mae West tried to reclaim her unlikely sex symbol status at the age of 84 with an all-star cast including Tony Curtis, Ringo Starr, George Hamilton and a young Timothy Dalton in this comedy where a honeymoon turns into an international incident when a movie star (West) and her new hubby (Dalton) can't enjoy time alone when she's constantly approached by a variety of delegates from a conference going on at their hotel to sleep with her. Did we mention it's a musical and Dom DeLuise co-stars?
"Somewhere" (2010)
Directed by Sofia Coppola
Released by Universal Home Video
Known for her delicate character studies such as "Lost in Translation" and "Marie Antoinette," Sofia Coppola's latest is the story of a burnt out movie star Johnny Marco (Stephen Dorff) who reconnects with his 11-year-old daughter (Elle Fanning) when his ex-wife unexpectedly drops her off at the Chateau Marmont where Marco is living in decadence, but perhaps not contentment. (My interview with Dorff is here.)
"Square Grouper: The Godfathers of Ganja" (2011)
Directed by Billy Corben and Alfred Spellman
Released by Magnolia Pictures
After dealing with the illegal white powder in the doc "Cocaine Cowboys," filmmakers Corben and Spellman once again go into the Miami underworld for this look at the marijuana trade during the 1970s. At its recent premiere at SXSW, Matt Singer felt the film was a little too mellow for its own good.
"Street Kings 2: Motor City" (2011)
Directed by Chris Fisher
Released by Fox Home Entertainment
From the director of the Donnie Darko DTV sequel "S. Darko" comes this DTV follow-up to the batshit Keanu Reeves cop thriller that relocates the police corruption from Los Angeles to Detroit without any real connection to the first film, leaving Ray Liotta to star as a detective who, after seeing his partner die, joins forces with a homicide investigator to bring down a serial killer targeting the boys in blue.
"Vision: From the Life of Hildegard Von Bingen" (2009)
Directed by Margarethe von Trotta
Released by Zeitgeist Films
The famed German director von Trotta tells the story of a nun's crusade to change the ways of the church in this real-life based drama.
"The Way Back" (2010)
Directed by Peter Weir
Released by Image Entertainment
Based on the book by Slavomir Rawicz, "The Way Back" follows a group of soldiers (Jim Sturgess, Colin Farrell and Ed Harris, among others) who break free from a Siberian gulag only to face the unforgiving Himalayas in their quest to safe haven on exceptionally limited resources during the 1940s.
New to Blu-ray: "Mortal Kombat," "Mortal Kombat Annihilation," "Sweetie" (Criterion Collection), "Zombie Holocaust"