Behold the Magic That Is "Rambo" The Arcade Game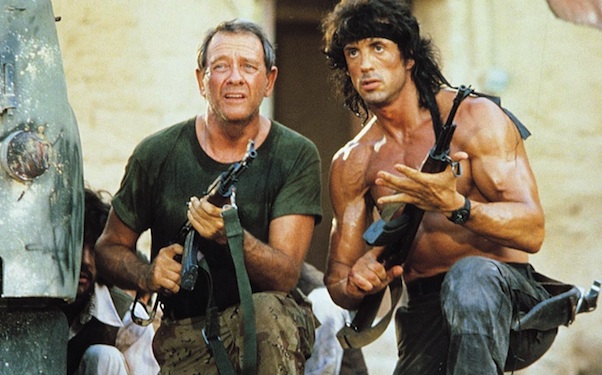 Posted by Matt Singer on
It's been around in Japan since 2008, but it's just recently started popping up in American arcades over the last couple months. Last weekend, I got to play it for the first time. My life will never be the same. I give you: "Rambo: The Arcade Game."
Released by Sega, "Rambo" is the horrifically violent video game every child of the '80s dreamed of when they watched Stallone win the VIetnam War or save Afghanistan from the evil Soviets (want to see the game we got instead? Watch this). Two players wielding two massive plastic machine guns (or plastic Uzis, depending on the model) play as Col. Trautman and Rambo, as they sort of reenact iconic scenes from the "Rambo" movies. Notice I say sort of; as you can see in the video, the game dips in and out of full motion video clips that form the backbone of the "story" (please add your own air quotes). So Trautman and Rambo will be in a ditch surrounded by enemy fighters in a scene from "Rambo III" when the game kicks in and the duo kills about 3,000 Soviets in a row before jumping in a jeep and escaping.
Remember that scene? Remember when Rambo and Trautman killed 3,000 guys without running out of ammo?
Actually, it was "Rambo III." That did kind of happen.
In fact, "Rambo" is probably the most accurate video game adaptation of "Rambo: First Blood Part II" and "Rambo III" ever made. Even the gameplay feels right. To reload, you just aim your gun offscreen, but you don't even need to release the trigger for the reload to take effect, so, like the onscreen "Rambo," you basically never runs out of ammo. Plus, there's no way to take cover or evade enemy fire so the only way to survive is to adopt the movie's ultra right-wing, pro-war politics: kill everything on the screen as quickly as possible, shoot first and ask questions never. They even built combat shock into the game's structure: the first level's from "Rambo III," the next is a "Counterstrike Flashback" from "Rambo: First Blood Part II."
The game is so impossibly, cartoonishly violent, it almost seems like a parody of a light gun shooter. Slap Charlie Sheen's face on the cabinet and update a few of the cutscenes and you could believably call this thing "Hot Shots: Part Deux: The Arcade Game." Within seconds, you murder enough soldiers (and Geneva Conventions) to make Joe Lieberman cry. Within minutes, you decimate the population of a small country. Later, you get to shoot things with explodo-arrows. Is this thing a joke or such a straight-faced but totally deranged male power fantasy that it just feels like a joke? Either way, it couldn't be much funnier.
Rambo even has a "Rage Meter" that steadily fills based on the awesomeness of your murder spree. When it fills all the way up and you press a button, you activate "MAXIMUM RAGE!" giving you stronger, bigger bullets, and invincibility for a short period of time. In other words: roid rage. But that's nothing compared to how mad I'm going to be if I don't get to play this stupid, amazing game again soon.