Battle of the Action Chick Flicks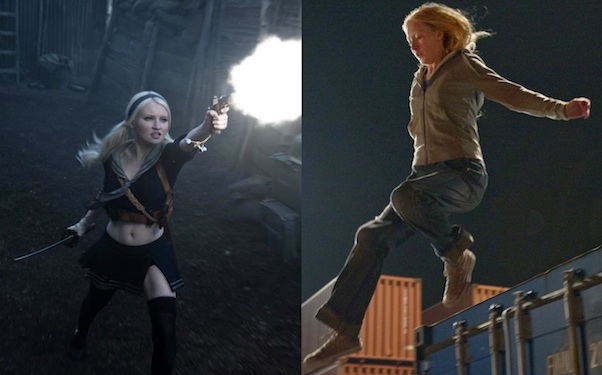 Posted by Matt Singer on
Sometimes the director does the film critic's job for him. Appearing at San Francisco's WonderCon convention last weekend, Joe Wright — the director of "Atonement" and "The Soloist" as well as the upcoming "Hanna," which opens this Friday — planted the seeds of a thousand thinkpieces by publicly calling out Zack Snyder's recently released "Sucker Punch" for its — his words, now — "bullshit" combination of sexist imagery and female empowerment messages. More of Wright's words from The Hollywood Reporter's Heat Vision blog:
While not naming names, [Wright] attacked a recent movie with young female characters in crop tops and short skirts, scoffing that the movie's makers were "calling it 'female empowerment.'"

"Sucker Punch," Snyder's latest film for Warner Bros., features five young female protagonists who escape their brutal existence in a mental institution by slipping into a fantasy world where a brothel and dancing for men are key components. The film did stir up some talk about its depictions of young women and sex, with Snyder and the producers calling it female empowerment, noting sex is a weapon in the characters' arsenal and that the scenes were not shot in a titillating way.

"I think that's bullshit," Wright said.
Publicly bashing the competition is a smart move for a couple of reasons for Wright. For one thing, "Sucker Punch" isn't exactly putting asses in the seats (Just $30 million in two weeks at the domestic box office). Since "Hanna" does tread similar thematic territory — young ass-kicking girls dominated by powerful male authority figures — it couldn't hurt to distinguish itself from its relatively unpopular contemporary. And obviously a little controversy never hurt anyone (except maybe Snyder, who seems like the sort of man who means his overtly sexualized female empowerment very sincerely). A couple well-placed considerations of both films could encourage skeptical viewers to try out the entire double feature.
So there you have it, pop culture theorists, laid out for you on a platter. The representation of female empowerment in "Hanna" versus "Sucker Punch." On your mark, get set: go for 2,000 words. I haven't seen either film yet, so I'm afraid it won't be me to do the analyzing, at least not right away. But maybe I'll round up the best pieces that come out of the controversy in a few days.