Atari 2600 Classic "Yar's Revenge" Gets Modern-Day Reboot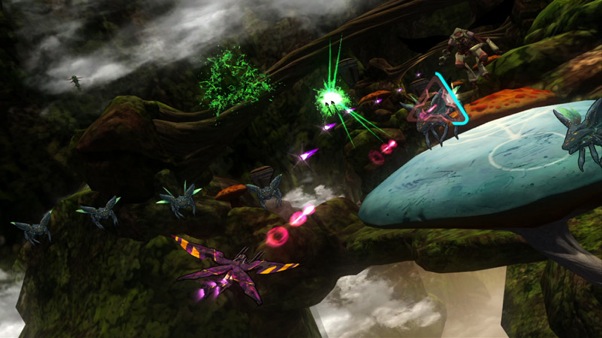 Posted by Evan Narcisse on
Quick: name the best-selling game on the Atari 2600. Nope, it wasn't "Pac-Man" or "Battlezone." It was "Yar's Revenge." The slightly weird insectoid shooter mixed a blend of offensive shooting and defensive dodging, along with some business about nibbling on the Qotile enemy's shield.
I played a ton of Yar's Revenge when I was a kid. Eventually, my twin brother surpassed my skills and owned all the high scores for this cartridge. There was a comic book inside that explained the sci-fi plot but an odd air of mystery persisted when you actually played it. I'm pretty sure I never knew what the eff was supposed to be happening in "Yar's Revenge;" the point was learning to master it.
A new version of the game launches on Xbox Live this week and recasts the original by a fair bit. Instead of being a straight-up insect, you're a fetching anime girl in bug power armor. The story is still one of revenge but The main thing that sticks out about this new Yar's are the amazing visual backdrops. The work of the Killspace Entertainment dev studio looks like series of manga-style wall posters brough to life. Gameplay-wise, it's a bit of a rail shooter, a type of experience where you're pulled through the world on a preset path and enemies swarm and rush at you.
The new game's a lot more action-packed than the classic version, even if you don't get to be an actual bug. Find it on Xbox Live for 800 points ($10)