'Apocalypto': Who Is Up For The End Of The World?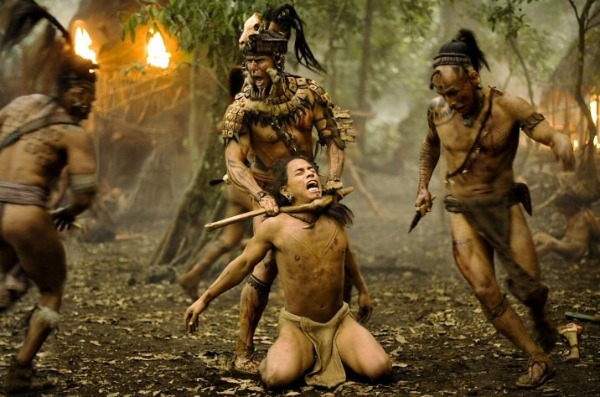 Posted by Melissa Locker on
Anyone feeling Apocalypse-y? It is Thursday after all. Luckily tonight at 8 p.m. ET we have just the thing for you. From Academy Award-winning filmmaker Mel Gibson ("The Passion of the Christ", "Braveheart"), comes "Apocalypto": a heart stopping, historically-accurate, mythic action-adventure set against the turbulent end times of the once great Mayan civilization.
The Mayan kingdom is at the absolute height of opulence and power, but leaders are convinced that unless more temples are constructed and more human sacrifices made, the crops, and ultimately the people, will suffer. Enter Jaguar Paw's (Rudy Youngblood) whose idyllic existence is brutally disrupted by a violent invading force. He is then taken on a perilous journey to a world ruled by fear and oppression where a harrowing end awaits him. Through a twist of fate and spurred by the power of his love for his woman and his family he will make a desperate break to return home and to ultimately save his way of life. Inspired by ancient Mayan texts, "Apocalypto" was a collaboration between director Gibson, Cambridge-educated screenwriter Farhad Safinia, and world-renowned archeologist and Mayan culture expert Dr. Richard D. Hansen — whose services as a special consultant on the film lent the production an unprecedented degree of historical accuracy.
While Mel Gibson is no role model, his film is still highly enjoyable. Watch the trailer then tune in at 8 p.m. ET:
"Apocalypto" airs on IFC at 8 p.m. ET tonight and on Saturday, Apr. 30 at 10:30 p.m. ET