Andrew Lau Extends His "Legend" and Gets Punchy With "Fist"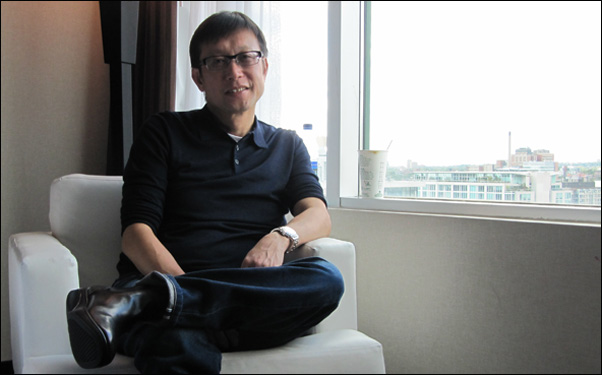 Posted by Stephen Saito on
This article originally ran as part of our coverage of the Toronto Film Festival 2010.
When talking to Andrew Lau, one of the first things to emerge is his tendency to drop in the ba-ba-ba sound of machine gun fire or plwww of explosions into casual conversation. Maybe it's his way of being descriptive to an American journalist when English isn't his first language, but then again, Mandarin might even be considered a second language to the auteur who has had an international impact on the vocabulary of action cinema. First as a protégé of the Shaw Brothers before becoming a cinematographer on films such as Ringo Lam's "City on Fire" and "As Tears Go By" and then as the director of the "Infernal Affairs" trilogy (with Alan Mak), Lau has helped define an entire era of Hong Kong cinema.
His latest, "Legend of the Fist: The Return of Chen Zhen," takes one of the most famous of Chinese legends – a masked hero bent on vengeance for the death of his master that's so enduring it's been the basis for Bruce Lee's "Fist of Fury" and later Jet Li in "Fist of Legend" — and reinvented it for the modern era, filming an incredibly epic war sequence, particularly for a Chinese production, that becomes one of the most memorable first five minutes in recent memory when Donnie Yen appears on the battlefield of World War I as the mysterious leader of a group of Chinese laborers recruited to fight with the Allied Forces. Needless to say, the enemies' guns are of little use when Yen's Chen Zhen swoops out of the sky to clutch a soldier's head between his thighs and proceeds to twist his neck before dismantling an entire army with just the speed and power of his fists and feet. A portion of that opening is here:
During the Toronto Film Festival, I caught up with Lau to talk about reinterpreting such a beloved figure in Chinese culture, his semi-legendary temper and pulling off the film's bravura opening sequence.
Chen Zhen seems to be revived every decade. Why is it important to keep retelling this story?
It's because of love. I loved Bruce [Lee] when I was a boy in 1972. Bruce was making movies when I was in primary school. When we went to go see Bruce, it was like ahhhhhh, so that is in my heart for so many years. So when Gordon [Chan, the screenwriter/producer] called me, I did have interest in making a movie about Chen Zhen, I said why not? But it must be something different, not like the 1972 Bruce version.
We must change the story and also we must change the image of Chen Zhen. [It can't be] like the old days, just running and killing Japanese because the Japanese killed his master. The story must be changed totally. But I wanted to keep some images of Bruce and the nunchucks, And also, the sound "whaaaaaaa!!!" I like to keep it because the sound is always in my mind, and the white Chinese tunic suit. But everything else is new.
There are many Chinese films where heroes have superpowers, but few are called superheroes, as Chen Zhen is referred to once in the film. Was there an influence from American superhero films?
A hero is a hero. Superhero is too big for me. I just wanted to create a people's hero. It's more powerful. People's hero is better. Also, I wanted to create Chen Zhen as a Chinese version of 007 because in my movie, Chen Zhen is intelligent, he is like a spy because he's a special member of [the war squadron that is forced to go undercover] and because my movie's background is 1925, Shanghai is [an international center] for so many countries like America, Italy, Germany, Russia — this is a very interesting background for my movie. I liked the nightclub in "Casablanca," so it creates a nice background for my movie.
There have been a wave of strongly patriotic films out of China recently – "The Founding of a Republic" and "Bodyguards and Assassins," and as you say, Chen Zhen is a people's hero. Is that coincidence or is that important for the times?
Storywise, we put a lot of elements inside the story that are historical. It's quite important for today. We have something in the movies, not only action ba-ba-ba-ba-ba. We tried to put a lot of elements inside because we want the audience to be happy. This is not an up movie. Up movies just tell Chen Zhen it's ok. But for the commercial movies, we want to entertain, but to entertain, you must keep something [important]. Nowadays, the Chinese have a face. In 1925, the Chinese had a face, [but] everybody wanted to take something out of China. I used 1925, that year, but this is a little bit about [how] the old days [can] affect today.
I read in an interview once that you had quite a temper on set because you have such intense focus. Have you tried to be more calm in recent years?
Yes, it's true. I try [to get more calm]. When I go on the set, I'm so rushed. When I see the actors at rehearsal, when I love it, I want to keep the mood — my mood and the actors' mood also. So I have to push the crew faster. I don't want to lose the mood. Nowadays, some crews are quite lazy. [Some say,] "I want a day to set up." I said, "hey, go away." Before, you must set everything. At that moment, I lose my temper and concentration on my work. I want to capture that moment and that is why so many people say, "oh, he's so bad tempered." No, I just concentrate on my work and I want to capture the good moment.
The film opens with an epic World War I scene that's of a scale you've never attempted before. Was it in any way more difficult?
I shoot a lot of action movies, so this time I tried to put all the [different] styles [together] – we tried our best to make a war scene. Before, Hong Kong movies are just action ka-ka-ka-ka, maybe some boom-boom-boom, but I want to challenge myself, like the opening scene, the first World War battle in Europe. When Gordon, the producer and screenwriter, wrote [the first scene set in] 1917 and goes to Europe to fight a war with the French troops, it's hard to shoot. A Hollywood-budget movie, of course, can shoot that kind [of scale], but we're a Hong Kong/Chinese movie. Our budget cannot afford that, a big battlefield. But this is interesting, so I thought about this for a long time and scraped some budget from the back. I said I want to shoot that part of the action, with these explosions, ba-ba-ba, running, tension, different things.
We were planning to do a lot of things. We found a set that looked like Europe and we had to buy brand new soldiers' uniforms because [in China] they don't have the German uniform or even the French. Also, preparing how to shoot the explosions [was different] because the [physical explosions] are not that much, so we hired a lot of special effect [technicians], about 50 people to do the explosions. After that, there was fire everywhere, – I was so impressed. Finally, we can shoot that kind of war scene. I was very happy when after the editing, we saw the whole sequence [and it worked], so next time we can shoot a war scene and safely. Nobody was injured. So I'm happy about that.
"Legend of the Fist: The Return of Chen Zhen" opens in L.A., New York, Portland and Hawaii on April 22nd before expanding on April 29th. A full list of playdates is here.