"American: The Bill Hicks Story," Reviewed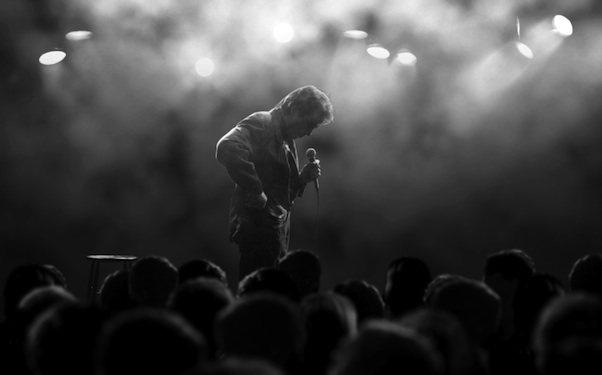 Posted by Matt Singer on
A stand-up comedian's job is to make people laugh. But the more you learn about stand-ups, the more you see how unfunny their own lives often are. Many of the best comedians are forged in the darkest places. Comedian Bill Hicks struggled with substance abuse for years and then just as he got himself clean and his career started to take off, he was diagnosed with pancreatic cancer at the age of 31. He was dead by the time he was 32.
Funny as it is, "American: The Bill Hicks Story" is a deeply moving tragedy about the miserable luck of an absolute genius. And I don't use the word "genius" lightly here. Hicks was like the stand-up comedian version of a five-tool baseball player. He could do it all. He had great timing. He did great impressions. He had amazing physical gifts. His humor came from a distinctive and really unique perspective. And his analysis and critique of American culture rivaled any social commentator of his generation. I own a couple Bill Hicks CDs, but because he died before I was even in high school, I'd never really seen him perform, and watching him in "American" only increased my admiration for his work and and his craft. The way he works a crowd and moves around a stage and handles hecklers and challenges his audiences' assumptions; he really was one of the greatest.
We're fortunate that so much good footage exists of Hicks onstage, even from the earliest parts of his career when he started working Houston comedy clubs while he was still in high school and his delivery wasn't refined but his material was already shockingly good. What doesn't exist is much in the way of home movies or interviews, so "American" directors Matt Harlock and Paul Thomas construct Hicks' life offstage through animated montages of still photographs of Hicks set to a running narration provided by his friends and family. Because we almost never see who is talking, this device doesn't always provide the most clear sense of who besides Hicks is involved in any particular scene. But "American"'s unorthodox approach weaves a sort of transportive spell that is very much in keeping with its subjects taste for consciousness-expanding psychedelics. In other words: this movie is a trip, man, through Hicks' maturation as a comedian and a human being, through his attempts at screenwriting and Hollywood success, and finally through his sudden and unexpected stardom in the UK after his appearance at the Just For Laughs Comedy Festival aired on British television.
Obviously, "American" is a sad film at times; any story about a 32-year-old dying of cancer is going to be sad at times. But I found it to be incredibly inspirational too. When Hicks got his cancer diagnosis he didn't sit around feeling sorry for himself: he pushed himself to do as much as he could with the little time he was given. And it made him an even more fearless comedian onstage because he had nothing left to lose by speaking his mind. If he was provocative before, he was genuinely shocking after. As someone who writes and talks for a living, and who is just a few years younger than Hicks was when he fell ill, that really gave me something to think about. It Bill Hicks' job to make people laugh. But what he really loved to do was to make them think as well.