A Brief Interview With The Whitest Kids U'Know's Timmy Williams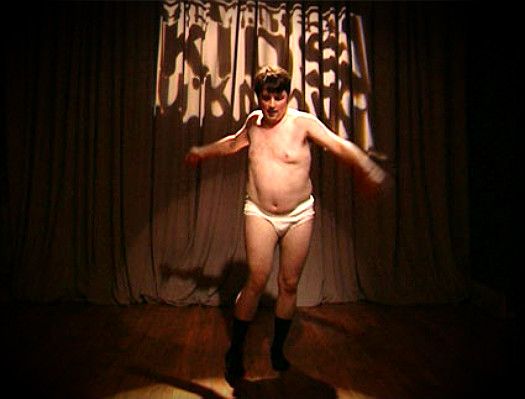 Posted by Melissa Locker on
The fifth and final season of the sketch comedy show The Whitest Kids U'Know is underway at IFC. We are showing new episodes of one of the wackiest, crassest, and funniest show around every Friday at 10:30 p.m. ET. As an added bonus each episode has another chapter of The Civil War on Drugs, the historical drama that the Kids made to document the journey to legalize marijuana during the war between the states.
As we bid farewell to the Whitest Kids, we are taking some time to chat with each member of the troupe and to get their thoughts on comedy, their favorite moments from the five seasons the series ran on IFC, and the Civil War on Drugs. Today we talk to Timmy Williams. You may know him from the many characters he has played on the show who are also named "Timmy." He's also the Whitest Kid most likely to get up and dance in his underwear.
What was the very first bit or act you ever did on the air, do you remember?
Oh man, I don't know. What was in the first episode? I don't know, I would have to look it up.
I stumped you on the first question?
Yeah, let me think, what was in the first episode? I show up in the Hitler video. I don't know? The classroom sketch where my mom is dead? Oh, the Lincoln sketch!
Do sketches just come to you or do you hole up in a room and hammer them out?
We hole up and everyone writes and then everyone shares what they wrote. Sometimes people bring ideas in, but generally it's all five of us together.
In the season premiere you play a phone sex operator named Baked Beans who pours baked beans all over her chest. What was the inspiration for this sketch?
I don't know. Most of the sketches that involve me in a compromising situation mean that I wasn't there that day when they wrote. So I showed up and there it was. Like, Timmy dance, too. It was a live thing. Originally Zack wanted to see me dance to silly music. I can't remember why the underwear thing happened. I think we did Timmy dance write after I took my shirt off for a different sketch and I didn't have time to put a shirt on and it slowly involved into me dancing in my underwear. Zack is usually involved in getting me undressed.
What are some of the sketches you're most proud of?
Elegant Tiger King. I'm also proud of Baked Beans and everyone is grossed out by it. Yeah, it's gross. Also really proud of Submarine Sandwich, because that was the moment we realized that we could write any stupid thing and pay money to make it real.
We always have fun making the show. Even when I was getting hit with the baked beans. It was shot out of a t-shirt gun and it really hurt and I had welts and stuff. But we always have fun and giddiness. We get really excited.
What's the best and worst reactions you've ever gotten from a sketch?
The best are all the good reactions to the Civil War movie. The very best reaction? Lincoln sketch. The worst? Well, Baked Beans is up there. But otherwise, stuff that just didn't work, some stuff that people are against that makes people think we are being homophobic or racist. But we're not, we are just showing characters who are and showing how dumb it is.
What are some of your favorite qualities or traits about the other members of WKUK?
Trevor has great ideas. A lot of the sketches come from him and then we throw stuff on to his idea. Zach is a really hard worker and I enjoy being directed by him and I think we all become pretty good actors with him directing. Darren is good at playing the girl. He was the last in the troupe and brought this little kid sense of humor that I like and it wasn't there before. Sam has this gentle childish quality about him, but he is also a party animal. Sam and I both play ourselves all the time. Sam himself is just funny and awesome.
What is your favorite sketch moment for season five of WKUK?
Ocean 2.0, which is coming up, is a sketch about an oil company trying to turn a spill into a positive thing. Sort of ripped from the headlines, but when we write things that pertain to certain events we try to take any exclusivity out of it, so you can watch it in 10 years. Originally it was pitched as a boardroom meeting, but then Trevor suggested making it as a commercial. Also, the last sketch that is shown, I wrote directed and acted in and is one of the only ones where it's just one person.
How often do you direct?
Trevor and Jack generally direct; we all write everything. Trevor's songs are generally just Trevor, but we all write and do it together. There are things here or there that I do though.
Where did the idea for the "Civil War on Drugs" movie come from?
Sam and Trevor had that one a long time ago. Like 2001 or 2002. Before I was in the troupe, so definitely a long time ago. It was just the title and so when we got to season five we just did it up.
What was it like to make a whole movie within a sketch show season? I don't think it's something has been done before.
It was hard, it required a lot of hard work for everybody involved because we didn't have a budget to make a movie along side the TV show. If you watch the movie almost every character is played by one of us. I play at least twelve people. Every member of the crew was an extra, everyone got poison ivy, it was hot, it was hard. But the end product is definitely great
Who are some of you sketch heroes? Have you ever gotten to meet any of them?
A lot of them! Monty Python, especially Terry Gilliam and Michael Palin. We were in the IFC documentary on the Pythons for about 3 seconds and we got to go to the premiere and talk with them. We've met The Kids in the Hall because our producer Jim Biederman worked with them. Mr. Show was always a big influence. Bob Odenkirk said really nice things about us. We like "The State". You know, sketch comedy is a close-knit community, but Whitest Kids are kind of their own thing. UCB in NYC is getting huge, and the comedy stars coming out of it and the comedy bar scene are huge. But we've always known them but been one step out of that circle.
Is that a good thing or did it make it harder on the Whitest Kids?
There are few people our age who got their own thoughts and stuff onto TV for, like, five years. There are people from that time in NYC five years ago, who have more money, more fame, more success, but we got to do our own thing pretty much exactly how we wanted it. Not many people get to do that, and we did.
What's next for you?
Slowly getting back into acting. I got an agent and I'm also pitching some comic books. Doing some stand up in Portland.
I hear that your first child is due in June. Do you think sketch comedy has prepared your for fatherhood?
Maybe. A lot of our sketches really show what not what to do. There are a lot of bad dads in season 4. My character in the Civil War On Drugs is a good dad. But, sketch comedy and being in charge of your own show, it prepares you for anything. And one of the most important things in life in general is having a good sense of humor. Working on a lower budget TV show teaches you to problem solve and to think on your feet and work with other people. We started the show right out of college and didn't know anything yet. We learned a lot.