What Makes a Game Indie? "Rochard" Blurs the Line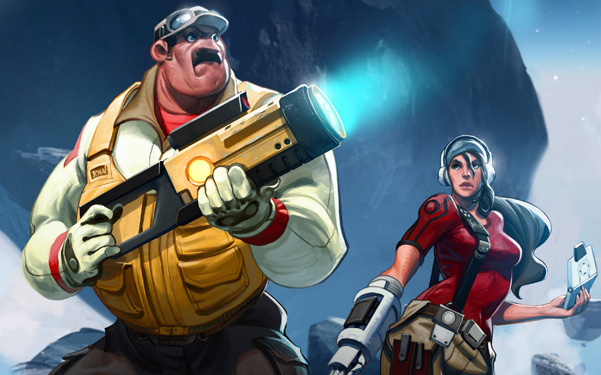 Posted by Chris Plante on
In 2008, the new European developer Recoil Games was creating an ambitious first-person shooter called "Earth No More." The team was large and the product was larger. In 2009, the financial crisis struck, and the project was postponed indefinitely. Yesterday, we met with a smaller, but equally hopeful Recoil team to discuss their new game, "Rochard," a downloadable exclusive for PlayStation Network. What happens when a major studio tightens the belt like this? Can a once traditional developer be indie?
"Rochard" is a tough title to define. Like "Metroid" and "Shadow Complex," the titular hero (voiced by Jon St. John, the throat of Duke Nukem) navigates a 2D plane, blasting enemies, solving puzzles and exploring a sci-fi world.
The pot-bellied, mustachioed engineer has two unique methods for manipulating gravity — the crux of the game. The first, the G-Lifter, is Rochard's go-to weapon and puzzle solver. With a click, the gun lifts a nearby crate with ease. Another click launches the crate like a deadly projectile. The second trick, initiated by holding a shoulder button, shifts the room's earth-like gravity to moon-like gravity.
Combing the two, Rochard bounds two or three stories high, gliding boxes across the screen like their trapped in transparent molasses.
It feels like a small game compared to the boxed shooters with which it will compete. But it also feels like a passion project. There's wholeness to the game's vision: the ultimate redneck space opera.
A steel guitar tune introduces the world, Rochard skimming through the stars, piloting with one hand, emptying a "root beer" can with the other. He's less perverse than Duke Nukem, despite sounding quite similar. This is the 80s movie everyman with a gold-dipped, artery-clotted heart.
The developers gabbed enthusiastically about everything during our preview: The talented musicians that crafted the soundtrack; Jon St. John's hilarious line readings; Hopes to make "Rochard" a recognizable character – the sort you want to befriend and welcome into your home again and again.
None of this felt disingenuous. They love "Rochard." The character. The game. The opportunity.
At the hotel room where we all watched the unlikely hero jump from platform to platform in an alien mine, the Recoil team didn't feel like a development giant. They felt like human beings doing what they love.
"Rochard" is no epic first-person shooter or mainstream blockbuster, but it looks to be a humble, well-realized downloadable game. The game and the people behind it feel so similar: humble, genuine and perhaps a little more ambitious than you'd guess at first blush. An old habit, perhaps, from a different time.