"Uncle Boonmee Who Can Recall His Past Lives," Reviewed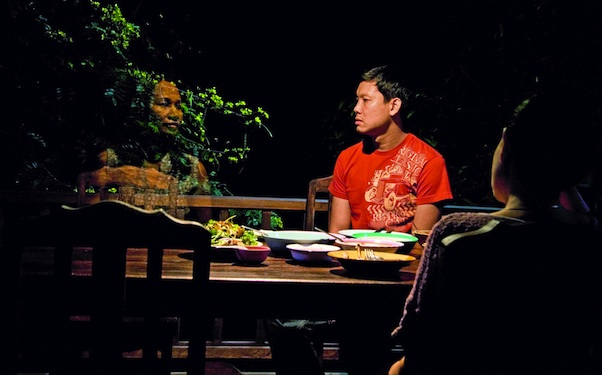 Posted by Matt Singer on
Can he recall his past lives, though?
There are two non sequiturs in "Uncle Boonmee Who Can Recall His Past Lives" that could be read as windows into the title character's past lives — a prologue about a lost bull and a later digression about a princess and an overly friendly catfish — but no attempt is made, beyond that mouthful of a title, to connect to them to the narrative at large. Such are the mysterious ways of Thai director Apichatpong Weerasethakul: he makes a movie with an insanely specific title but doesn't specify any further than that. As with any Weerasethakul film, audience interpretation and participation is essential. Nothing is spelled out, at least not in any language that people on this plane of existence can understand.
Uncle Boonmee (Thanapat Saisaymar) is an aging farmer and beekeeper living in the lush jungles of Northern Thailand. He's suffering from kidney failure so his sister-in-law Jen and nephew Tong (Weerasethakul regulars Jenjira Pongpas and Sakda Kaewbuadee) come for a visit. As the days roll along, other ghostly visitors begin to arrive, including, in one bravura sequence, Boonmee's dead wife Huay (Natthakarn Aphaiwonk) and his dead son Boonsong (Geerasak Kulhong), who appears in the form of a "monkey ghost." In the light, Boonsong looks like a furry ape-man. In the dark, he takes on the form of a giant walking shadow with eerie, glowing red eyes. Rather than alarm, these guests are met with curiosity. Instead of running from terror from the beast with LEDs for eyeballs, Boonmee asks his son questions. Where have you been? How did you die? Why did you disappear? And why have you returned now? With Weerasethakul, there are always more questions than answers.
The film is not so much about what happens to Boonmee in these final days, as the mood those final days evoke. Weerasethakul — Joe to his friends and American journalists who butcher his name — invites us into a world that relies less on narrative logic than dream logic, where monkey ghosts joining you for a meal seems perfectly reasonable. His story bends the rules of time and space, and the film itself bears similarly transportive qualities. It takes so deep into the Thai jungle that we feel like we're actually there. Many scenes are so dimly lit that it took me about four pages of notes to notice my pen had ran out of ink.
With "Uncle Boonmee," Joe returns to some many of the tropes that have driven past works like "Tropical Malady" and "Syndromes and a Century," including the contrast between the verdant natural world and the antiseptic environs of the modern city, the symbiotic relationship between man and nature, and the simultaneity of past and present. It's not just past and present that merge; life and death are fused as well, as Boonmee's past lives swirl through his current one, and the end of his story gives way to a fresh start for Jen and Tong. In a way, the callbacks to the director's earlier work show Weerasethakul recalling his own past lives. "Uncle Boonmee" itself becomes the ultimate fusion of filmmaker's past and present.
If this all sounds a bit pretentious well, frankly, at times it is. But nobody in modern cinema is better at crafting intoxicatingly enigmatic images than Weerasethakul. The introduction of Huay and Boonsong's ghosts showcases a director using every tool of filmmaking, from acting to lighting to sound to montage to mise en scene, with total and complete control. That scene is perfect. The stillness, the silence between the characters is almost overwhelming. It is the quietest horror movie you've ever seen. Or maybe the quietest fantasy comedy you've ever seen. Or maybe both.
The rest of the movie similarly defies description. The image of monkey ghosts, their brake light glare cutting through the murk of the jungle, staring down the barrel of the lens, is terrifying in some moments and comforting in others. Some scenes, as when Boonmee hugs his dead wife's ghost — literally comforting himself with the memory of days past — are heartbreakingly sad. Others, like the one with the princess who regains her youth and her sexual mojo from a horny magical catfish, are hysterical. "Uncle Boonmee" is totally uncategorizable. The only genre this movie belongs to is the funky, freaky, fascinating films of Apichatpong Weerasethakul.