Try the "Tetris" and "Super Smash Bros." Lovechild: "Slam Bolt Scrappers"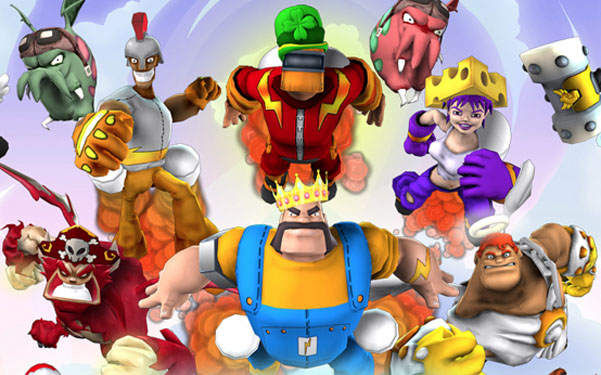 Posted by Chris Plante on
A small developer out of Cambridge, MA has mashed puzzle, fighting and tower-defense genres into a downloadable game for PlayStation 3 titled "Slam Bolt Scrappers." The trailer is busy with walls of boxes, swarms of missiles and frantic broad-shouldered avatars. Don't let that intimidate you. This is a fantastic, anybody-can-play party game.
Here's how it works: You fly around the screen walloping critters, turning them into blocks, and piling those boxes to create turrets. The projectile weapons automatically fire on your opponent's stack of blocks. If both players only build turrets, a stale mate is likely, so eventually someone has to take action.
If you TKO your opponent with a couple punches, he will be momentarily locked off the playing field, leaving you with time to build more turrets.
To win, you need to manage your time turning enemies into boxes, constructing larger turrets and beating the snot out of the other team, preventing them from building a larger stack.
The developer spoke about his aversion to online play over at Kotaku, so you will need to find local friends for this multiplayer adventure. The game is playable with or against friends, but we recommend teamwork. Having someone fight the opponent and the other build the stack has proven a solid beginner's strategy.
"Slam Bolt Scrappers" is currently exclusive to Sony's PlayStation Network and available for $14.99.