Trailering: "Legend of the Fist: The Return of Chen Zhen"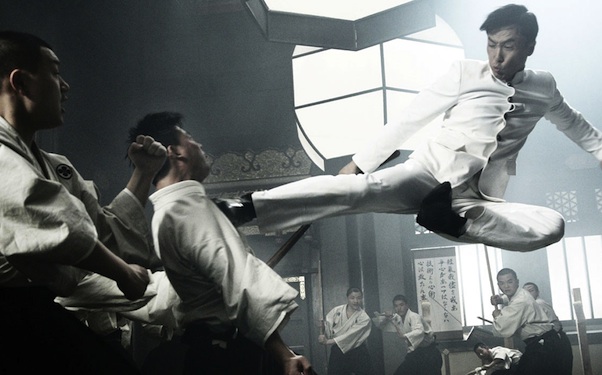 Posted by Matt Singer on
I missed Donnie Yen's "Legend of the Fist: The Return of Chen Zhen" at Fantastic Fest last fall; I saw the star's other movie at the festival, "Ip Man 2," instead. I liked "Ip Man 2" a lot — a solid martial arts throwback and "Rocky IV" homage — but, based on its new trailer, "Legend of the Fist" looks even cooler. Here it is:
I'm thinking of what to call this movie because it's a bit of a hybrid: you've got historical aspects, war aspects, and lots of kicking-guys-in-the-face-while-wearing-leather aspects. I think "period costume drama" works nicely, but you have to say it with the quotation marks to be clear that the costume part involves a man dressing like a superhero. Speaking of that topic, our own Stephen Saito spoke to director Andrew Lau about "Legend of the Fist" back at its Toronto Film Festival premiere about whether or not Chen Zen is a superhero:
"A hero is a hero. Superhero is too big for me. I just wanted to create a people's hero. It's more powerful. People's hero is better. Also, I wanted to create Chen Zhen as a Chinese version of 007 because in my movie, Chen Zhen is intelligent, he is like a spy because he's a special member of [the war squadron that is forced to go undercover] and because my movie's background is 1925, Shanghai is [an international center] for so many countries like America, Italy, Germany, Russia — this is a very interesting background for my movie. I liked the nightclub in "Casablanca," so it creates a nice background for my movie."
Be sure to read the whole interview for more on the making of the film, including that insane looking World War I battle-slash-martial-arts fight scene. "Legend of the First: The Return of Chen Zen" opens in limited release in the U.S. in April.
[H/T Movieline]