IFC's SXSW Interactive Schedule and Guide to Stratlandia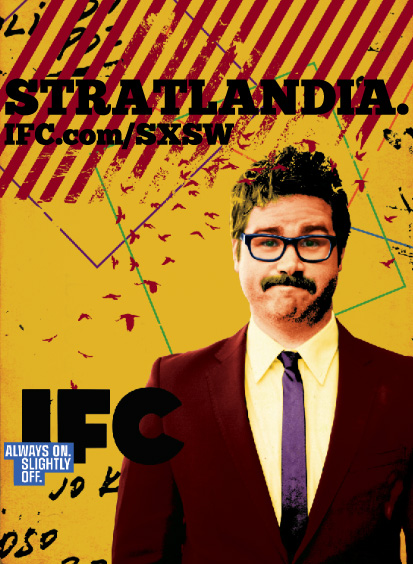 Posted by Alex Blagg on
So this morning I flew out of LAX double-secret first class Plutonium elite status and finally arrived in Austin where I've now toured my personal accommodations (luxury) and the Stratlandia headquarters at IFC Crossroads house (jacked to the gills with indie dopeness). Now I wanted to give you guys just a taste of some of the cutting-edge Interactive coverage and events we've got lined up for IFC's SXSW Livestream over the next several days (the full schedule with film & music is here).
We'll be adding even more surprise guests, doing some impromptu South By South Best howtutorials, and generally killing it and winning the whole deal. So set your Internet DVR's (I just invented that, don't steal my idea), because I'm getting ready to strat-jack Austin into weblivion. Also, if you miss the Livestreams, check back anyway because we'll be posting the vids separately so they go super viral.
FRIDAY MARCH 11th
My personal guided tour of the IFC Crossroads House. I'll walk you through the IFC House, showing you all the next-lev tech and innovations. It'll be like Cribs, except even cooler and classier. (12:30 PM C/1:30 PM ET)
South by South Strat: The Greatest Keynote Speech of All Time. I'll be doing a live webinar of my famous viral presentation, STRAT, which I proposed to be the keynote for the whole festival this year, but SXSW foolishly rejected. (Streaming live at 1:00p C/2:00p ET)
One of One with Pete Cashmore. I will finally get to sit down with one of my longtime Internet heroes, Pete Cashmore, for a very disruptive strat chat with the (beautiful) man behind social media juggernaut Mashable. (Streaming live at 6:00p C/7:00p ET)
What's Up With Reggie Watts? Alex will talk to innovative musician/comedian Reggie Watts, and try to figure out what the deal is with his personal brand. (Streaming live at 8:30p C/9:30p ET)
SATURDAY MARCH 12th
One on One With Gary Vaynerchuk. I am super-psyched to "crush it" with strat genius and wine guy Gary V., whose new book The Thank You Economy is blowing up paradigms and changing the way we innovate business. (Streaming TBD)
One on One with Frank Rose. I'm going talk to author and journalist Frank Rose (Wired Magazine) about his new book The Art of Immersion: How the Digital Generation is Remaking Hollywood, as well as my own ideas for how to give Hollywood a real sexy Internet makeover. (Streaming TBD)
VYou Party. I'm co-hosting a party with hot new video startup VYou.com, of which I'm a very influential early adopter, and strat-chatting with their PR/social media strat guru Rex Sorgatz.
SUNDAY MARCH 13th
Checking In with Dennis Crowley, Mayor of Foursquare. He's the man behind one of the biggest start-ups in the social media stratosphere and the reigning champion of buzz from last year's festival, but now Dennis Crowley will sit down with me to strat chat about the future of Foursquare, and how to unlock the badge of total Internet domination. (Streaming live at 3:00p C/4:00 ET)
Witstream: Retweets on Investment. I'm gonna deep dive into the big business of funny Tweets with actor/comedian Michael Ian Black (The State, Stella, Michael & Michael Have Issues) and Lisa Cohen, his co-founder of Witstream, a site that aggregates tweets from Twitter's top comedians. (Streaming live at 5:30p C/6:30p ET)
MONDAY MARCH 14th
The Meme Machine: "There's No 'I' In 'Meme'." I look at the phenomenon of viral meme culture – and try to figure out how to best monetize and exploit it – with thought-leaders Ben Huh (I Can Haz Cheezburger), Jonah Peretti (BuzzFeed) and Ben Bator (Texts From Last Night). (Streaming live at 1:00p C/2:00p ET)
TUESDAY MARCH 15th
Internetainment Tonight. I am going to 'talk shop' and 'do some deal memos' about the big business of online showbiz with top 'industry insiders' Mike Farah (Funny or Die), Streeter Seidell (CollegeHumor) and Baratunde Thurston (The Onion). (Streaming live at 12:00p C/1:00p ET).
The Podcasters of Comedy. I'm going to learn more about the dynamic, exploding world of comedian-hosted podcasting by geeking out on "best of breed comedy-casters" Scott Aukerman (Comedy Death Ray), Doug Benson (Doug Loves Movies) and Marc Maron (WTF Podcast). (Streaming live at 1:00p C/2:00p ET)
IFC Gets Autotuned. Viral video sensations The Gregory Brothers (Autotune the News, Double Rainbow remix, Bed Intruder Song) stop by to teach me a thing or two about getting hits, going viral, and giving the Internet its own robotic-voiced soundtrack. They're also going to do a live in-studio performance, which should drive upwards of 20 million streams. (Streaming live at 3:00p C/4:00p ET)
#FollowFunny. I'm retweeting and @-replying with some of my favs from comedy and Twitter, Brett Gelman and Eugene Mirman. Please RT. (Streaming live at 4:30p C/5:30p ET)
On top of all that, I'm also gonna have drop-in guests and also and do some business casual strat-chats with even more influencers and buzz-drivers like Rachel Sklar from Hashable, social media guru Brian Solis, web celeb Molly "Molls" McAleer, Deadspin editor AJ Daulerio, Adam Frucci from SplitSider, and many more.
If you need EVEN MORE South By South Strat (and you do), follow my real-time exploits on Twitter and Foursquare.